Story Progress
Back to home
Second Swimmer Dies After Hong Kong Harbour Race
A spokesperson for the Hong Kong Harbour Race event confirmed the second death on Wednesday, adding that the woman was aged 59 and surnamed Cheung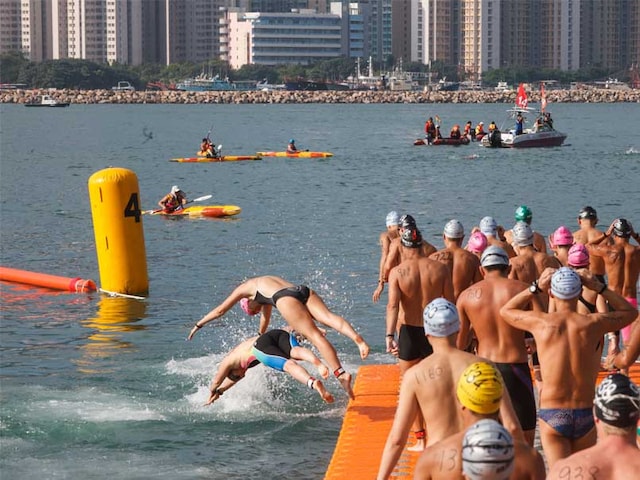 The Hong Kong harbour race attracts world-class international competitors and recreational participants.
© AFP
Highlights
There has been a second death at the Hong Kong Harbour Race

A 59-year-old woman died after being pulled out of water

Earlier, a man had died during the Sunday swim
Hong Kong:
A second swimmer who participated in the Hong Kong harbour race died after she was pulled out of the water unconscious during the event and taken to intensive care.
This follows the death of a man during the Sunday swim, which attracts world-class international competitors and recreational participants, after he was pulled from the water by a rescue boat and rushed to hospital.
It also comes after a decision by world aquatics governing body FINA to review the race and other open water events globally following the initial death.
A spokesman for the event confirmed the second death to AFP Wednesday, adding that the woman was aged 59 and surnamed Cheung. 
Organisers said more details would be released later Wednesday, while reports said she passed away at around midnight Monday.
Both harbour race victims were taking part in the leisure category, which is for slower swimmers.
FINA on Tuesday said it was "very sad" to hear of the first death and that it would conduct a "thorough review".
The Hong Kong Amateur Swimming Association and the title sponsor New World Development have expressed their "deepest sorrow" over what they called a tragic accident.
The two deaths are the first for the race since it resumed in 2011 after a 30-year break, local media reported.
Promoted
The decades-long hiatus was because of fears over pollution levels in the water.
Hong Kong is one of the world's busiest ports, with more than 400,000 vessels arriving and departing annually.
Topics mentioned in this article