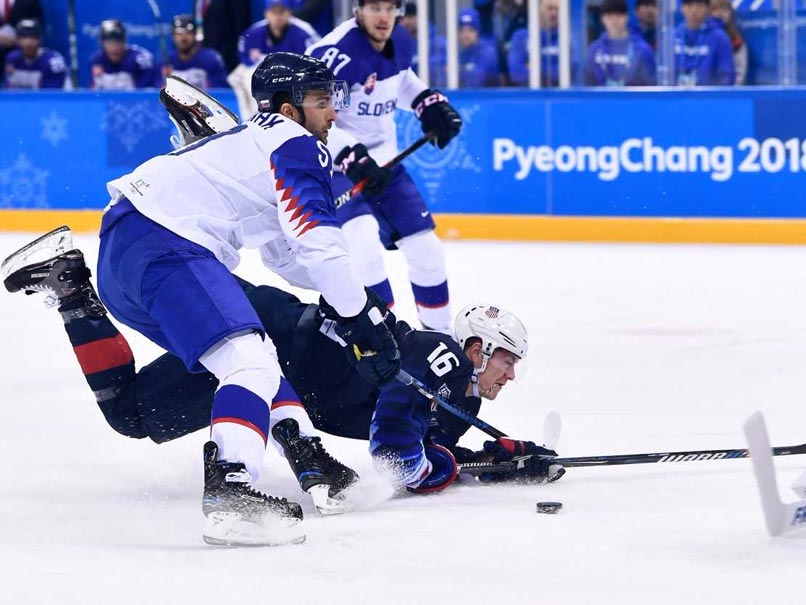 USA's Ryan Donato falls while making a shot on goal
© AFP
US top scorer Ryan Donato and goaltender Ryan Zapolski ensured United States outclassed Slovakia 5-1 and sent them into the Pyeongchang Olympic men's hockey quarter-finals on Tuesday. Harvard University star Donato scored two goals and Zapolski made 22 saves to drive the Americans, who haven't taken Olympic gold since 1980, into a last-eight clash on Wednesday against unbeaten Czech Republic.
"We came in feeling confident about not going home. Putting goals in makes us feel a lot more confident," Donato said. 
"The chemistry is nice and is kind of meshing."
Also advancing was Norway, which edged Slovenia 2-1 on Alexander Bonsaksen's over-time goal to reach a quarter-final against the Olympic Athletes from Russia. Later games pit Finland against South Korea, the winner facing two-time defending champion Canada in a quarter-final, and Switzerland against Germany, with the winner meeting unbeaten Sweden on Wednesday.
Donato, who also netted two goals against Slovakia in a 2-1 group-stage victory, blasted a rebound into the far top corner 96 seconds into the second period to put the USA ahead 1-0.
Slovakia responded 26 seconds later with a body-slamming retaliation sequence as Michal Cajkovsky was sent off for 25 minutes for a blow to Donato's head.
"I just dipped my head for a second to look at the puck and looked up and had an elbow in my mouth," Donato said. "It didn't feel good."
At the same moment, Ladislav Nagy was whistled for flattening Zapolski, who was slow to rise off the ice.
"He hit my head and pinched my neck," said Zapolski. "It was a little bit of a scary thing."
That gave the Americans a two-man power play and they converted just 18 seconds in when James Wisniewski, a German League defenceman whose father Jim was quarantined with the norovirus, scored to provide a 2-0 US edge.
"It was huge for our confidence going into tomorrow," Wisniewski said. "We're getting better and better."
- Strong and resilient -
US college star Troy Terry collected his third assist with 6:30 remaining in the second period, his centering pass blasted home by Mark Arcobello for a 3-0 US lead.
Slovakia responded on a power-play goal by Peter Ceresnak with 3:06 remaining in the second but Garrett Roe answered with 10:08 remaining and Donato tucked the puck inside the near post with 3:14 left.
(With AFP Inputs)