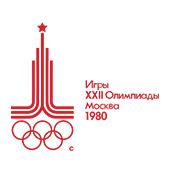 About MOSCOW 1980 Summer Olympics
Jimmy Carter called a US-led boycott following the Soviet invasion of Afghanistan that particularly hit swimming, equestrian, yachting and hockey. Security was overwhelming but the Games were well-organised. The rest of the Soviet Union might not have had a bus to ride but Moscow visitors only had to click their fingers to pull down a bus.
Newly-independent Zimbabwe won their first, and so far only, Olympic gold medal when their all-white women's team triumphed in the hockey tournament.
Seb Coe lost the first round of his long-awaited middle-distance battle to Steve Ovett at his best distance of 800m but he ended Ovett's run of 42 consecutive victories over 1500 metres.
Soviet fans were at their worst during the pole vault final but Poland's Wladyslaw Kozakiewicz silenced them with a world record triumph.
Teofilo Stevenson equalled Hungarian Laszlo Papp's record of three gold medals when he won the the super heavyweight boxing title. His 1986 world title at the age of 36 proved that the Soviet-led boycott of Los Angeles deprived him of a fourth Olympic gold medal.
Vladimir Salnikov won three swimming gold medals and achieved the poolside equivalent of Roger Bannister's sub-four minute mile when he broke the 15 minute barrier in the 1,500 metres.