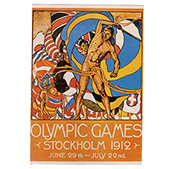 About STOCKHOLM 1912 Summer Olympics
American Indian Jim Thorpe, aged 24, proved himself one of the greatest athletes of all time when he won both the pentathlon and decathlon. His score for the decathlon would have won the next two Olympic competitions and even have given him a silver medal in 1948.
But in 1913 it was revealed he had been paid 25 dollars a week playing minor league baseball, something which other college students did under different names. He was stripped of his medals and records for being a professional.
Avery Brundage, who as IOC president from 1952 to 1972 refused to listen to calls for Thorpe to be reinstated, was sixth in the pentathlon and did not finish the decathlon in 1912.
At the instigation of de Coubertin, the modern pentathlon, an event acting out the ordeal of a messenger fighting his way through enemy lines, was introduced. Two years later war broke out.
Hannes Kolehmainen of Finland won the 5,000m, 10,000m and cross-country and returned in 1920 to win the marathon.