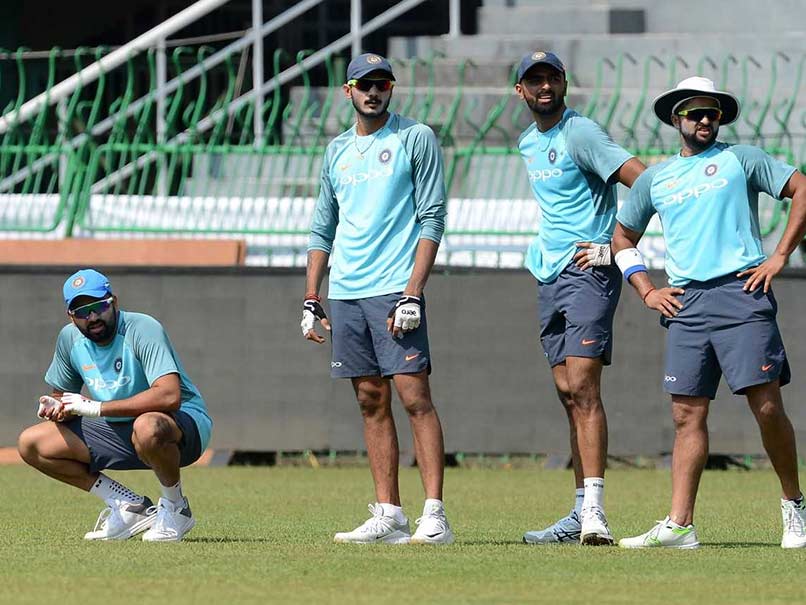 India face hosts Sri Lanka in the first match of the Nidahas Trophy on Tuesday.
© AFP
The Board of Control for Cricket in India (BCCI) on Tuesday played down fears of the tri-nation Twenty20 International series -- involving India, Sri Lanka and Bangladesh -- being affected after a 10-day emergency was declared in the island nation. The Indian board said that it was in consultation with security personnel and had concluded that the unrest was in Kandy and the situation in Colombo, where the matches are slated to be held, was normal. India face hosts Sri Lanka in the first match of the Nidahas Trophy T20 tournament later on Tuesday at the R Premadasa Stadium in Colombo.
"There have been reports of curfew and an emergency being called in Sri Lanka. The situation in picture is in Kandy and not Colombo. This is to notify everyone that after talking to concerned security personnel (Ministerial security division - in charge of team security), we have understood that the situation is completely normal in Colombo. If at all there is any update on the same we shall notify," Indian team's media cell issued an official press note from Colombo.
India are taking part in a T20I tri-series in Sri Lanka. The series is being played in celebration of Sri Lanka's 70th year of independence and co-incidentally Sri Lanka Cricket's 70th year as well. The Nidahas Trophy 2018 matches will be night matches where each team will play each other twice. The final will played on March 20. All matches will be played in Colombo.
BCCI's acting president C K Khanna told PTI: "The Indian cricket board is in constant touch with the Sri Lankan government authorities. The security is foolproof and we have been assured that there is no threat to the tournament. So the Indian team, as of now, will be playing the tournament."
Sri Lanka has declared a state of emergency for 10 days to rein in the spread of communal violence, a government spokesman said on Tuesday, a day after Buddhists and Muslims clashed in the Indian Ocean island's central district of Kandy.
Tension has been growing between the two communities in Sri Lanka over the past year, with some hardline Buddhist groups accusing Muslims of forcing people to convert to Islam and vandalising Buddhist archaeological sites.
"At a special cabinet meeting, it was decided to declare a state of emergency for 10 days to prevent the spread of communal riots to other parts of the country," the spokesman, Dayasiri Jayasekara, told Reuters.
The government sent troops and elite police to Kandy after a mob set fire to a Muslim-owned shop, imposing a curfew there on Monday to prevent clashes between majority Sinhalese Buddhists and minority Muslims.
(With Inputs from Reuters and PTI)