Story Progress
Back to home
New Zealand vs India Live Score Ball by Ball, New Zealand vs India, 2022/23 Live Cricket Score Of Today's Match on NDTV Sports
Live Updates of Today Match between New Zealand vs India from McLean Park, Napier. Check commentary and full scoreboard of the match.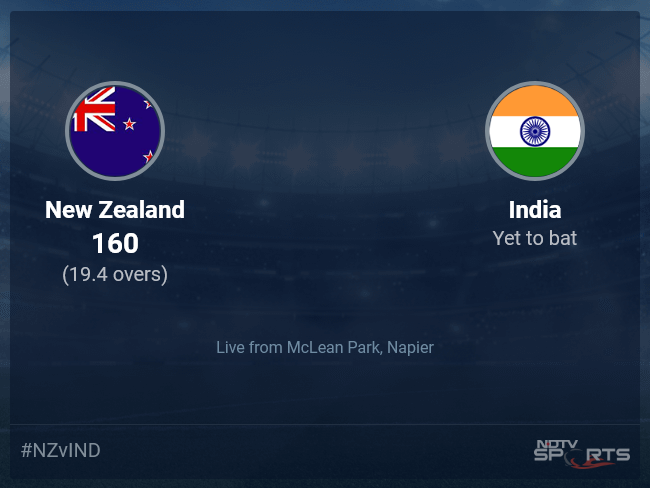 IND vs NZ Latest Score
Follow the New Zealand vs India, 2022/23 live cricket score on Sports.NDTV.com. After 19.4 overs, New Zealand are 160. Get live score, ball by ball commentary and much more. Keep track of New Zealand vs India, 2022/23 today match between New Zealand and India. Everything related to New Zealand and India match will be available on Sports.NDTV.com. Stay updated with New Zealand vs India live score. Do check for New Zealand vs India scorecard. You can get scorecard updates, match related facts. Get quick live updates with ads, Sports.NDTV.com, which is the perfect destination for live cricket score.
Right then, India will look to chase this total and win the series whilst the hosts will look to bag some early wickets and level the series. Which team will get over the line? Let's find out. Chase coming shortly…
India bowled exceedingly well in the first ten overs and as a result, New Zealand could only manage 74 runs at the halfway mark. They managed to get quick wickets after the dismissal of Phillips and Conway. The phase in between that went on was a bit expensive for India but they will be certainly happy with the way they have bowled. Arshdeep Singh and Mohammed Siraj were the stars of the show as they bagged four wickets each while Harshal Patel took one. Now the onus is on the Indian batters to chase down a total of 161.
New Zealand were off to a shaky start and lost Finn Allen in the second over. Conway and Chapman balanced off things after that for a bit, but the hosts lost Chapman just before the Powerplay. Conway stayed firm and Phillips joined him. They stitched a partnership really well and saved the sinking ship for New Zealand. Both of them went on to score a half-century and made sure they go on to reach a competitive total. After the dismissal of Phillips-Conway, wickets kept on tumbling for them and there was no way around it for the hosts and they were bowled out for 160.
19.4 overs (0 Run) OUT! BOWLED! Harshal Patel goes full and straight and gets it full enough on off stump. Tim Southee stays deep in his crease and backs away as he looks to go across the line. The ball is too good for him and takes a bit of an inside edge before smashing into the stumps. Patel picks up a late wicket and New Zealand have been bowled out for 160.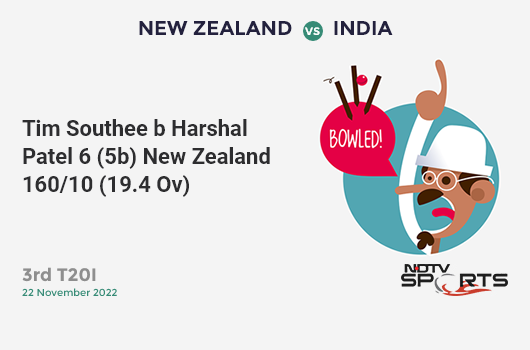 19.3 overs (3 Runs) Length ball, on middle and leg, Lockie Ferguson stays put and lofts it over mid on. The ball plugs in the outfield and the batters do come back for the third as well.
19.2 overs (0 Run) A bumper now around off stump, Lockie Ferguson looks to take it on but decides against it and sways out of the way of the delivery.
19.1 overs (2 Runs) Full and on leg stump, Lockie Ferguson chips it towards deep square leg and the batters manage to scamper back for the second.
18.6 overs (4 Runs) FOUR! Nicely done. Around off again, Tim Southee waits for it and just guides it fine, the ball races away into the third man fence.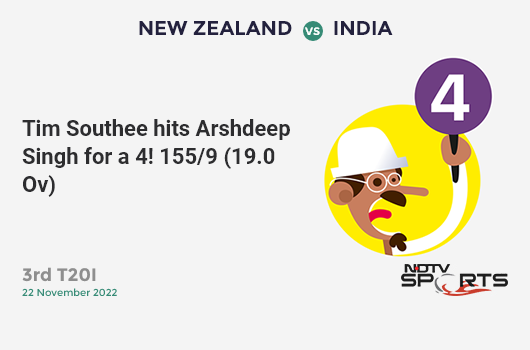 18.5 overs (0 Run) Full and around off, kept out on the off side.
18.4 overs (2 Runs) Very full and on leg stump, Tim Southee walks across his stumps and flicks it towards deep square leg for a couple of runs.
Lockie Ferguson is the next batter.
18.3 overs (0 Run) OUT! RUN OUT! No hat-trick for Arshdeep Singh but it is certainly a team hat-trick for India. Singh yet again nails the yorker around off but Tim Southee does manage to squeeze it out towards backward point. The batters go for the single but decide aaginst it. Mohammed Siraj picks up the ball and scores as direct hit at the bowler's end. The replays show that Adam Milne who was trying to get back, is short of his crease and New Zealand lose yet another wicket.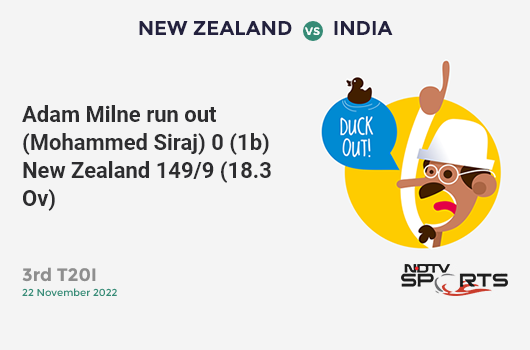 18.2 overs (0 Run) OUT! TIMBER! Two in two for Arshdeep Singh and what a delivery that is! Singh stays around the wicket to Ish Sodhi and delivers the perfect yorker on middle stump. Sodhi backs away a bit as he looks to keep it out but the ball just sneaks under his willow. The ball crashes into middle stump and Singh will now be on a hat-trick.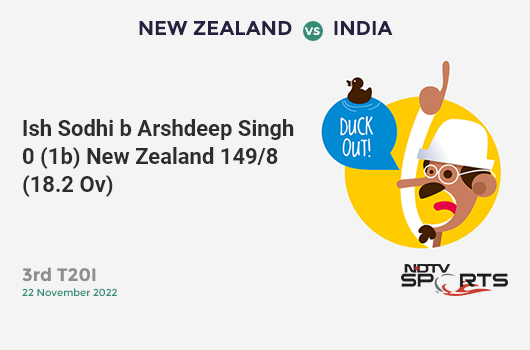 18.1 overs (0 Run) OUT! CAUGHT BEHIND! The wickets keep on falling like nine pins here and all of a sudden, New Zealand are seven down. Arshdeep Singh comes from 'round the wicket to the right-hander and bowls a brilliant short ball angling it onto the body. The ball goes down the leg side but Daryl Mitchell gets a slight nick on it as he looks to hook it away. Rishabh Pant springs to his left and takes yet another fine catch. Singh gets his third wicket now.
17.6 overs (0 Run) Short ball, over middle and Adam Milne just ducks under it.
Adam Milne is the new batter.
17.5 overs (0 Run) OUT! CAUGHT! Mohammed Siraj on fire out there as New Zealand digging a real hole for themselves. Siraj hits the length hard and keeps it wide of the off pole. Mitchell Santner hangs deep and tries to loft it over extra cover. Santner cannot keep his shape and ends up just chipping it around the cover region where Yuzvendra Chahal takes a simple catch. A fourthe wicket then for Siraj and New Zealand struggling now.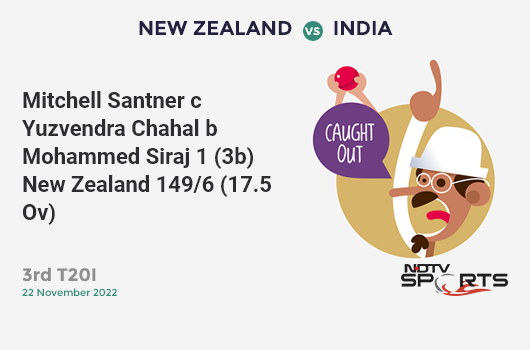 17.4 overs (0 Run) Good change of pace now. Good length, slanted across the left-hander and Mitchell Santner is way too early in his cut shot.
17.3 overs (1 Run) Very full and around off, Daryl Mitchell punches it down to long on and picks up a run.
17.2 overs (1 Run) Good length, around off, this is played towards covers for a quick single.
Mitchell Santner is the new batter.
17.1 overs (0 Run) OUT! TAKEN! Mohammed Siraj gets his third wicket and it is yet another brilliant catch, this time by Rishabh Pant. This is served on a shortish length and pushed well outside off. James Neesham stays leg side of the ball and has to reach out a long way as he looks to go over covers. The ball takes the top edge and goes high around the point region. Pant calls for it early and races towards the ball, diving forward to grab it.
16.6 overs (1 Run) Leg bye! Another attempted yorker turns out to be a full toss on the pads. Neesham fails to get bat on it and the ball clips the pads. Rishabh Pant does well to dive down to his right and save the boundary. Just a leg bye then.
16.5 overs (0 Run) Excellent delivery! Nails the yorker on middle and James Neesham just about manages to dig it out.
James Neesham is the new batter.
16.4 overs (0 Run) OUT! CAUGHT! Arshdeep Singh does make a comeback and gets rid of the set-batter. Singh switches to 'round the wicket and takes pace off the ball. This is on a length and around off. Devon Conway looks to get low and drag the ball over the mid-wicket fence but is early in his shot. The ball flies down to deep mid-wicket where Ishan Kishan completes an easy catch. End of a fine knock from Conway.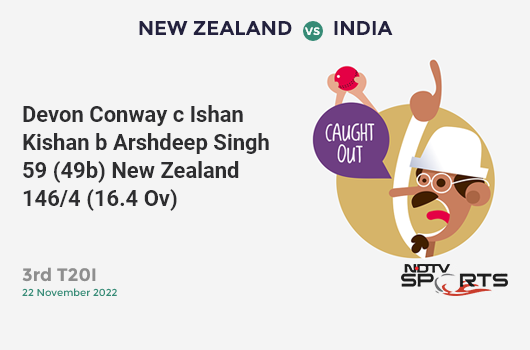 16.3 overs (1 Run) Full and straight, Mitchell drives it firmly but down to long off for a single.
16.2 overs (4 Runs) FOUR! Daryl Mitchell makes good use of the freebie and picks up a boundary. A low full toss on off stump, Mitchell hammers it down the ground. Shreyas Iyer from long off slides to his right but fails to stop the boundary.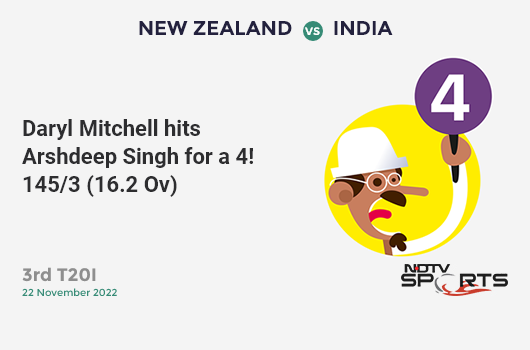 16.2 overs (2 Runs) NO BALL! A low full toss now on middle, Devon Conway whips it away towards deep mid-wicket for just a single. Arshdeep Singh has overstepped and a Free Hit will now follow.
16.1 overs (4 Runs) FOUR! Arshdeep Singh starts the new spell with a real loosener. A full toss angling down the leg side. Conway gets a tickle on it and gets it really fine for a boundary.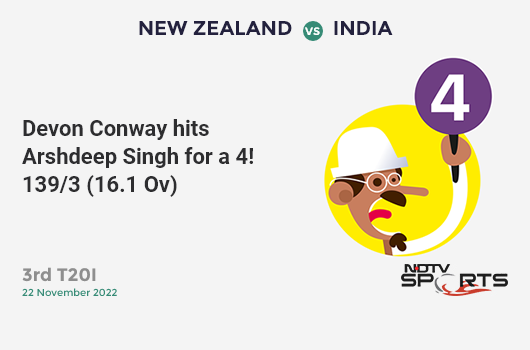 15.6 overs (4 Runs) FOUR! Thumped! Full and straight, Daryl Mitchell holds his shape and hits it straight back down the ground to end the over with a boundary, 6 runs and a wicket off it.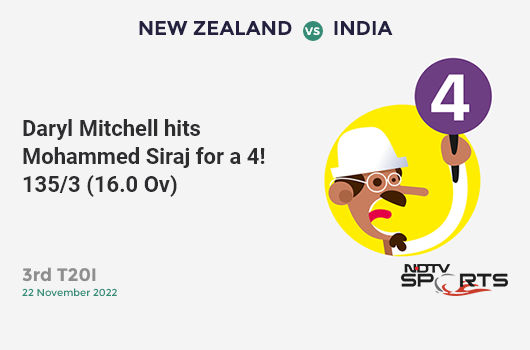 15.6 overs (1 Run) WIDE! Short again but just a bit down the leg side. Wide signalled.
Daryl Mitchell is the new batter.
15.5 overs (0 Run) OUT! TAKEN! Bhuvneshwar Kumar takes an excellent catch and a good over from Mohammed Siraj has now become an excellent over for India. This is banged in short and over middle stump. Glenn Phillips goes after it and looks to pull but gets rushed into the shot. The ball takes the top edge and goes a mile high in the air. The ball comes down around the backward square leg region and Kumar runs in from fine leg to dive forward and take it brilliantly. Phillips departs after a fiery inning.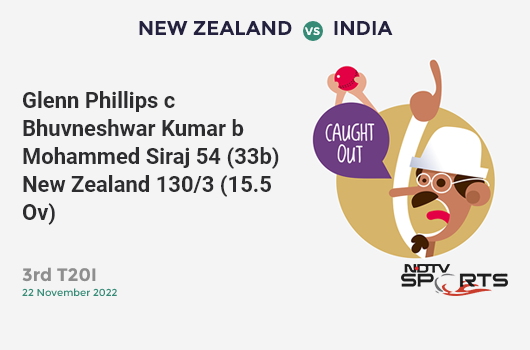 15.4 overs (1 Run) Very full and around off, Conway leans forward and pushes it through extra cover for a single.
15.3 overs (0 Run) And again! There was a bit of noise as well but the Indians don't even appeal. Short of a length and outside off, Devon Conway looks to cut but gets beaten past the outside edge. Was there a nick on that one? UltraEdge confirms that there wasn't.
15.2 overs (0 Run) Another play and a miss. Siraj shortens the length and bowls it around off, Conway looks to cut it over point but is beaten once again.
15.1 overs (0 Run) Length ball, angling across the left-hander. Conway throws the kitchen sink at it but fails to connect.
Match Reports
Topics mentioned in this article