Story Progress
Back to home
New Zealand vs India Live Score Ball by Ball, New Zealand vs India, 2022/23 Live Cricket Score Of Today's Match on NDTV Sports
Live Updates of Today Match between New Zealand vs India from Seddon Park, Hamilton. Check commentary and full scoreboard of the match.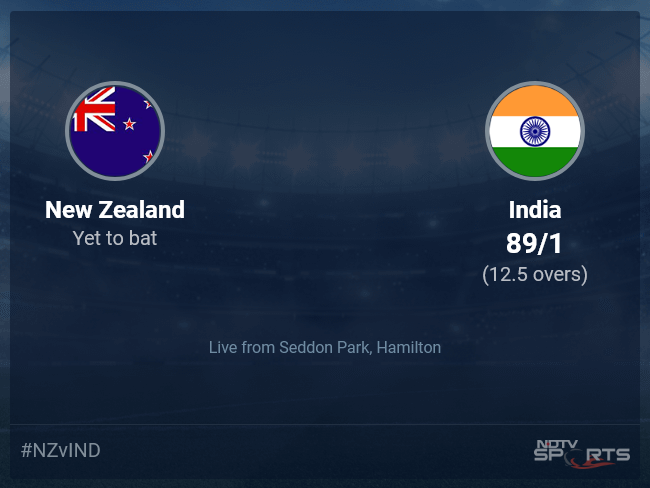 IND vs NZ Latest Score
Follow the New Zealand vs India, 2022/23 live cricket score on Sports.NDTV.com. After 12.5 overs, India are 89/1. Get live score, ball by ball commentary and much more. Keep track of New Zealand vs India, 2022/23 today match between New Zealand and India. Everything related to New Zealand and India match will be available on Sports.NDTV.com. Stay updated with New Zealand vs India live score. Do check for New Zealand vs India scorecard. You can get scorecard updates, match related facts. Get quick live updates with ads, Sports.NDTV.com, which is the perfect destination for live cricket score.
That's that then! Both teams will now shift their focus to the third ODI on Wednesday in Christchurch at 7 am IST (1.30 am GMT). But, we have some more Sunday cricket action coming as Afghanistan will take on Sri Lanka in the 2nd ODI and that will begin at 2.30 pm IST (9 am GMT). As always, you can join us in advance for the build-up. Until then, goodbye and cheers!
Shikhar Dhawan, the captain of India, says that weather is not in their control. He hopes to have a good third game. Shares that it was a good pitch to bat on and surprisingly there wasn't much movement for the pacers. He talks about the team combination he picked for this match and tells that Deepak Hooda came in for Sanju Samson as they wanted the sixth bowling option. Feels that Deepak Chahar gets more swing than Shardul Thakur and hence he was preferred for this match.
Kane Williamson, the captain of New Zealand, says that it is disappointing to not get a game today. Adds that he feels like the weather is following them. Says that it was good that they were able to get some game today. Reckons that it was a good team performance in the first ODI with Tom Latham playing a blinder. Adds that he is now looking forward to the third ODI in Christchurch. Feels that being the No.1 ranked side in ODI cricket recognizes the hard work they have put in.
Let's see what the captains have to say...
Summarizing the little action we had - Keeping in mind the overcast conditions, Kane Williamson called it right and sent India into bat. Tim Southee and Matt Henry opened the attack for them with the new balls. Shubman Gill looked in fine nick stroking two delightful boundaries before the rain arrived. Post the resumption, the game was reduced to 29-overs-per-side. Shikhar Dhawan tried to up the ante straightaway but was dismissed early. Suryakumar Yadav came out with an attacking intent and took the Kiwi bowlers on. As he was beginning to unleash himself, rain played spoilsport once again to bring a stoppage in play. Persistent rain meant that no more play was possible and the game was eventually called off. So, India cannot win the series now and will have the chance to level it in the last ODI.
The inevitable has happened! MATCH HAS BEEN CALLED OFF! The rain gods have spoiled our Sunday. The forecast was always for rain but we hoped to get at least a short window of play to constitute an ODI match. That was not to be and this game is forced to abandon after only 12.5 overs.
Update 12.19 pm IST (6.49 am GMT) - The rain has gotten heavier and the ground staff have now brought on more covers. The chances of a resumption look bleak at the moment. Stay tuned for more updates.
Update 11.51 am IST (6.21 am GMT) - The drizzle has picked up and the umpires are taking the players off. The groundsmen are on the field and they are covering the pitch. Just when Suryakumar Yadav was starting to get a move on for India, the rain made an appearance once again. Let's hope that this is just a passing shower. Remember, we still have some time as the play can resume as late as 1.05 pm IST.
12.5 overs (4 Runs) FOUR! Lockie Ferguson pitches it up and around off, Suryakumar Yadav walks across the stumps and flicks it from the inner half to the fine leg fence. He is such a cheeky batter, knows his angles.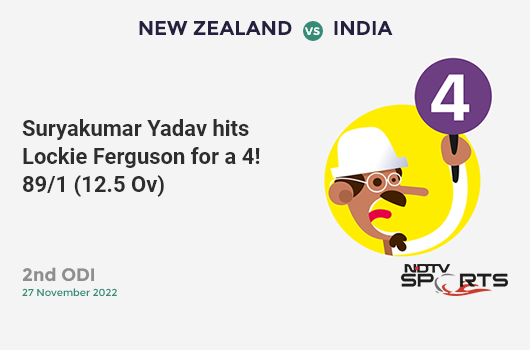 12.4 overs (0 Run) Full again, outside off, driven to covers.
12.3 overs (0 Run) Fullish and outside off, Yadav drags his attempted slog to mid-wicket.
12.2 overs (6 Runs) SIX! Another one flies from the bat of Suryakumar. Short in length around off, SKY stands tall and hammers it over deep mid-wicket for a maximum.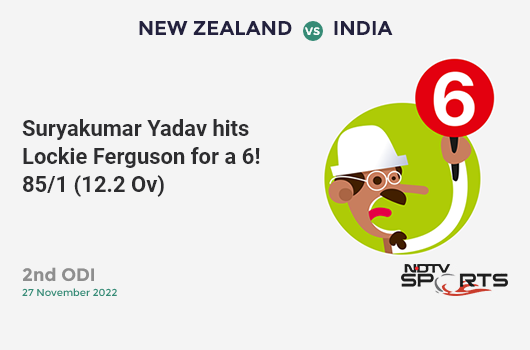 12.1 overs (1 Run) Back of a length, around off, it's forced down to mid on for a single.
11.6 overs (1 Run) Fuller and on off, Gill hits across the line and sends it to deep mid-wicket from inner half for one.18 from Bracewell's two overs so far.
11.5 overs (1 Run) A conventional sweep on this occasion, and it speeds down to deep square leg for a run.
11.4 overs (6 Runs) SIX! This one is launched. Flighted delivery, full around off, Suryakumar Yadav decides to use reverse sweep as an option and nails it over backward point for a maximum.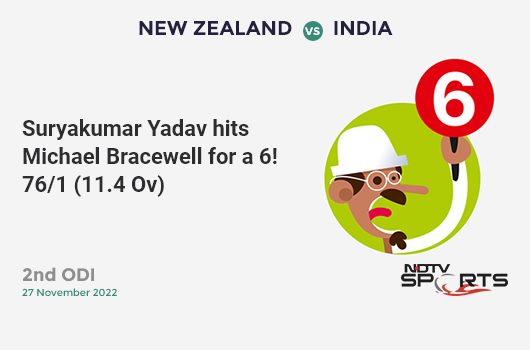 11.3 overs (0 Run) Turning in a bit from middle, Yadav tries to flick but misses.
11.2 overs (1 Run) Fires it flat and short on middle, at 98 kph, Gill turns it through square leg for a single.
11.1 overs (0 Run) Walks forward and pushes it towards mid on.
10.6 overs (0 Run) Quicker one, full and around off, Yadav sweeps firmly but finds short fine leg. A dot ball to end the over.
10.5 overs (1 Run) Bowls it short and outside off, it's forced off the back foot to sweeper cover for one.
10.4 overs (1 Run) Connects well this time. Sweeps a full ball to deep square leg for a single.
10.3 overs (0 Run) Full and wide outside off, SKY fetches it from there as he attempts to sweep. Ends up dragging it off the inner edge to short fine leg.
10.2 overs (6 Runs) SIX! High and handsome! A touch flatter and fuller around off, skidding into the batter, Suryakumar Yadav goes down on one knee and smokes it over deep mid-wicket for a biggie.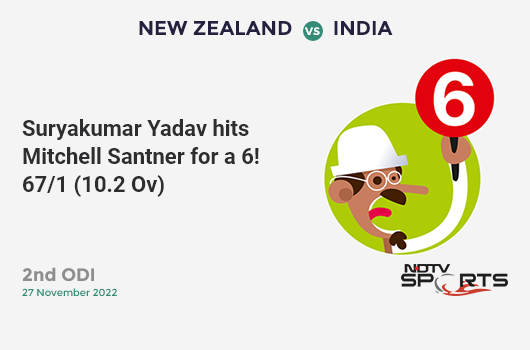 10.1 overs (1 Run) A shade short and outside off, Gill goes on the back foot and cuts it through point for a single.
Match Reports
Topics mentioned in this article