Story Progress
Back to home
New Zealand vs India: New Zealand vs India, 2022/23 Live Cricket Score, Live Score Of Today's Match on NDTV Sports
Live Updates of Today Match between New Zealand vs India from Eden Park, Auckland. Check commentary and full scoreboard of the match.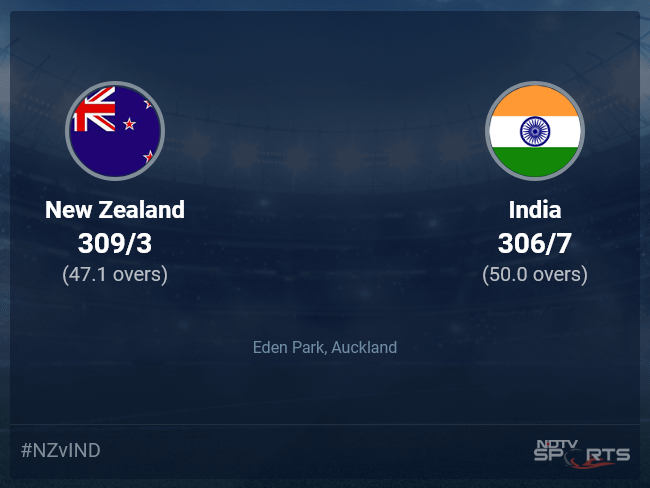 NZ vs IND Latest Score
A dedicated team of experts bring you live score, live cricket score, live match update on Sports.NDTV.com. After 47.1 overs, New Zealand, chasing a target of 307, are 309/3. The live updates of New Zealand vs India scorecard is also available. It is the perfect platform to follow your favourite teams in New Zealand vs India, 2022/23. Keep a track on your favourite batsmen and bowlers through New Zealand vs India, 2022/23 today match, ball by ball commentary, New Zealand vs India, New Zealand vs India live score, New Zealand vs India scorecard. Follow the excitement of the New Zealand vs India, 2022/23 on Sports.NDTV.com as you can follow live match updates and live cricket score through our platform.
A commanding performance from the Kiwis. They go 1-0 up. India will look to square things up as these two meet again on the 27th of this month at 7 am IST (1.30 am GMT). Do join us in advance for the build up. Till then, cheers.
The skipper of New Zealand, Kane Williamson says he felt it was a par total but he knew if they were a partnership, they can chase down anything. Credits the way Latham played and says it is one of the most special knocks he has seen. Adds one is always in the game here because of the dimensions and it was a good wicket but partnerships was key and it is then quite hard to defend. Adds the India spinners got some turn and he was surprised by it. Ends by saying he is happy to contribute and he just wanted to stay in with Latham.
Shikhar Dhawan, the skipper of India says it is a bit different to the other grounds and they did not bowl according to the plans. Mentions once they got a partnership they failed to make a breakthrough and they were a little too short. Adds Latham took the game away from them and that is where the momentum shifted completely. Admits he enjoys batting here and he is happy he scored a half ton here and he hopes to learn out of this. Ends by saying they need to improve their bowling and need the batters to play on the strength of their bowling.
Tom Latham is the Player of the Match. He says everything came off well, he was in pressure coming into this game but it paved off well. Reckons he was just trying to be in a good position and put the ball in the gaps. Shares that he is preparing well to get back in form. Admits Sundar was getting some turn but with the small ground, they capitalized and applauds the skipper's performance later. Says the stars are aligning and hopes to continue the same way.
...Presentation coming up...
Earlier in the day, after being inserted, the Indian openers got off to a really good start but then lost their way. Iyer though took them to a really good total with a cameo from Sundar but two outstanding innings from Latham and Williamson saw the Kiwis take a 1-0 lead in this series.
India's bowling was really good till the ball did not get soft. They hit the right lines and lengths, especially Umran Malik, Thakur and Sundar. However, later on, they failed to handle the pressure when the game was drifting away from them. There were a lot of poor deliveries and the Kiwi batters took full toll of it. Chahal and Arshdeep were disappointing and Thakur towards the end was really poor. India will be a tad disappointed to not have defended this after the position they were in.
The hosts were down and out when they lost three wickets for not a lot but then came the match-winning stand between Latham and Williamson. The two took their time, especially the latter but managed to find the fence whenever needed. They added over 200 with Latham scoring a magical 145 and Williamson ending up with 6 short of a ton. The two took the onus onto themselves to chase down a score which at one stage looked very far away.
What a chase that is from the Kiwis! It is yet again that man, the guy who loves batting against India, Tom Latham who has risen to the occasion. He received brilliant support from his skipper but it is his innings which won the game for them.
47.1 overs (4 Runs) FOUR! The skipper hits the winning runs. A famous win for the Kiwis. How easy was that! Shorter and outside off. Williamson dabs it wide of third man for a boundary. NEW ZEALAND WIN BY 7 WICKETS.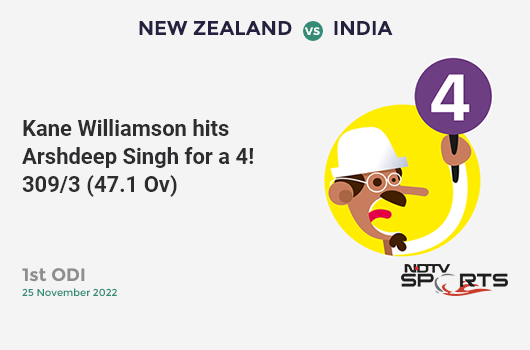 46.6 overs (4 Runs) FOUR! 2 runs needed now. Shorter and around off. Latham pulls it to deep mid-wicket for four runs.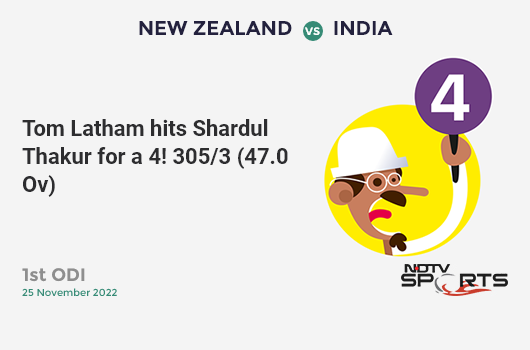 46.5 overs (0 Run) A yorker, outside off. Latham fails to jam it out.
46.4 overs (1 Run) Length and on off. Williamson dabs it to third man for a single.
46.3 overs (1 Run) A slower length ball on middle. Latham pulls it to deep square leg for one.
46.2 overs (2 Runs) Length ball, outside off. Latham pulls it to deep mid-wicket for a brace.
46.1 overs (1 Run) Length and on middle. Kane tucks it to mid-wicket for a single. He is happy to give away the strike. He is batting on 89 and is happy with the teams' victory.
45.6 overs (4 Runs) FOUR! Through the man! Tossed up, outside off. Latham sweeps it hard to deep mid-wicket. Umran Malik runs to his left but dives over the ball for a boundary. 14 off the over 11 needed now.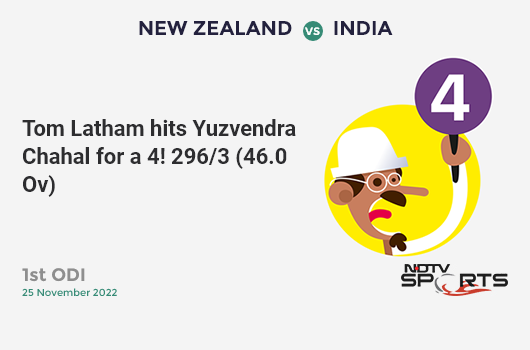 45.5 overs (0 Run) On middle. Blocked out.
45.4 overs (4 Runs) FOUR! Too cheeky! Flighted, full and outside off. Latham waits, plays with the back of the bat and past the keeper to the third man fence. Too good.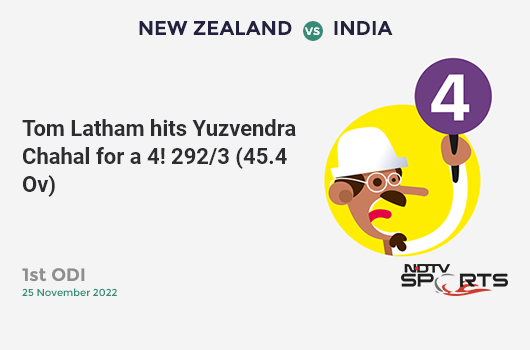 45.3 overs (4 Runs) FOUR! Too slow, too short and way outside off. Latham rocks back and pulls it to mid-wicket for a boundary. 200 of the partnership comes up.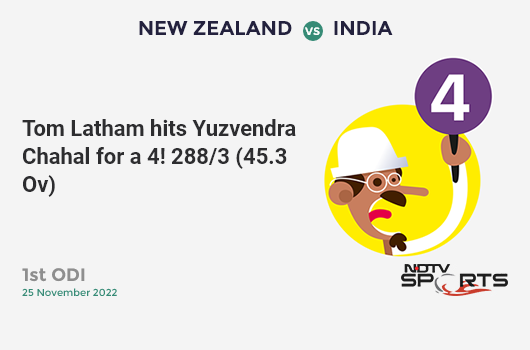 45.2 overs (1 Run) Shorter and outside off, Kane slaps it to deep cover for a run.
45.1 overs (1 Run) Tossed up on off. Latham reverse hits it to deep point for a single.
Match Reports
Featured Video Of The Day
Topics mentioned in this article