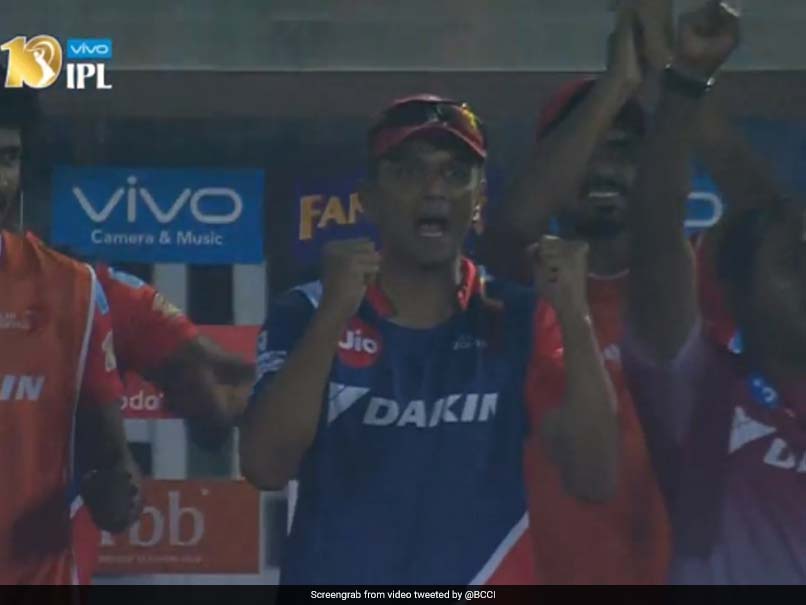 Fans on Twitter didn't fail to notice Rahul Dravid's reaction after the win.
© BCCI
Former India captain Rahul Dravid is well respected in the cricket community not just for his record as a batsman but also for his conduct on the pitch. He was never one to break into over-the-top celebrations despite reaching some of the biggest milestones during his career. The Karnataka cricketer maintained a high level of intensity on the pitch and was fierce competitor. However, he was always reserved and understated in victory and defeat. On Wednesday, however, Dravid wore his emotions on his sleeve after Delhi Daredevils (DD) pulled off a stunning win over Gujarat Lions (GL) in the Indian Premier League (IPL) in Kanpur.
Amit Mishra struck consecutive fours after his team needed nine off the last over bowled by Basil Thampi. It was an inconsequential game with both teams out of the Play-off race before Shreyas Iyer's special knock made it a match to remember.
The ball made contact with the boundary rope to hand Delhi a win, Dravid got up from his chair and clenched both his fists and let out a big scream. He then went on to give high fives to all the players in the dugout.
Fans on Twitter didn't fail to notice Dravid's reaction after the win. Dravid, who enjoys a huge following, left fans with a broad smile on their faces with his animated celebration.
Just seeing Rahul Dravid break into a smile was uplifting. Had a rollercoaster season as Delhi oscillated between the brilliant & the banal

— Cricketwallah (@cricketwallah) May 10, 2017
DD looked down and out at 121 for six, needing another 75 off 36, before Iyer came up with a dazzling display of strokeplay to stage a dramatic turnaround for Daredevils. He reached his highest IPL score but was unlucky to miss out on a well-deserved hundred. Overall, Iyer hammered 15 fours and two sixes in his 57-ball knock.