Story Progress
Back to home
Sri Lanka vs India Live Score, Over 16 to 20 Latest Cricket Score, Updates
Live Updates of Today Match between India vs Sri Lanka from Holkar Cricket Stadium, Indore. Check commentary and full scoreboard of the match.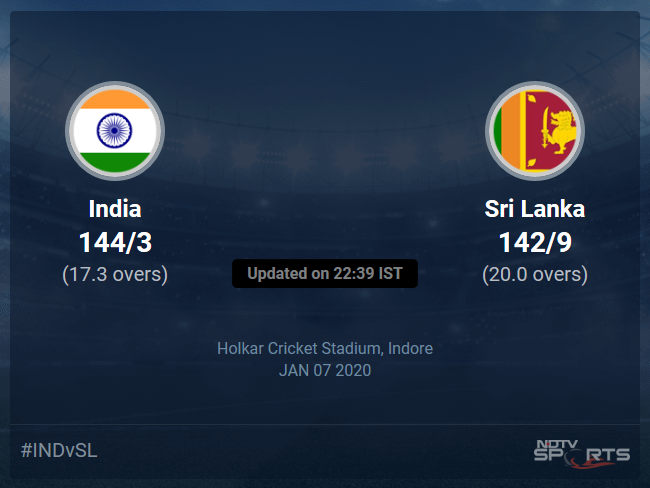 SL vs IND Latest Score
Follow the India vs Sri Lanka, 2019/20 live cricket score on Sports.NDTV.com. After 17.3 overs, India, chasing a target of 143, are 144/3. Get live score, ball by ball commentary and much more. Keep track of India vs Sri Lanka, 2019/20 today match between India and Sri Lanka. Everything related to India and Sri Lanka match will be available on Sports.NDTV.com. Stay updated with India vs Sri Lanka live score. Do check for India vs Sri Lanka scorecard. You can get scorecard updates, match related facts. Get quick live updates with ads, Sports.NDTV.com, which is the perfect destination for live cricket score.
So that is it from this game. India take an unassailable lead in this 3-match series. They have started the year on a very positive note. Sri Lanka, on the other hand, have a lot to think about. They will hope that Isuru Udana is not seriously hurt. We now move to Pune for the third and final game of the series. The final ODI will be played on Friday, 10th Jan. The match will begin at 1900 local (1330 GMT). Join us for that one. Till then, cheers!
For his brilliant bowling performance, Navdeep Saini is named as the Man of the Match. He says that he was practicing well and played some T20 games so he was confident. Tells a bowler must be confident and should use his variations. On which wicket made him more happy, Saini admits that it was the yorker that made him happier. On how he rates himself with white and red balls, Saini tells he is confident with both the balls as he he playing a lot more cricket. Tells that when he made his debut, he thought pace was everything but then he slowly realized that variations are very important.
Indian skipper, Virat Kohli says he is happy with the performance as it was a clinical one. Tells it is all about ticking those boxes and being clinical. Feels it is a good sign as they did not have Rohit Sharma but they still managed to win. Says Saini is gaining more and more confidence. States he is happy to have Bumrah back and is happy to see him having the same pace. Tells it is a great luxury to have such good options in fast bowling. Adds there will be one surprise bowler who can bounce people out in the World Cup squad. Shares that Prasidh Krishna has done well in the domestic circuit and tells even he has a chance. On the surface, Kohli says it was a good wicket and says they bowled well. Kohli says they kept picking wickets regularly which restricted them from getting to 175 which he feels was a par score. Tells they try to give youngsters a chance and want them to finish the game off. Adds he is flexible and is happy to bat at either number 3 or 4.
Sri Lankan skipper, Lasith Malinga admits that they did not have enough runs especially against a side that has experience of playing here. Feels they were 30-40 runs short. Tells they were looking to get to 150-160. Feels that they bowled well. On Udana, he says he is an experienced player in T20s and they missed him. Hopes that he is well. Malinga tells they will look to win the next game as they are a young side and they need to get a momentum of winning.
KL Rahul is caught down for a quick chat with Murali Kartik. Rahul says that he and Dhawan tried to finish the game off themselves. Adds that they wanted to spend some time out in the middle after being out of cricket for a while. Credits his bowlers for restricting Sri Lanka to 140 and reckons it was a 180 pitch. Tells that he spent time in the middle, got runs and that helped him to score in white-ball cricket. Adds that spending time away from international cricket also helped him to think about his game. On what is the difference opening with Rohit and Dhawan, Rahul mentions that there is no change in dynamics as they all look to go out there and win the game for the country. Adds that it is easy to bat with Rohit as he makes it looks easy and reminds that he opened with Dhawan in Tests, so even they share a good camaraderie.
For Sri Lanka, they needed early wickets to make a match out of this but they were pounded in the Powerplay. It got worse for them when Isuru Udana got injured without bowling a ball. They did fare decently in the middle overs when Hasaranga managed to take two wickets, however, they did not have enough runs on the board to play with.
Easy-peasy! India have made a mockery of the run chase. That was never in doubt though after their bowlers restricted the Lankans to a modest total. Their openers then got them off to a perfect start as they added 71 runs. The hosts did lose their openers in quick succession but Kohli and Iyer did well to form another partnership and took India to the brink of victory. Iyer perished but Kohli and Pant ensured there were no more wickets to fall and helped India take a 1-0 lead.
17.3 overs (6 Runs) SIX! Kohli finishes the game with a bang! Back of a length on off, Kohli gets on his back foot and whacks it over the square leg fence for a firecracker six to end the over. INDIA WIN BY 7 WICKETS!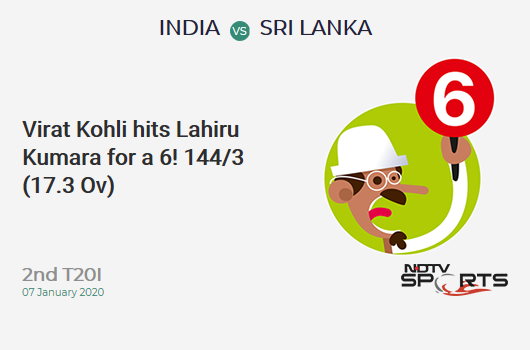 17.2 overs (1 Run) Pant is off the mark. Back of a length on off, Rishabh pulls it to deep mid-wicket for one.
Rishabh Pant walks out to bat now.
17.1 overs (0 Run) OUT! Caught! Iyer departs. He'd be disappointed not to see the game off for his side. Lahiru steams in and bowls a bouncer. Shreyas looks to pull but finds the man at fine leg to perfection. Dasun Shanaka at fine leg takes an easy catch.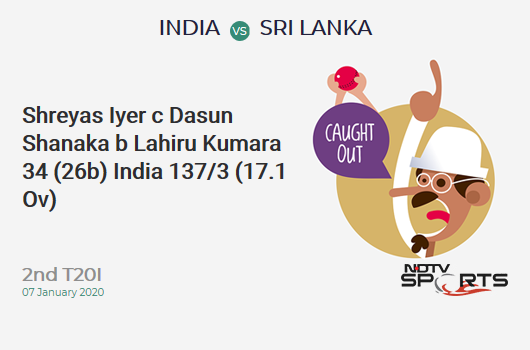 16.6 overs (1 Run) Slower ball on off, Iyer tucks it to mid-wicket and keeps the strike. Just 6 needed off the last 3 overs!
16.5 overs (1 Run) Very full on middle, Kohli glances it to deep mid-wicket and gets a single. Brings up his 1000 T20I runs as captain.
16.4 overs (2 Runs) Full on off, Kohli looks to flick but it goes off the inner half once again but he still gets a couple.
16.3 overs (6 Runs) SIX! No fielder can stop that. Kohli did not time it well but when Kohli hits they stay hit. Bouncer on off, Kohli hooks it but it goes off the upper half of his bat for a biggie.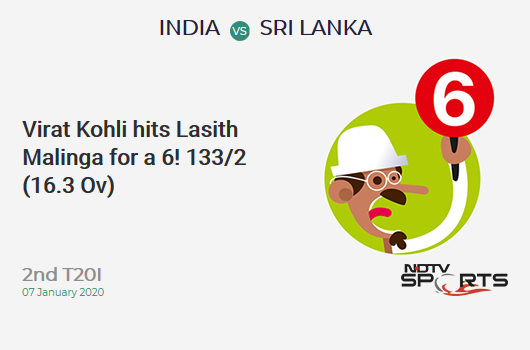 16.2 overs (2 Runs) Good fielding there from Gunathilaka. Back of a length on off, Kohli whacks his pull but Gunathilaka at deep mid-wicket divies to his left and saves a certain boundary. The batters take two.
16.1 overs (4 Runs) FOUR! Malinga misses his line with the slower one. It is on a length and down the leg side. Kohli mistimes it but gets enough bat on it to send it fine down the leg side for a boundary.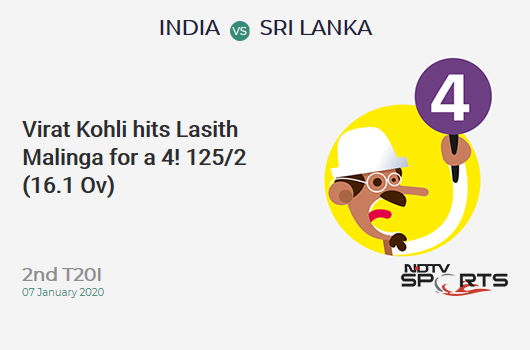 15.6 overs (6 Runs) SIX! That is colossal! This over probably turns the tide completely into India's favor. This is floated up on middle, Iyer launches it into the long on stands for a big one. 17 from the over and now 22 needed in 24.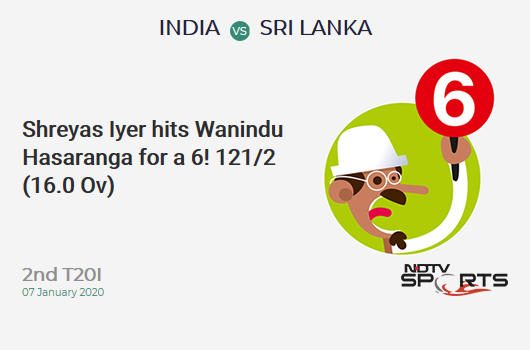 15.5 overs (4 Runs) FOUR! Second boundary in the over and only 28 needed now in 25. This is floated up on off, Iyer drags it through wide long on, it is in the gap and it races to the fence.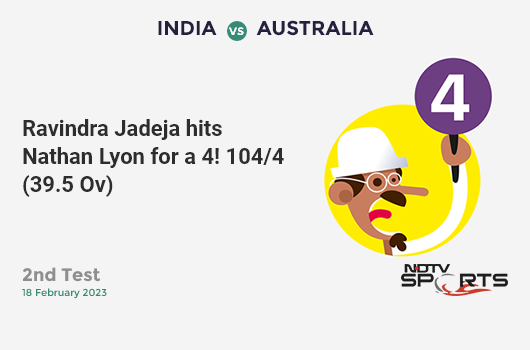 15.4 overs (1 Run) Floats it up on off, Kohli strokes it down to long off for one.
15.3 overs (1 Run) On the shorter side, it is pulled through mid-wicket for one.
15.2 overs (4 Runs) FOUR! One bounce boundary! A little too full this time by Hasaranga, Iyer smashes it downtown for a boundary.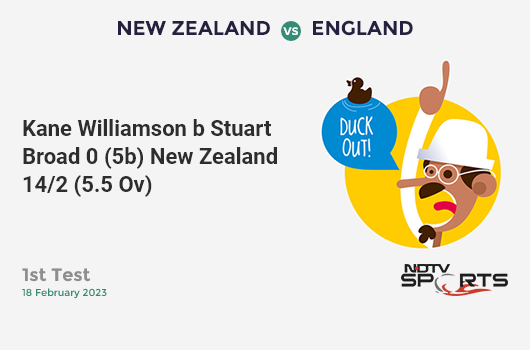 15.1 overs (1 Run) Slows it up around off, Kohli looks to play the slog sweep but it goes off the inner half through mid-wicket for one.
Match Reports
Topics mentioned in this article