Story Progress
Back to home
PR Sreejesh, Harmanpreet Singh in Fray For FIH Awards
While PR Sreejesh is in the running for FIH Goalkeeper of the Year, the 18-year-old Harmanpreet Singh is in fray for the Rising Star of the Year trophy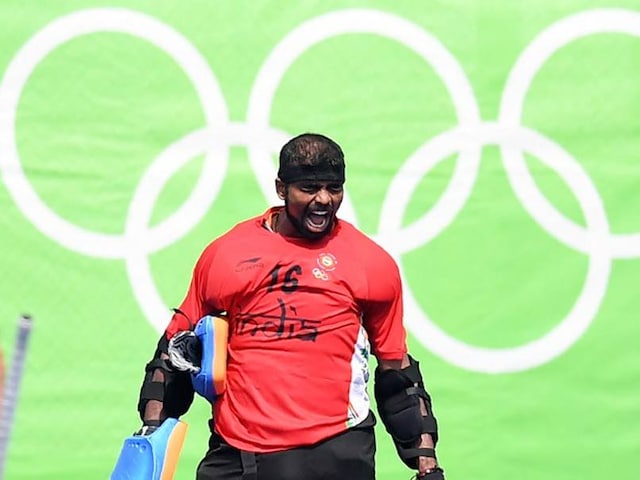 PR Sreejesh is in fray for the Goalkeeper of the Year award.
© AFP
Highlights
PR Sreejesh and Harmanpreet Singh are in contention for FIH awards

Sreejesh is in the running for FIH Goalkeeper of the Year award

Harmanpreet in in fray for Rising Star of the Year
Indian men's hockey team stalwart PR Sreejesh and young drag-flicker Harmanpreet Singh are two Indians in running for different honours at the FIH annual awards which will be given away in a formal ceremony for the first time, in Chandigarh on February 23. While Sreejesh is in the running for the FIH Goalkeeper of the Year award, the 18-year-old Harmanpreet is in fray for Rising Star of the Year. The awards wiill honour the best players, goalkeepers, rising stars, coaches and umpires.
Sreejesh had captained India to the Asian Champions Trophy crown and a silver medal at the Champions Trophy in 2016. Harmanpreet, on the other hand, had played a key role in the junior Indian men's team's World Cup triumph in Lucknow.
Although the FIH Hockey Stars Awards have been presented for a number of years to winners across the world, this is the first time that a formal ceremony will take place to hand out the awards. The FIH will conduct the ceremony in partnership with Hockey India.
"This Awards ceremony is yet another example of hockey increasing the degree of professionalism across all levels of the sport, a key component of the FIH's 10-year Hockey Revolution strategy," FIH President Narinder Dhruv Batra said.
"These Awards are an important opportunity to generate more followers around the globe by raising the profiles of hockey's athletes, coaches and officials.
"By creating hockey heroes who appeal to all sports fans, not just hockey fanatics, it is hoped that these stars will become household names as hockey's profile continues to grow. This is essential to our strategy's overarching goal - to make hockey a global game that inspires the next generation," he added.
FIH Player of the Year:
Women: Alex Danson (GBR); Carla Rebecchi (ARG); Kate Richardson-Walsh (GBR); Naomi van As (NED); Stacey Michelsen (NZL).
Men: Gonzalo Peillat (ARG); John-John Dohmen (BEL); Moritz Fürste (GER); Pedro Ibarra (ARG); Tobias Hauke (GER).
FIH Goalkeeper of the Year
Women: Belen Succi (ARG); Jackie Briggs (USA); Joyce Sombroek (NED); Kristina Reynolds (GER); Maddie Hinch (GBR).
Men: David Harte (IRL); Jaap Stockmann (NED); Juan Vivaldi (ARG); PR Sreejesh (IND); Vincent Vanasch (BEL).
FIH Rising Star of the Year (Players Under-23)
Women: Florencia Habif (ARG); Kathryn Slattery (AUS); Lily Owsley (GBR); Maria Granatto (ARG); Nike Lorenz (GER).
Men: Arthur van Doren (BEL); Christopher Rühr (GER); Harmanpreet Singh (IND); Jorrit Croon (NED); Timm Herzbruch (GER).
FIH Coach of the Year
Women: Alyson Annan (AUS); Janneke Schopman (USA); Karen Brown (GBR).
Promoted
Men: Carlos Retegui (ARG); Danny Kerry (GBR); Shane McLeod (NZL).
(With inputs from PTI)