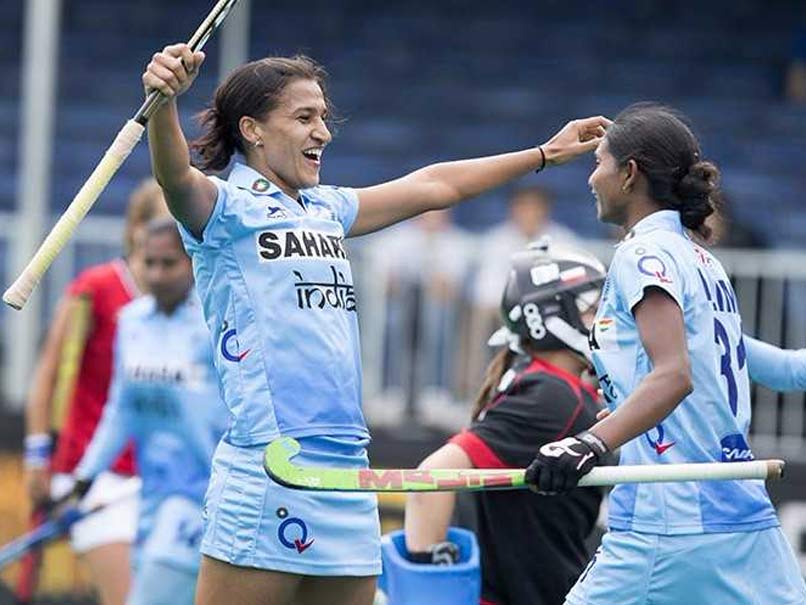 India women hockey team gained two places in the world rankings.
© Hockey India
The Indian women's hockey team on Monday entered the top 10 rankings in the FIH world rankings following their Asia Cup title triumph in Japan. The India team gained two places in the ranking table to be placed at number 10 behind Korea and ahead of Spain. The chart is being led by European champions Netherlands, who have maintained their top position, and are followed by England and Pan American Cup champions Argentina. The USA has dropped down to seventh, with 2017 Oceania Cup winners Australia replacing them in the fourth position. New Zealand and Germany also leapfrogged the USA, taking up the fifth and sixth position respectively.
Chile made considerable gains, moving up five positions from 20th to 15th after they picked up the silver medal in this year's Pan American Cup.
Along with Chile, the Czech Republic (now 19) and Singapore (35) were amongst the biggest risers for the women, all moving up five positions.
The India's men's team has maintained the sixth position in the latest rankings.
Earlier, Hockey India announced a cash award of Rs 1 lakh each to the 18-member squad which won the 2017 Asia Cup in Kakamigahara, Japan. Coach Harendra Singh will also get Rs 1 lakh and members of the support staff Rs 50,000 each.
India last won the Women's Asia Cup in 2004 when the event took place in New Delhi. The team remained unbeaten in the tournament, scoring 28 goals and conceding five.