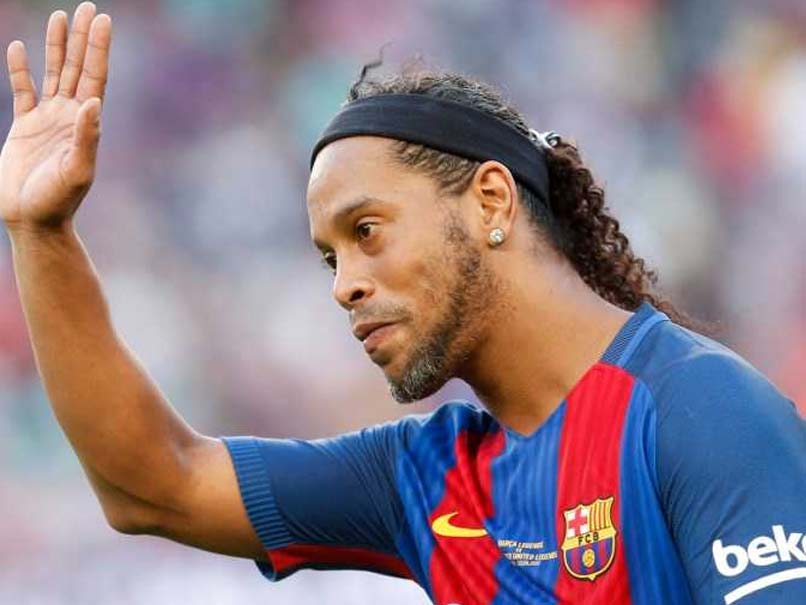 Ronaldinho said he is on a goodwill mission aimed at inducing youngsters to play the game.
© AFP
Former international football stars Ronaldinho, Roberto Carlos, Ryan Giggs, Nicolas Anelka, Robert Pires, David James, Goerge Boateng and Luis Boa Morte will be playing two exhibition matches over the weekend in Pakistan in hopes of attracting more players from the country and promote the sport. The players arrived in Karachi early Saturday morning on a private jet manned by the Pakistan military. The exhibition matches will be played under the auspices of the Leisure Leagues and World Group who want to promote the sport in Pakistan. Ronaldinho, 37, who won the World Player of the Year twice and was part of the 2002 World Cup winning team, said he is on a goodwill mission aimed at inducing youngsters to play the game.
"I am excited at the prospect of playing in Pakistan," he said in a statement.
"This is a great opportunity for us to induce youngsters in Pakistan and we will do our best to do that," Ronaldinho was quoted as saying by AFP.
Manchester United legend Giggs said that he was 'privileged' to take part in the games.
Pakistani organisers said they hope to promote football, and also signal that security has improved in militancy-plagued Pakistan, with officials ready to welcome back international sport -- which stopped after an attack on the Sri Lankan cricket team in 2009.
CEO of Leisure League, Ishaq Shah, said, "Our aim is to promote football and this is the first of many steps. We want to give a positive image of Pakistan through sports."
While the international stars will be paid between USD 600,000 and 400,000, Pakistani players, who will play alongside the former footballers, said they have not been promised any payments from the organisers.
The security is beefed up for the players and matches as Pakistani Army will be deploying troops in and around hotels, airports and stadiums over the weekend, officials have said.
"It's a great occasion," said Pakistan team captain Kaleem Ullah, who also played for Sacramento Republic FC in USA and Kyrgyzstan's FC Dordoi Bishkek. He will take part in one of the matches.
Fans in the football-mad Lyari neighbourhood of Karachi said they had spent their savings on tickets, which is priced between 2000 and 30,000 Pakistani rupees.
"I want to have a glimpse of Ronaldinho," AFP quoted a young fan Mohammad Essa as saying.
Pakistan boasted a top place in Asian football until the early 1970s, but a lack of government support and poor infrastructure helped push them to as low as 200th in the FIFA football rankings.
(With PTI and AFP inputs)