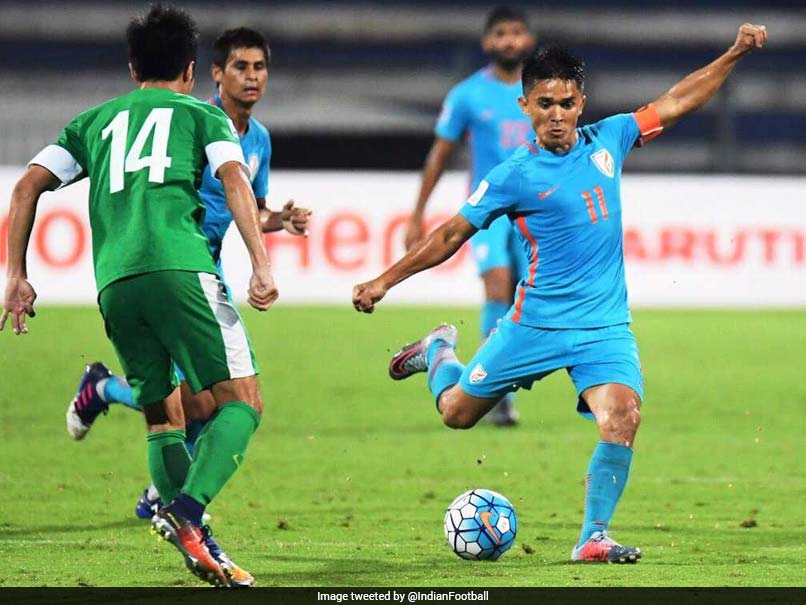 Indian football skipper Sunil Chhetri in action
© Twitter
Showering praise on the Indian national football team captain Sunil Chhetri, Myanmar coach Gerd Zaise said he was ready to give a Myanmar passport to the in-form striker so that he can represent his side. Speaking ahead of the crucial 2019 AFC Asian Cup qualifier between India and Myanmar, Zaise said, "The Indian captain is a cool customer and he's the most dangerous player. We must take care of the counter attacks and the defence line must be cautious when it involves him." Describing Chhetri as the "most dangerous player" the veteran coach went on to say, "I am ready to give him a Myanmar passport."
Zaise analysed the Indian team and gave his insights on the men in blue. "India are really good at defending and we have to absolutely on our toes to penetrate them. I would like to congratulate them on their success but tomorrow we have to take our chances to go back with a positive result," he said. "We have come to Goa to play good football and take some points."
Going into the match on Tuesday, the 65-year-old also spoke about his team's strategy said, "Our first target is not to lose. We were the better side in the first leg but eventually ended up on the losing side. We need to score. Sometimes, you will get only one chance in the entire match and you need to utilise that."
Meanwhile, captain of the Myanmar side Yan Aung Kyaw dismissed talks of any extra pressure on his side and said, "After 15 years we stand with a realistic chance to qualify for the AFC Asian Cup. We come out every day to get a win. Tuesday is no different and we need nothing less than a win. There's no other alternative."
(With PTI inputs)