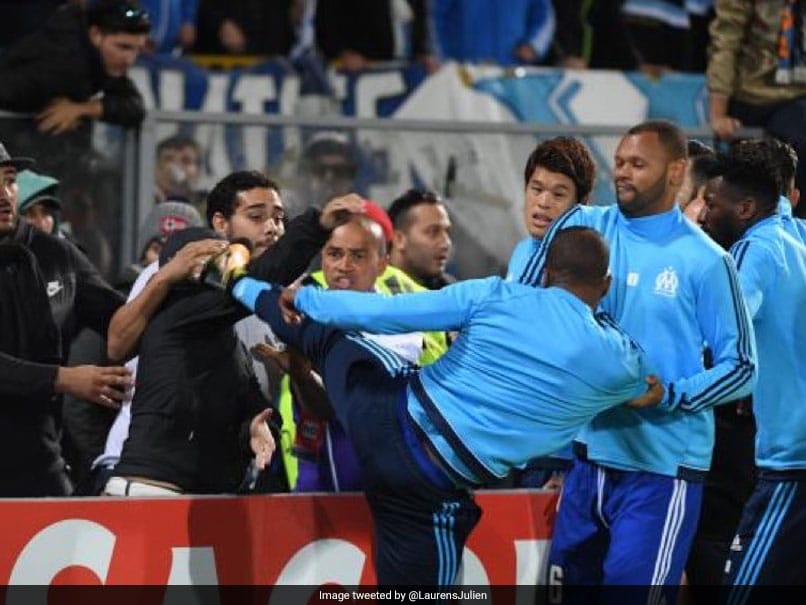 Patrice Evra faces a lengthy UEFA ban for kicking a fan.
© Twitter
Former Manchester United star Patrice Evra, who currently plies his trade with French club Marseille, was sent off in astonishing circumstances even before the Europa League match between Marseille and Vitoria Guimaraes started. Evra was pictured launching a karate-style kick on a fan said to be from his own team. The French defender was seen in a heated exchange with a group of Marseille fans in Portugal before aiming a head-high kick at a supporter. The incident was reminiscent of another Manchester United legend, Eric Cantona, kung-fu kicking a Crystal Palace fan at Selhurst Park in 1995.
Cantona's assault led to a nine-month ban handed down by the English Football Association and it is expected that Evra too now faces a lengthy UEFA ban.
Stewards and Evra's teammates quickly surrounded Evra and intervened before more harm could be done. The 36-year-old, who was originally listed as a substitute, was ordered to return to the dressing room by the referee.
A fan posted a video of the incident.
Patrice Evra: Kicking racism out of football. Literally. ?? pic.twitter.com/QA0p27DSrq

— PapaBeats (@PapaBeats_) November 2, 2017
Twitter quickly got into the groove as fans posted some hilarious memes of the incident.
Conor McGregor fait pas le poids face a Patrice Evra #VSCOM pic.twitter.com/VmCOfWMPtM

— L'interiste (@L_interiste_) November 2, 2017
Who did it better?

RT - Eric Cantona
LIKE - Patrice Evra#mufc pic.twitter.com/IZJSaZzi62

— United Xtra (@utdxtra) November 2, 2017
Looks like Patrice Evra has been practising that karate kick. pic.twitter.com/ro8LgOAE23

— Nathan (@NathanOAFC01) November 2, 2017
Patrice Evra kicks a fan in the head, that only means one thing ... pic.twitter.com/3HQ8NIuQMe

— Daniel Mccabe (@dmccabe_5) November 2, 2017
"Pat has experience, and he must not react, it's obvious," said Marseille coach Rudi Garcia whose side lost the game 1-0 and also had Boubacar Kamara sent off three minutes from time.
"Patrice is a more than just an experienced player. You can't respond, of course, to insults as bad as they are and as incredible as they might be because they come from one of our supporters."
"He must learn to keep his cool. That's all I can say."
(With AFP Inputs)