Story Progress
Back to home
England vs India Live Score Ball by Ball, England vs India, 2022 Live Cricket Score Of Today's Match on NDTV Sports
Live Updates of Today Match between England vs India from Old Trafford, Manchester. Check commentary and full scoreboard of the match.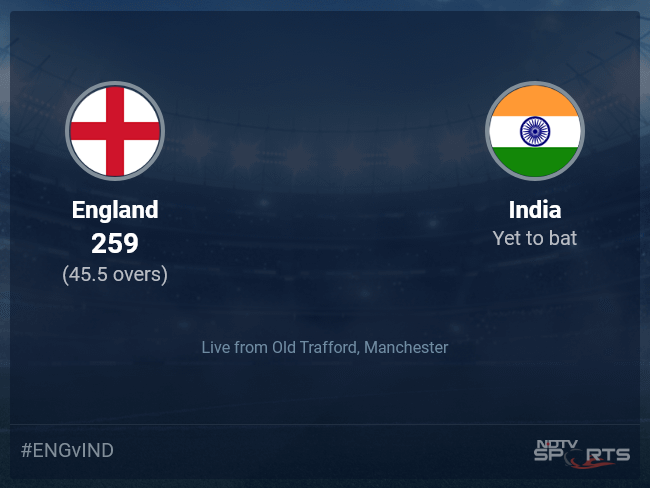 IND vs ENG Latest Score
Follow the England vs India, 2022 live cricket score on Sports.NDTV.com. After 45.5 overs, England are 259. Get live score, ball by ball commentary and much more. Keep track of England vs India, 2022 today match between England and India. Everything related to England and India match will be available on Sports.NDTV.com. Stay updated with England vs India live score. Do check for England vs India scorecard. You can get scorecard updates, match related facts. Get quick live updates with ads, Sports.NDTV.com, which is the perfect destination for live cricket score.
We are back for the chase.
Now the target is yet again not a big one but could be a tricky one. India failed to chase down something lesser in the last game. The wicket does have some pace in it and there is some bounce but India will back themselves to chase this down. England on the other hand, will yet again have to take wickets early. If they do so, GAME ON! Stay tuned for the second half.
Hardik Pandya is in for a quick chat. He says he did bent his back a bit. He realized that full deliveries won't work on this wicket and changed his plan accordingly. Mentions for him it was simple. He knew Livingstone takes on the short ball, and tried to be persistent with his length. There would only be one winner in the battle. Further adds even after going for a couple of sixes, he spoke to the skipper and continued with the same plan.
India bowled with a plan! Initially they kept it fuller as it was swinging. Siraj got the early breakthroughs for his side but it was Hardik who was the wrecker in chief. He was the one who provided the vital breakthroughs for India. He got Stokes, Roy and bowled that one over where he got the better for Liam and Buttler. That was probably the over which changed the game into the favor of the visitors. The Indian bowlers did go for runs but the good thing for them was, they kept taking wickets. Yuzvendra Chahal cleared up the tail quickly in the death that should help him with the momentum.
The problem for England was they kept losing wickets at regular intervals! They lost two at the very start! Then there was a partnership between Roy and Stokes. However, both Roy and Stokes then fell in quick succession. Ali and Buttler then steadied the ship and when the two were batting, the tide had changed towards their side. However, as the game seemed to be slipping away, India got the wicket of Moeen and since then, it all went downward for the hosts. They lost Buttler and Livingstone in quick succession. Then there was yet another stand between Willey and Overton but once they lost Willey, the last two wickets did not stay out there for long. The hosts probably could have played with a lot more caution and they may have gotten to a score which would have at least been par.
45.5 overs (0 Run) OUT! TIMBER! Yuzvendra Chahal hits the top of middle to end this English innings. This is a googly, lands outside off and turns in a long way. Reece Topley strides a long way across and tries to defend it out but misses. The ball goes past the inside edge and shatters the stumps. ENGLAND END THEIR INNINGS AT 259/10.
Have to say India will be the happier of the two sides at the moment! But one can really question the bang, bang approach from England! Quite a few shots from their batters can be questioned. They will be disappointed as they should have easily got to something around 300 but we feel they are under par here on a wicket which has played decently.
45.5 overs (1 Run) WIDE! Slower one, wide outside off, Reece Topley leaves it alone. Wide called.
45.4 overs (1 Run) Full, wide outside off. Carse comes down the track and whips it down to long on for one.
45.3 overs (0 Run) OUT! CAUGHT! Yuzvendra Chahal gets his second wicket. It is full and on off. Craig Overton clears his front leg and tonks it down the ground towards long off. He could not get the desired distance on it. It only meets Virat Kohli in the deep, well inside the boundary. Reece Topley is the last man in.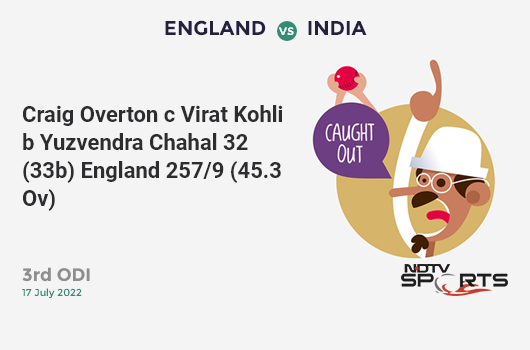 45.2 overs (0 Run) On off, defended out.
45.1 overs (6 Runs) SIX! Craig Overton starts the over with a biggie. Pressure back on Chahal. It is full and outside off. Overton dances down the track and smokes it over the long off fence.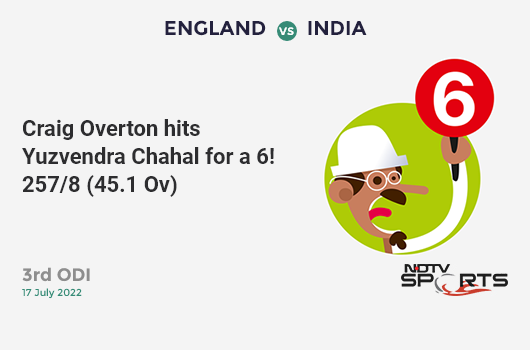 Match Reports
Topics mentioned in this article