Story Progress
Back to home
England vs India Live Score Ball by Ball, England vs India, 2022 Live Cricket Score Of Today's Match on NDTV Sports
Live Updates of Today Match between England vs India from Old Trafford, Manchester. Check commentary and full scoreboard of the match.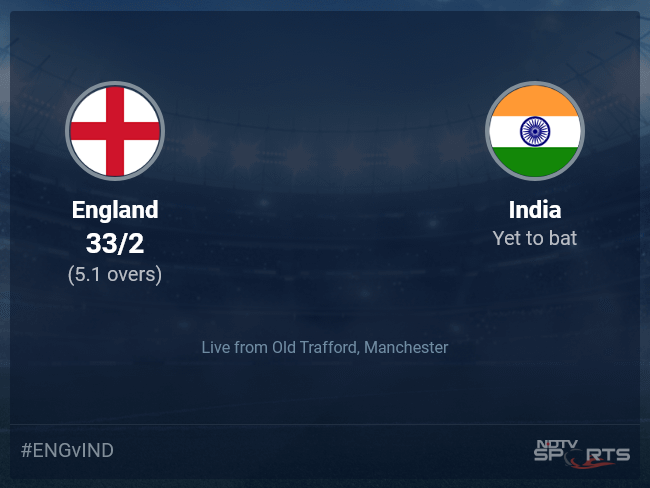 IND vs ENG Latest Score
Follow the England vs India, 2022 live cricket score on Sports.NDTV.com. After 5.1 overs, England are 33/2. Get live score, ball by ball commentary and much more. Keep track of England vs India, 2022 today match between England and India. Everything related to England and India match will be available on Sports.NDTV.com. Stay updated with England vs India live score. Do check for England vs India scorecard. You can get scorecard updates, match related facts. Get quick live updates with ads, Sports.NDTV.com, which is the perfect destination for live cricket score.
4.6 overs (2 Runs) Timed really well again! Roy has started well today! On middle, this is worked through mid-wicket for a couple. Despite the two wickets, England going at a good rate here.
4.5 overs (1 Run) That is a brilliant stop! Saves three does Krishna there! Stokes thumped that. He made room, came down the track and hammered it to the right of mid off. Krishna dives and gets a hand to it, a strong hand. Three saved for his side.
4.4 overs (0 Run) Too high! Stokes walks across, Shami bowls a length ball around off, gets it to swing back in. Stokes looks to whip it but misses to get hit near the box.
4.3 overs (0 Run) Back of a length and on off, Stokes pushes it to mid off.
4.2 overs (1 Run) Now follows the boundary with a run! On middle, this is nudged on the leg side for one.
4.1 overs (4 Runs) FOUR! THUMPED! That has been powered away by Roy! Boundaries flowing now! Shami goes short and Roy has no problem in pulling it through square leg for another boundary.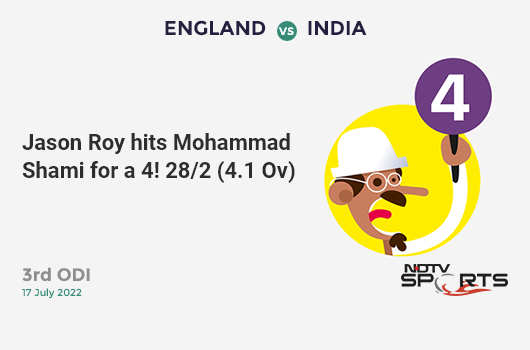 3.6 overs (0 Run) A dot to end but a good over for England. Length and on off, this is blocked.
3.5 overs (4 Runs) FOUR! JUST OVER! Second boundary in the over and the ball is racing off the bat! On the pads, Stokes flicks it uppishly but wide of the diving fielder at square leg and into the fence. This has been an action-packed start to the game.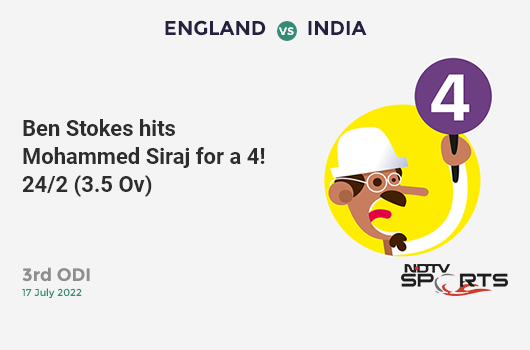 3.4 overs (0 Run) Siraj gets away with one there! This is short and outside off, asking to be hit. Stokes hammers it but straight to point.
3.3 overs (4 Runs) FOUR! That is timed brilliantly! That shot just shows there is nothing wrong with this wicket. Back of a length and on off, Stokes punches it through covers and bags his first boundary.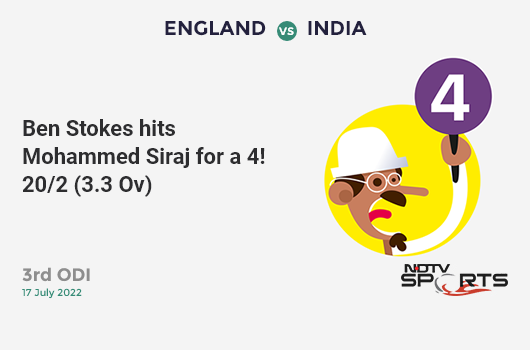 3.2 overs (2 Runs) Hardik takes a tumble there! Stokes yet again gets away with one. Looks to be aggressive. Steps out and looks to loft it over mid off but it goes more off the toe end of the blade. Clears Pandya though who slips as he tries to pick the ball up. Two taken.
3.1 overs (0 Run) Fuller, gets it to tail back in from off, Stokes pushes it to mid off.
2.6 overs (0 Run) Roy continues to drive on the up! Length and on off, Roy pushes it to mid on.
2.5 overs (1 Run) Quick run and Stokes is off the mark! Had there been a direct hit, Stokes was a goner! Length and on middle, this is pushed to mid on. Stokes takes off. Krishna gets to the ball and has a shy at the bowler's end but misses.
2.4 overs (0 Run) That just goes past the off pole! From around the wicket now Shami to the left-hander. It is on a length and outside off. Comes in with the angle. Left alone well.
2.3 overs (1 Run) Almost! Almost another one! Not sure if that is the right shot with the ball coming back in. This is outside off, well outside off. Comes back in a touch. Roy goes after it away from the body, but it takes the inside edge, beats the off pole and runs down to fine leg for one.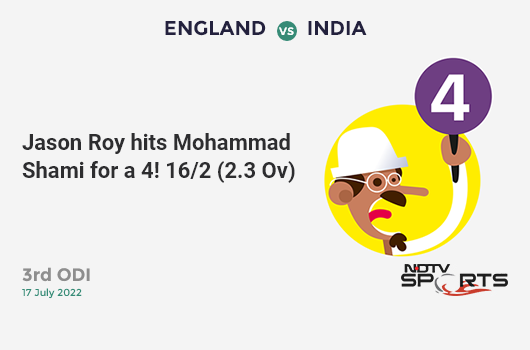 2.2 overs (0 Run) This is going down leg! Shami is slightly fuller this time but he brings it back in from around middle. Roy looks to drive it through mid on but misses to get hit on the pads.
2.1 overs (0 Run) That is the ball to bowl to Roy! The inswinger, it comes back in from outside off and it is on a length. Roy plays it well as he pushes it to mid on.
1.6 overs (0 Run) OUT! CAUGHT AT SLIPS! Joe Root departs on a 3-ball duck. Mohammed Siraj grabs two wickets in a jiffy. England now see their second batter walk out without disturbing the scorers. They are surely in a spot of bother. It is a length ball, around off, shaping away but late. Joe Root stays inside the crease and tries to defend it out but squares up a bit. It flies off the outside edge towards second slip. Rohit Sharma keeps his eyes on the ball and takes a solid catch. Ben Stokes walks in next.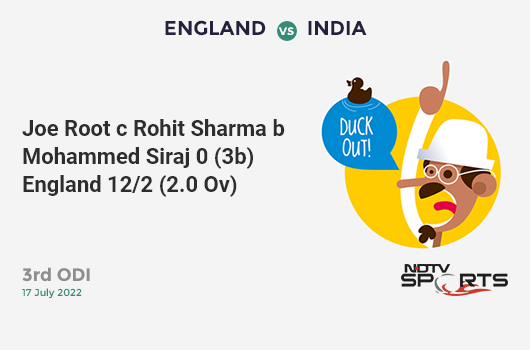 1.5 overs (0 Run) Back of a length, outside off. Joe Root leaves it alone for the keeper.
1.4 overs (0 Run) Length ball, on the pads, Root flicks it to the leg side.
Joe Root is the new man in.
1.3 overs (0 Run) OUT! CAUGHT! Mohammed Siraj takes no time to make a statement after replacing the man in form Jasprit Bumrah. Siraj draws first blood, only on his third delivery to send back Jonny Bairstow for a duck. Just the start India were after. It is full and on off. Jonny Bairstow tries to play it across the line and does so a bit early. It takes the leading edge and lobs towards mid off. Shreyas Iyer, the substitute fielder, takes a dolly.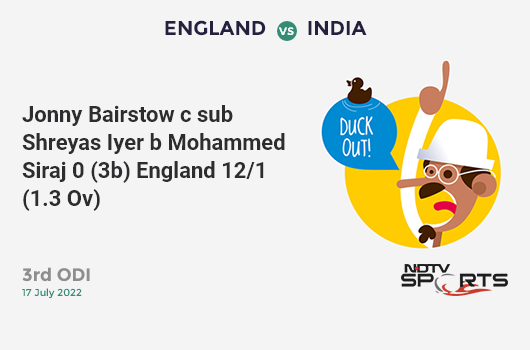 1.2 overs (0 Run) BEAUTY! It is a length ball, on the fifth stump. This one holds its line. Jonny Bairstow hangs his blade away from his body but luckily does not nick it behind.
1.1 overs (0 Run) Back of a length, outside off. Jonny Bairstow looks to cut it away but does not time it well. Straight to the fielder.
Mohammed Siraj to steam in from the other end with the second new ball.
0.6 over (0 Run) Length ball, on the fourth stump. This one flies off the deck. Jason Roy tries to chase it but decides to make a late leave. The ball zips past the outside edge. A good end to an untidy over by Shami.
0.5 over (0 Run) Good length, outside off, shaping away. Jason Roy covers his stumps and shoulders his arms at it.
0.4 over (4 Runs) FOUR! Easy pickings for Roy. It is a perfect start for the opener. It is full, on middle and leg. Jason Roy stays back and flicks it along the ground through mid-wicket for a boundary. The third one in the over.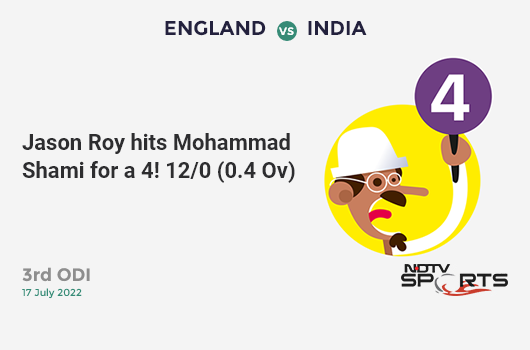 0.3 over (0 Run) A length ball, on off. Roy blocks it to mid on with full face.
0.2 over (4 Runs) FOUR! In the air but safe. It is a length ball, on the pads. Roy stays back and clips it aerially past the square leg fielder for a boundary.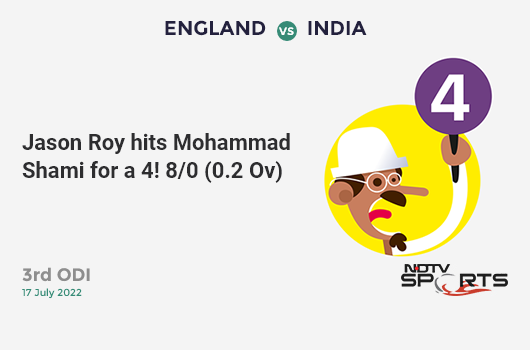 0.1 over (4 Runs) FOUR! Jason Roy and England are off the mark in fine fashion. A confident shot by Roy to get off the mark. It is very full, on the fourth stump. A half-volley. Jason Roy leans in and drives it down the ground past mid off for a boundary.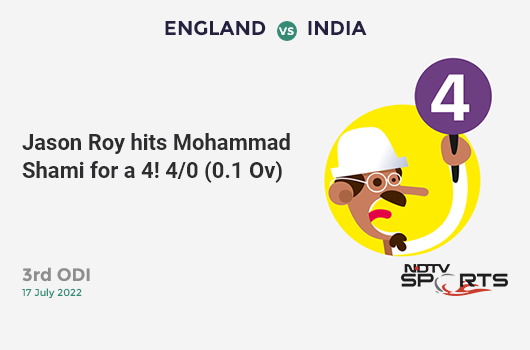 The match is set to begin. There are some clouds hovering around, hopefully, the wind blows them away. Let's keep our fingers crossed for an uninterrupted match. The Indian players stride out to the middle, followed by Jason Roy and Jonny Bairstow who walk out to open for the hosts. It will be Mohammad Shami to start with the new ball. Here we go...
Jos Buttler, the English skipper says they wanted to bat. Adds it may swing at the start but he is happy. States it is going to be a good game, a good crowd and he is excited. Informs they are unchanged.
Rohit Sharma, the skipper of India, says it looks like a good track and it seems like it won't change a lot. Adds it is a series decider and on this tour they have played some good cricket but they got their learnings from last game and they don't want to repeat those mistakes. Adds they have bowled well in this tour so far and he hopes that continues. Informs they have one change, Bumrah sits out due to injury and Siraj comes in.
England (Unchanged Playing XI) - Jason Roy, Jonny Bairstow, Joe Root, Ben Stokes, Jos Buttler (C/WK), Liam Livingstone, Moeen Ali, David Willey, Craig Overton, Brydon Carse, Reece Topley.
India (Playing XI) - Rohit Sharma (C), Shikhar Dhawan, Virat Kohli, Suryakumar Yadav, Rishabh Pant (WK), Hardik Pandya, Ravindra Jadeja, Mohammad Shami, Mohammed Siraj (In for Jasprit Bumrah), Prasidh Krishna, Yuzvendra Chahal.
TOSS - The coin goes up and lands in favour of India. They have opted to BOWL first.
PITCH REPORT - The deck is hard, the pacers will get a good carry. There is some grass on the track as well to not let the heat crack it up.
Topics mentioned in this article