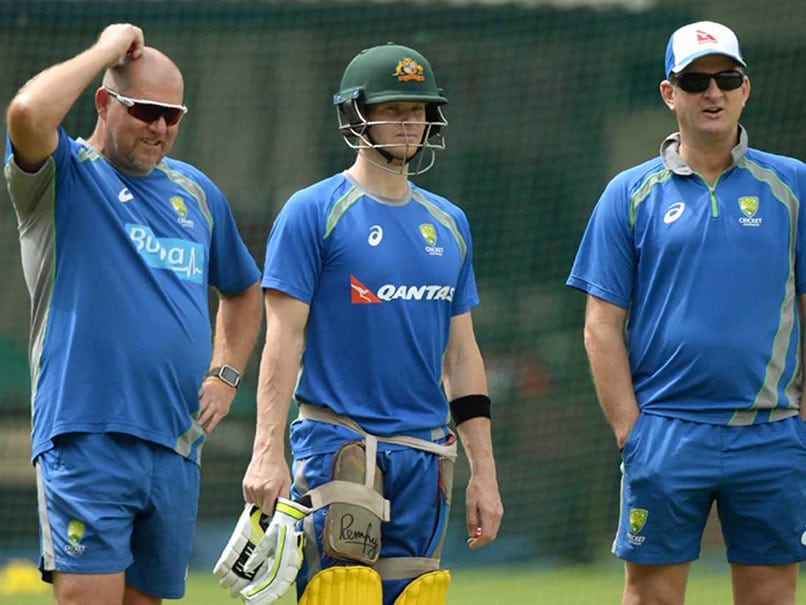 Steven Smith (C) watches along with selector Mark Waugh (R) and coach David Saker (L)
© AFP
Former Australia batsman and national selector Mark Waugh said he wouldn't hesitate to pick the three players banned in the wake of the Cape Town ball-tampering scandal once they have served their bans, but added in the same breath that these are "tough times" for Australia's Test team. "My personal contact with these guys is that they're all good people and very fine players. They've made a mistake, everyone makes mistakes. Not one person that I've ever met hasn't made a mistake. It's so unfortunate they've made this mistake and they're going to pay such a heavy penalty," Waugh told Sky Sports Radio.
"But we should all look at the facts. You've got to let them back into the fold, you've got to forgive them and hope they get back to where they were," he added.
After the ball tampering incident in the third Test in South Africa, Australian captain Smith and vice-captain Warner, both key batters for the team, were suspended from playing for Australia for 12 months while opener Bancroft was handed a nine-month punishment for their roles in the shocking incident.
If the pending potential appeals which could be heard next week, do not turn the tide, chances of the bans being overturned are highly unlikely.
Waugh is an ODI and T20I selector and forms part of the national selection panel along with chairman Trevor Hohns, Greg Chappell and outgoing coach Darren Lehmann.
Australia's next Test assignment is away to Pakistan, likely in October, before they host India and Sri Lanka next summer. Waugh believes replacing the banned players will be a major challenge.
"We've still got a lot of fine players in Australia but to lose these three guys, particularly Smith and Warner, it's going to leave a huge hole in your squad," he said.
"Cameron Bancroft is a good young man on his way up, it's going to leave a spot there too which is going to be hard to fill.
"You'd be naive to think it will be easy, it's going to be tough. There are going to be tough times ahead.
"But at the same time, it gives other guys the chance to step up. India is going to be very tough in Australia and of course there's a World Cup next year.
"It's going to be tough but before too long we'll be back in the winners' circle."
(With IANS inputs)