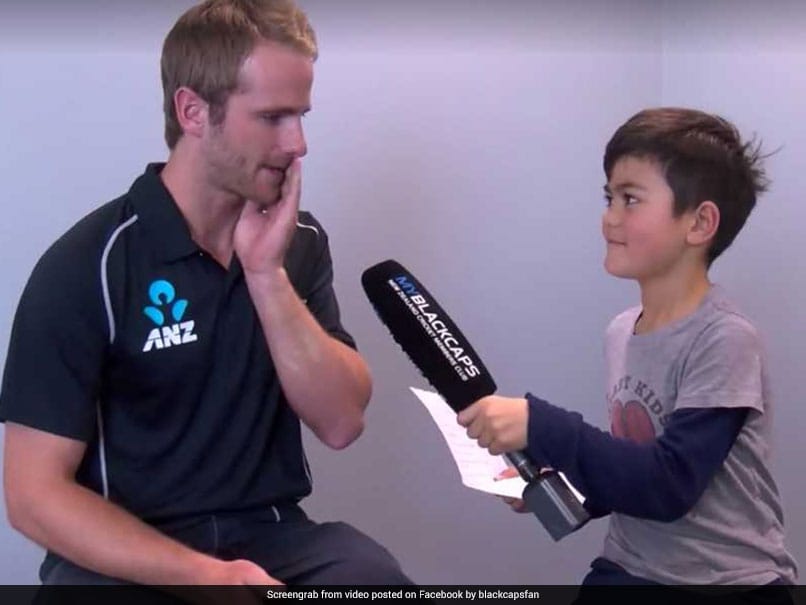 Jimi Samuels, a cricket enthusiast, was given the opportunity to ask Williamson some questions.
© Facebook
New Zealand captain Kane Williamson has sent many bowlers on a leather hunt with his hard-hitting batting style. But on Thursday, a seven-year-old kid's volley of questions left the Kiwi speechless. Jimi Samuels, a cricket enthusiast, was given the opportunity to ask his idol and inspiration Williamson some questions in an interview. The NZ captain was on the back foot after a series of questions about his captaincy and batting, and Samuels sent down a lethal yorker which left the Kiwi batting star struggling.
"At the Chappell-Hadlee series last season at Eden Park, how do you remember the finish," the seven-year old Samuels asked Williamson.
Williamson, fielding at short mid-on, had run-out Josh Hazlewood and stopped the Australian from pulling off a win in a thrilling opening match of the Chappell-Hadlee Trophy in January earlier this year. New Zealand had clinched the three-match series 2-0.
Flummoxed by kid's question, Williamson replied by saying: "Ahhahh... you mean the last game?
"Oh, that game. Sheesh. That was a frustrating game for a long period of time. That guy was whacking it everywhere. Remember the guy, Stoinis? You don't remember? I don't remember either."
New Zealand had scraped home in the first one-dayer but only after rookie all-rounder Marcus Stoinis' unbeaten 146 fell short of carrying his team to a victory.
Stoinis came to the crease with Australia reeling at 54 for five and calmly set about rebuilding after his more experienced teammates had squandered their wickets. His 146 was a record ODI score for an Australian number seven batsman. He smashed 11 sixes and nine fours in his blistering knock.
Just back from the Caribbean Premier League, Williamson will lead New Zealand in the upcoming ODI and T20I series against India.