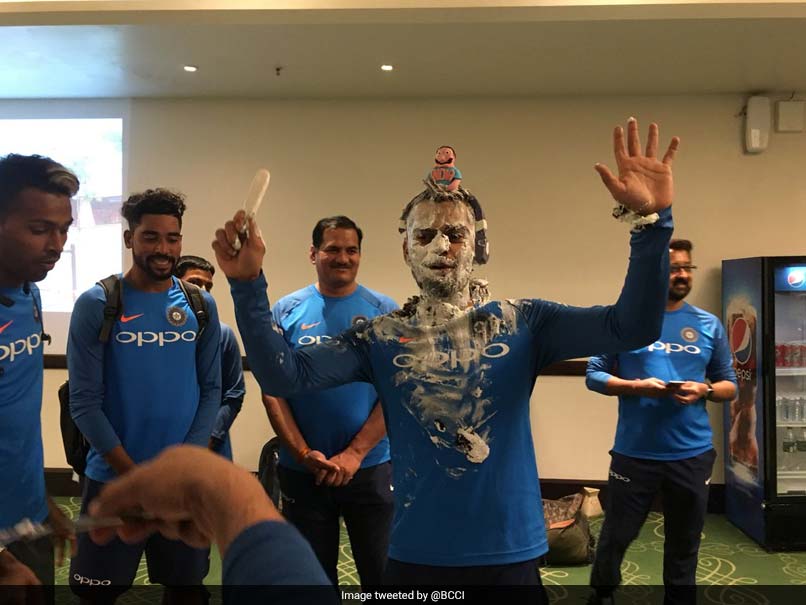 India captain Virat Kohli turned 29 on Sunday.
© BCCI
India cricket Virat Kohli celebrated his 29th birthday with his teammates after the 2nd ODI against New Zealand in Rajkot. It wasn't the perfect occasion for Kohli to bring in his birthday, but his teammates didn't let the defeat get in the way of a solid 'cakesmash'. BCCI uploaded photos of the celebration through its official Twitter account.
Hardik Pandya, whose face was smeared with a birthday cake not long ago, got his 'revenge' on the skipper.
Kohli thanked his fans and followers for the wishes.
After India's 40-run defeat, Kohli applauded the visitors for their impressive win. He also conceded that his batsmen "were not good enough" on the day as they failed to dominate the New Zealand bowlers.
"Eventually, we were not good enough with the bat. When you are chasing 200, all the batsmen need to chip in, or one batsman has to keeping going at a 200 strike-rate. Tried to do my best. MS was very good at the end. But we were left with a very difficult task. It happens to a lot of batsmen, sometimes you are in good form, but you don't get enough balls," Kohli said.
"I thought New Zealand were really good with the bat early on. We didn't take our chances, yes, but at once stage they were looking to get 235-240 and credit to Bumrah and Bhuvi to pull things back," Kohli further added.
Hardik Pandya has gone off the boil since the back end of the back-end of the Australian series but the skipper defended the talented all-rounder.
"We back our batsmen though. We back Hardik, and its just a little glitch. After 13-14 overs, it gripped a bit. But we have no excuses, we weren't good enough with the bat. There wasn't any kind of dew. The ball got scuffed up [to help it turn]."