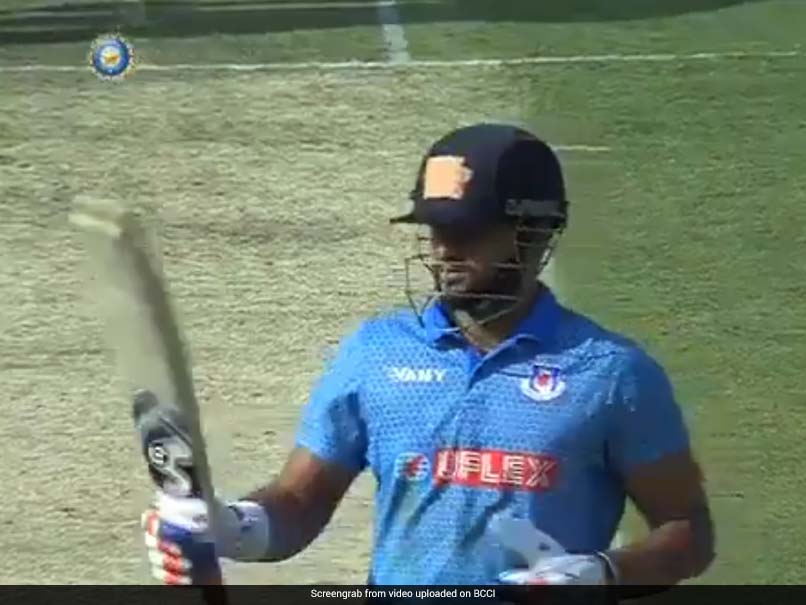 Suresh Raina's 59-ball stay at the crease included 13 fours and 7 sixes.
© BCCI
Star left-hander Suresh Raina on Monday roared back into form with a 49-ball century for Uttar Pradesh in the Syed Mushtaq Ali Trophy against Bengal. Raina remained unbeaten on 126, helping his team post 235/3 in 20 overs. Raina's 59-ball stay at the crease included 13 fours and 7 sixes. Akshdeep Nath played a fine supporting role with a 80-run knock. Sourav Ganguly, who is president of the Cricket Association of Bengal (CAB) was seen applauding Raina's knock from the sidelines.
From one left hander to another. In the former Captain @SGanguly99's presence, @ImRaina hits a 49-ball century #BENvUP pic.twitter.com/knqpuixutZ

— BCCI Domestic (@BCCIdomestic) January 22, 2018
Raina's fitness was one of the things that kept him out of the national side. It's been more than two years that he is out of the ODI side and last played for India in a T20I against England in January last year.
Having cleared the yo-yo fitness test which is mandatory to stay in contention for the national side, Raina said he has worked a lot on his skill as well as physical strengthening.
Terming it "very demanding", Raina said: "It's one aspect you do everyday and it's not only about gyming alone. It's about spending time on the field. You have to have a street smart brain."
"You have to bowl at the nets for two hours everyday, you have to be on your toes. And you have to be strong in shoulder to bat well."
"Gyming is one thing but you have to do a lot of strengthening as well. At the same time you have to ensure that you body regroups. It's very much demanding. Still I would say it's 40 per cent gym and 60 per cent skill," Raina added.
Asked about the motivation to play in the Mushtaq Ali T20 tournament, he said: "I play each and every tournament with the same intent. The tournament has many big names and before the IPL and upcoming Asia Cup it's a nice opportunity."
The CSK vice-captain further said the tournament will give him an opportunity to see the talented youngsters ahead of the much-anticipated IPL auction on January 27 and 28.
"There are a lot of exciting youngsters like Rinku Singh, there's also Kuldeep (Yadav) who will play a couple of matches before heading to South Africa. It's a chance to see many youngsters," Raina said.
Raina also backed the under-fire Indian team who had already lost the ongoing Test series in South Africa. Raina, however, argued that Virat Kohli's men have done decently and pointed out India's bowling was a revelation in in the first two Tests in South Africa.
"They have done well, almost won the first Test. We fought hard and bowled well. South Africa too have not been able to score runs against us. From four innings they (South Africa) are yet to score a century," he said referring to Virat Kohli's 153 in the second Test at Centurion.
"Our batting has done well in patches. We have to support the team. We cannot dismiss them, we have some big names who have done well over the years," he concluded.
(With inputs from PTI)