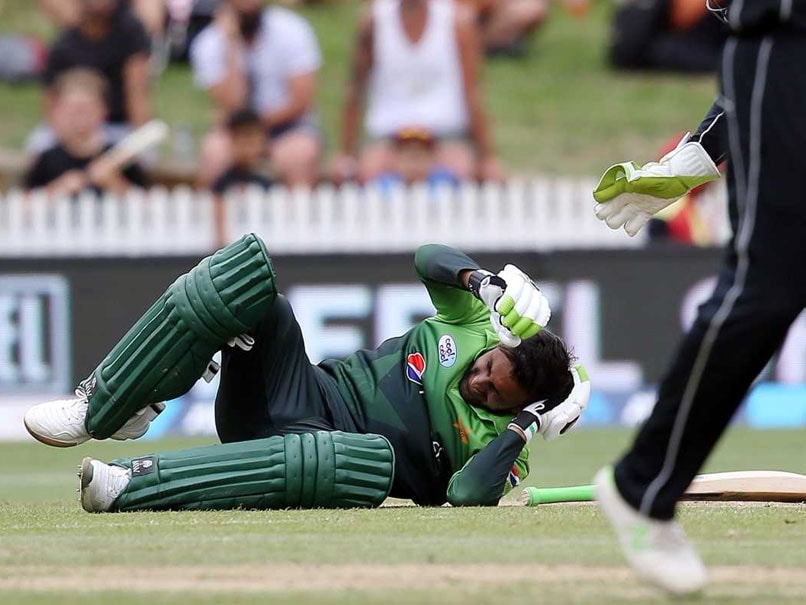 Shoaib Malik was hit on the head during the fourth ODI against New Zealand.
© AFP
Pakistan all-rounder Shoaib Malik was hit on the head during the fourth ODI against New Zealand in Hamilton. The incident took place in the 32nd over of the match when Malik was trying to steal a single and the throw from Colin Munro hit him right at the back of the head. Malik came into bat without wearing a helmet as spinners were bowling and paid the price of not taking proper precautions while going out to bat. The impact of the ball hitting the head was so hard that it ricocheted off for a boundary. Going by the latest reports, it has been ascertained that the Pakistani all-rounder has shown symptoms of a delayed concussion and need to be monitored for further evaluation.
Malik was given immediate medical attention after being hit on the head and resumed his innings soon after. However, his stay at the crease was curtailed as Mitchell Santner dismissed him in the next over.
According to espncricinfo, Pakistan physiotherapist VB Singh said, "Shoaib was assessed by the match doctor and myself. He did not have any symptoms of a concussion and was able to carry on playing. After getting out, he was reassessed and was showing delayed concussion signs. He is doing well and is resting. As advised by the match doctor and Pakistan team physiotherapist, he will not be taking any further part in the match."
Pakistan lost the fourth ODI by five wickets. The result puts New Zealand up 4-0 in the five-match series and sets a new record for the Black Caps of 11 consecutive international victories.