Story Progress
Back to home
'Sandpapergate' Cheating Scandal Rocks Australian Cricket
A total of three players - team captain Steve Smith, vice-captain David Warner and Bancroft - were identified as having prior knowledge of the tampering plans.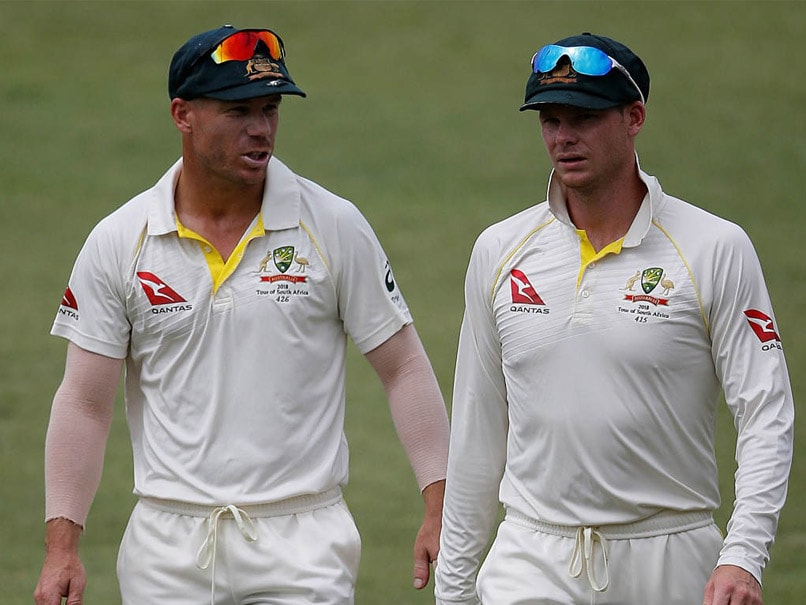 Smith and Warner were suspended from playing for Australia for 12 months.
© AFP
Highlights
Steve Smith, David Warner were handed one-year bans by Cricket Australia

They have also been ejected from this year's Indian Premier League

Warner will not be considered for the captaincy role in future: CA
When it comes to sports, cheating isn't all that unusual. But rarely is it caught by cameras and broadcast on a big screen in vivid detail for everyone to see.
Unfortunately for the Australian men's cricket team, that's exactly what happened when cameras showed Cameron Bancroft rubbing a cricket ball with what turned out to be a piece of yellow sticky tape covered in grit from the field. To make matters worse, Bancroft, a fielder, then unsuccessfully attempted to hide the incriminating tape by shoving it down the front of his pants. The cameras caught all of that too, and replayed it in slow motion.
You don't have to know much about cricket to understand why this might be done. Like baseball, the game involves delivering a ball at high speed in such a way as to make it difficult or impossible for a batsman to hit or hit well.
Tampering with the ball, like tampering with a baseball, can give cricket bowlers a significant advantage. Specifically, scuffing the surface on one side of the ball changes the way it moves through the air when bowled, according to SB Nation. Theoretically, this can allow the bowler to achieve more "reverse swing," or a late-breaking movement - like a knuckleball in baseball - that makes the ball hard to locate and tough to hit, according to The New Daily. Unlike in baseball, the same ball is used many times, for 80 "overs" before it can be replaced, with some exceptions. An over is a set of six pitches.
The world's cricket press, including the Australian Broadcasting Corporation, is calling it cheating. Two players on the Australian national cricket team involved have admitted to breaking the rules.
A total of three players - team captain Steve Smith, vice-captain David Warner and Bancroft - were identified as having prior knowledge of the tampering plans, cricket officials determined after an investigation, James Sutherland, chief executive officer of Cricket Australia, said in a news conference.
Smith and Warner were suspended from playing for Australia for 12 months, according to a statement from Cricket Australia, the sport's national governing body. Bancroft received a nine-month suspension, the statement said.
The incident has embroiled the cricket-loving country in scandal and broken the hearts of die-hard fans. After all, as Prime Minister Malcolm Turnbull said, cricket is "synonymous with fair play." That notion is the source of the phrase "it's not cricket."
It all started during a lunch break on the third day of a test match, the five-day version of the sport. Australia was losing to South Africa. Smith and other senior players devised a plan to rough up one side of the ball's surface to give the bowler (the equivalent of a pitcher in baseball) greater control over the movement of the ball.
Smith noticed the South Africans had struggled with reverse swing, so the players made the decision to use tape covered in grit to create a makeshift sandpaper that could produce the desired effect, SB Nation reported.
Australia was "deluded," cricket analyst Simon Hughes told the BBC. "It is almost impossible to get away with any of this in international cricket now," he said. "There are 30 cameras watching you and umpires regularly inspecting the ball. There's always been skulduggery in cricket but it's always had this status as a sport where people behave well and respect each other."
Smith has been called one of the best players in cricket. He's a national hero - or was until now.
"I'm not proud of what's happened," Smith said during a news conference, addressing the scandal. "It's not within the spirit of the game. My integrity, the team's integrity, the leadership group's integrity's come into question and rightfully so."
During the same news conference, Bancroft said he was "in the vicinity" when the plan was being discussed and was nervous about the presence of so many cameras.
"Once I was sighted on the screens and having done that, I panicked quite a lot, and that obviously resulted in me shoving it down my trousers," he said.
Indeed, the look on his face, first of sheepishness and then of guilt and then panic, was priceless.
Adding insult to injury, Australia lost the ill-fated match to South Africa by 322 runs, the Guardian reported.
While tampering with the cricket ball has happened before, the tiny piece of yellow tape has managed to shake Australia to its core, destroying the reputations of once-revered athletes and tainting the country's beloved sport.
"I want to apologize to all Australians that these events have taken place, particularly to all the kids who love cricket and idolize the players," Sutherland said in the news conference.
The scandal has sparked widespread fury and disappointment, even eliciting a response from Australian Prime Minister Malcolm Turnbull.
According to cricket.com.au, Turnbull told reporters that the whole country "holds those who wear the baggy green up on a pedestal - about as high as you can get in Australia, higher than any politician that's for sure . . ."
"It seemed completely beyond belief that the Australian cricket team had been involved in cheating," Turnbull said. "After all, our cricketers are role models and cricket is synonymous with fair play. How can our team be engaged in cheating like this? It beggars belief."
Michael Clarke, former captain of the Australian team, was one of many who could not believe the scandal happened, tweeting that he wished it was a "bad dream."
He was joined on Twitter by other former cricketers like Shane Warne and Mitchell Johnson.
Warne penned a lengthy tweet calling on Smith and the team's coach Darren Lehmann to take action to "clean this mess up."
Johnson's reaction was much more concise. "Shocked & disappointed," he tweeted.
Fans were outraged, tweeting photos of Bancroft slipping the tape out of his pocket and decrying the team's performance in South Africa as "utterly disgraceful."
Some even went as far as targeting the players' wives and girlfriends on their social media accounts, according to nine.com.au.
Others, however, decided to draw attention to the humorous nature of the incident, tweeting sandpaper-related jokes, a reference to the scandal being dubbed "Sandpapergate."
PhD in Bakchodi "Every Aussie player gets a baggy green cap and sand paper when he joins the national team. #SandpaperGate#SAvsAUS"
Even companies like Air New Zealand got in on the fun.
The airline posted an emoji-filled video to its Facebook page teasing Smith, the New Zealand Herald reported.
In the video, Smith is called a "naughty boy" and it's suggested that he take a trip to New Zealand where temperatures are chillier, to "escape the heat back home."
Promoted
While the jokes have made light of the scandal, many believe that the simple act of rubbing a ball with a piece of tape could have a long-lasting impact on Australia's cricket legacy.
"I've made it clear that we're regrettable," Smith said during the news conference. "Hopefully we'll learn something from it. I'm embarrassed, I know the boys in the shed are embarrassed as well."
(This story has not been edited by NDTV staff and is auto-generated from a syndicated feed.)
Topics mentioned in this article