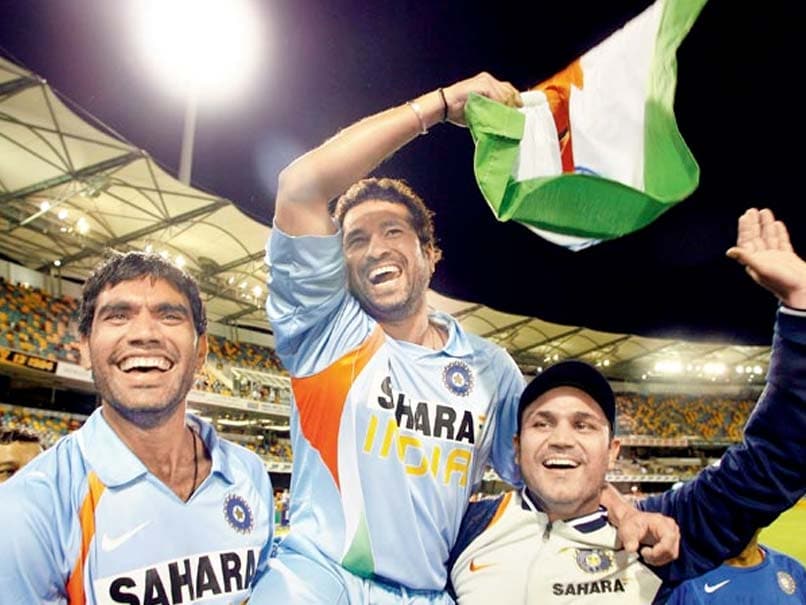 The 2011 World Cup win stays right on top for Sachin Tendulkar.
© Mid-Day
Yesterday, Sachin Tendulkar touched upon the ill-fated 2007 World Cup in the Caribbean on the 10th anniversary of the March 23 game against Sri Lanka which put India out of the tournament.
Today, he speaks about how pleasant things were for the Indian team post the disastrous World Cup, starting from the tour of Bangladesh where Ravi Shastri was sent to do the job what Greg Chappell did before quitting as coach.
Excerpts:
Those evenings with Ravi
After the World Cup, we went to Bangladesh where Ravi Shastri was in charge. I have always got along well with Ravi (Shastri) and we spent many evenings together because we couldn't go out too often. The first Test was played in Chittagong and we were struggling a bit before I scored a hundred. It would have become a very tight Test match and though we didn't win that game, things started changing. We won the second Test convincingly.
Challenging in Ireland
The Ireland tour was a challenging one in which the conditions were more in favour of South Africa. But we beat them and I was adjudged the man of the ODI series.
What a summer!
This was followed by some decent knocks on the England tour. Although I didn't score hundreds, I was consistent which impacted the result. We beat England and I felt the understanding and camaraderie were back in the dressing room. There was Chandu Borde (as manager cum coach), Venkatesh Prasad as bowling coach and Robin Singh, the fielding coach.
I could see that the players were happy, they were smiling and those smiles were not put on, they were genuine. They were happy to work harder and we spent a lot of time without any agendas and issues. This great atmosphere made a huge difference and it reflected on the way we played.
On top Down Under
Australia 2007-08 was another memorable tour on which we won the CB Series triangular.
I thought that victory was a fitting answer to all that nonsense about me having to look at myself in the mirror. That was written by Ian Chappell (after the 2007 World Cup) without him knowing what was really happening. To go out there and beat Australia in their backyard was great. Everyone knows how strong that Australian team was.
No disrespect to the current Australian team, but there is no comparison to that side (2007-08) and the present one.
The crowning moment
The 2011 World Cup win stays right on top for obvious reasons. Just to put things in perspective: Greg wanted to change six or seven players in 2007 because he felt they were not doing enough; were getting old and rebuild the team for 2011. This was the message which had gone to the BCCI and the same six to seven players performed outstandingly in the 2011 World Cup. This is where I applaud the contribution of Gary Kirsten and Paddy Upton. Gary was spectacular and both worked well together.
In 2009-10, we became the World No. 1 Test team during that Test against Sri Lanka in Mumbai. Overall, we played some very good cricket to reach where we did.
(Except for the headline, this story has not been edited by NDTV staff and is published from a syndicated feed.)