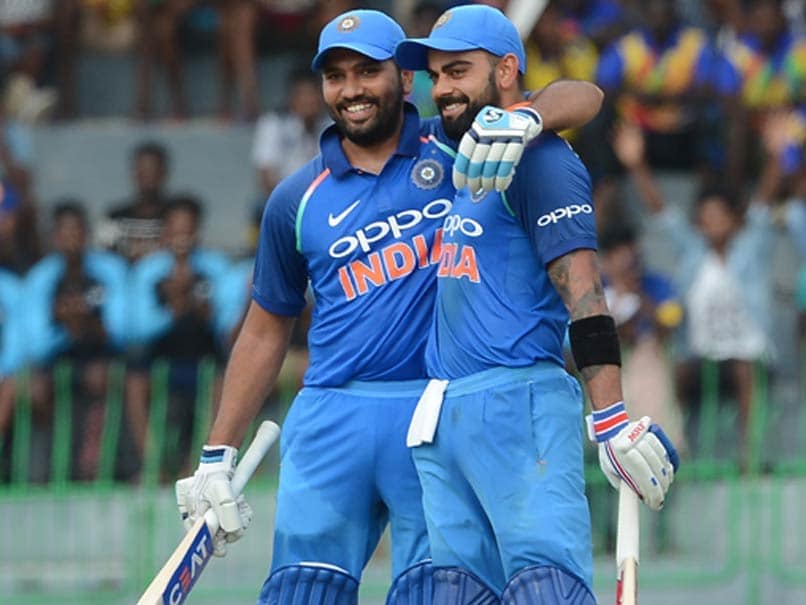 Rohit Sharma captained India in the absence of Virat Kohli in the limited-overs series vs Sri Lanka.
© AFP
Virat Kohli fans, cover your ears! While the whole world debates about who is the best batsman in the world -- Virat Kohli, Steve Smith, Joe Root or Kane Richardson -- former chief selector of the Indian cricket team, Sandeep Patil, has boldly claimed that the Indian skipper is not even the best batsman in Team India, at least in limited-overs cricket. The former attacking middle-order batsman has said that Rohit Sharma is currently a better batsman than Kohli when it comes to limited-overs cricket. Patil said that Kohli undoubtedly is India's best batsman in Test cricket but in ODIs and T20Is, Rohit is ahead of him.
"Virat Kohli fans might not like it but I have to say Rohit Sharma is currently the better batsman," Patil was quoted as saying by ABP news.
In Kohli's absence, Rohit has taken to international captaincy like duck to water. Not just that, the stand-in India skipper set the stage alight in the ODIs by smashing his third double hundred -- the only batsman in the world to do so.
In the T20Is as well, Rohit was in top form and smashed the joint-fastest T20I hundred in Indore. His whirlwind knock of 118 off 43 balls is the highest individual score for India in T20Is, surpassing the unbeaten 110 by KL Rahul against the West Indies last year.
Rohit also became the first Indian player and fifth overall to score two centuries in T20Is after Chris Gayle, Brendon McCullum, Ewin Lewis and Colin Munro.
"Virat is definitely a great batsman, no doubt about it. He is India's best Test batsman but when it comes to limited overs cricket, Rohit is ahead of him," said Patil.
"I'm sure Virat's going to come back from the break and score lots of runs in South Africa but when we talk about limited-overs cricket this year, Rohit has been unbelievable. People may say he has played more matches against Sri Lanka but so has Virat. Whether he is playing only as a batsman or as captain Rohit has proved he is best at the moment," remarked the former India cricketer.
However, the stats tell a different story. Forget looking at the overall numbers regarding how the two Indian stars stack up because Kohli is way ahead.
Just purely going by the 2017 stats, Kohli has been better than Rohit across all three formats.
In Tests this year, Steve Smith leads the scoring charts with 1,192 runs in 11 matches at an average of 74.50. Cheteshwar Pujara is second with 1,140 runs, having played the same number of matches as the Australian skipper, but averages 67.05.
Kohli, meanwhile, is fourth in the list behind third-placed Dean Elgar of South Africa. The Indian skipper, though, has the best average among the top 20 batsmen in the world this year. Kohli has scored 1,059 runs in 10 Tests at an average of 75.64.
In ODIs, Kohli has scored 1,460 runs in 26 matches and sits atop the run-getters list of 2017. He averages 76.84 and has six hundreds and seven half-centuries. In contrast, Rohit is second with 1,140 runs in 21 matches and averages 71.83. He also has six hundreds but has two less fifties than his captain.
In T20Is in 2017, West Indies' Evin Lewis leads the scoring charts with 357 runs in nine matches at an average of 44.62. Kohli is sixth in the list, having scored 299 runs at an average of 37.37.
Meanwhile, Rohit comes in at No.8 with 283 runs in nine matches and an average of 31.44.