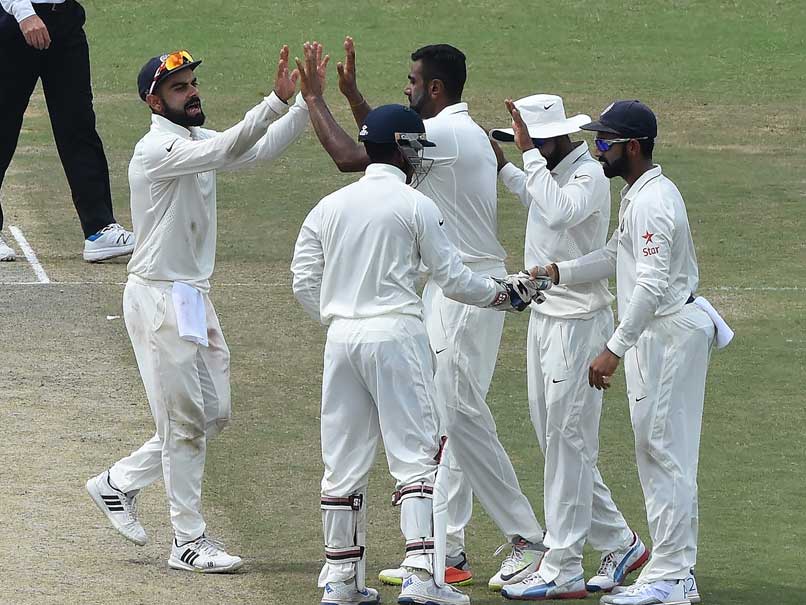 India defeated New Zealand in the first Test to take 1-0 lead in three-match series.
© AFP
Ashwin got a traditional North Indian reception when the players returned to their hotel after the team won India's 500th Test handsomely.
The Tamil Nadu off-spinner returned to rapturous dhol (drum) beats and was soon asked to cut a cake for his 10-wicket haul that enabled India take a 1-0 lead in the three-Test series.
Fittingly, Ashwin took the final wicket to fall at Green Park. Ashwin and left-armer Ravindra Jadeja shared 16 wickets in the spin-dominated contest in which the off-spinner become the second fastest to 200 Test wickets, achieving the feat in his 37th match.
"It's priceless to have cricketers like that in your Test team, players who can give you balance with bat and ball. I wish he (Ashwin) keeps nurturing his skills so that we can keep dominating Test matches," said skipper Virat Kohli after the match.
NDTV expert Sunil Gavaskar also lavished praise on Ashwin and said he was destined to become one of the legends of the game.