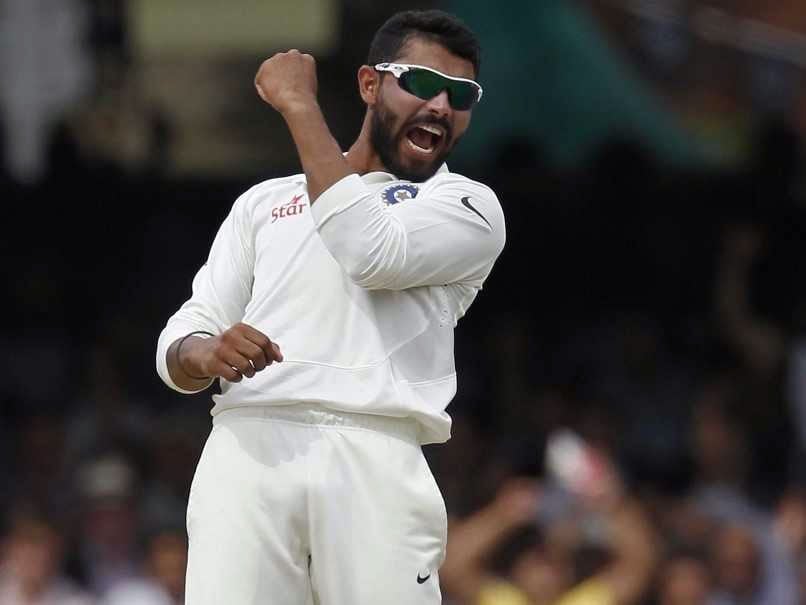 Ravindra Jadeja bagged nine wickets after scoring a double hundred (File Pic).
© AFP
Ravindra Jadeja bagged nine wickets after scoring a double hundred to guide Saurashtra to an innings and 212-run victory over Jammu and Kashmir on day three of the Group B Ranji Trophy match on Monday. As many as 16 wickets fell on day three after Jammu and Kashmir started the day at 103 for four. Jadeja, after completing a double hundred on day two, took four wickets in the first innings while the remaining were picked up by another left-arm spinner, Dharmendersinh Jadeja. The visitors were all out for 156 in the first innings and were asked to follow on.
Jammu and Kashmir fared better in the second innings but they still looked nowhere near getting close to Saurashtra's mammoth first innings of 624 for seven declared.
While the two Jadejas ran riot in the first innings, Saurashtra offie Vandit Jivrajani ran through the opposition batting in the second essay.
Eventually, Jammu and Kashmir were bowled for 256 in their second innings with Puneet Bisht and Ram Dayal scoring half-centuries.
As expected, Ravindra Jadeja was named the man of the match and his performance will be a reminder to Team India selectors.
Meanwhile in Group A, keen to make amends for missing out on an outright win in their opener against Assam, Delhi's spinners put their best foot forward taking the team towards a comprehensive innings victory against Railways at the end of the third day.
Having scored 447 in their first innings, Delhi bundled out Railways for 136 in the first innings and the home team fared no better, ending the day at 157 for 6 after being followed on.
With another 230 runs to get on the final day to avoid innings defeat, victory with bonus points looks imminent for Delhi.
Delhi's troika of spinners --- Manan Sharma (4/50 and 2/44 in 12 overs), Vikas Mishra (3/37 and 2/27 in 13 overs) and Pulkit Narang (2/45 in 18 overs) have so far accounted for 13 out of the 16 Railway wickets.