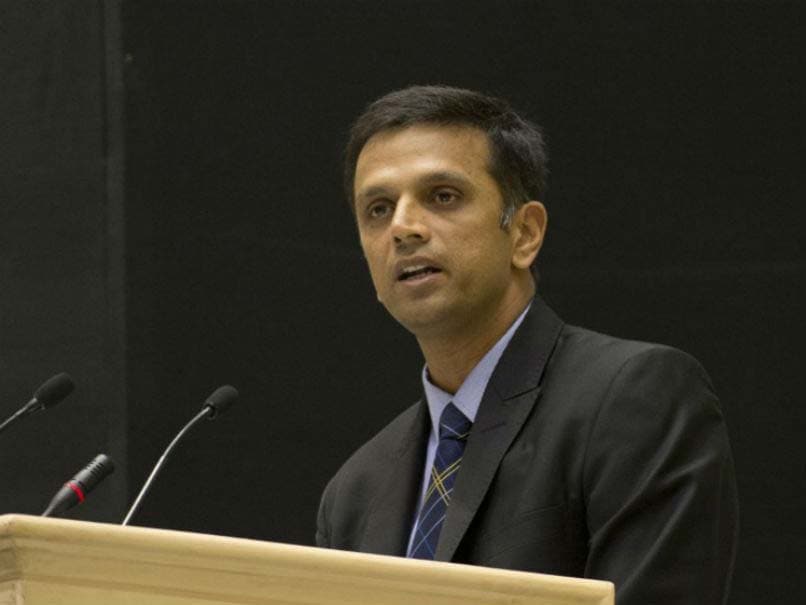 Rahul Dravid, former India captain, turned 45 on Thursday.
© AFP
Rahul Dravid, one of the most technically sound batsmen ever to come out of India, turned 45 on Thursday. The former India captain, an epitome of class and poise, was the mainstay of the Indian batting for a very long time. Together with Sachin Tendulkar, VVS Laxman and Sourav Ganguly, Dravid was part of a quarter of players who possibly constituted the best middle-order in the business during their time. But irrespective of what he did on the field, Dravid was admired equally for being a gentleman off it. Several Indian cricketers, past and present, took to Twitter to wish 'The Wall'. However, veteran off-spinner Harbhajan Singh didn't stick to the conventional, opting for a classic Hindi song to describe Dravid and his contribution to Indian cricket.
Wall in Pic 1 may or may not shake or break.
But Wall in Pic 2 riding me is unshakable and unbreakable. Just sit back ,relax and have a safe ride. #HappyBirthdayDravid . Best wishes to the U-19 boys! pic.twitter.com/fP07xmQIMc

— Virender Sehwag (@virendersehwag) January 11, 2018
There might be many strong walls around us but the greatest yet is the one and only, #RahulDravid. Happy birthday, Jammy! My best wishes for the U-19 World Cup. #HappyBirthdayDravid pic.twitter.com/RICNJXzIWM

— sachin tendulkar (@sachin_rt) January 11, 2018
I've always looked up to Rahul Bhai, not only for his cricket achievements but also for the way he leads his life with simplicity and utmost dignity. #HappyBirthdayDravid pic.twitter.com/gFjwgch20H

— ajinkyarahane88 (@ajinkyarahane88) January 11, 2018
Happy Birthday to the legend #RahulDravid . I have learned a lot of skills from you and I consider myself so lucky to play under your leadership. #HappyBirthdayRahulDravid #TheWall pic.twitter.com/LbdjPTDlOb

— R P Singh (@RpSingh99) January 11, 2018
Friendship isn't about being inseparable but knowing and realising that inspite of not meeting regularly nothing will change. Wishing the very best to a dear friend, Rahul with whom I have shared some great memories #HappyBirthdayDravid pic.twitter.com/9BcLlN7wFF

— VVS Laxman (@VVSLaxman281) January 11, 2018
Wishing a very happy birthday to the Great Wall of India.. #RahulDravid what a player..a song from Bollywood I wanna dedicate to u is NA KOI HAI NA KOI THA.....CRICKET MAI TUMHARE JAISA.. Class apart?? outstanding batting skills and slip catcher???????????? pic.twitter.com/QW2qCfl8hR

— Harbhajan Turbanator (@harbhajan_singh) January 11, 2018
Happy birthday, Rahul Bhai. A thorough gentleman who taught us the meaning of commitment and sacrifices. Getting my ODI and Test caps from you will always hold a special place in my heart.
Hope the boys make you proud in the upcoming U-19 World Cup. #HappyBirthdayDravid pic.twitter.com/f9JqYvhn82

— Suresh Raina (@ImRaina) January 11, 2018
Many happy returns of the day Rahul. Good luck with the U 19 World Cup pic.twitter.com/yToojJFWNN

— Ravi Shastri (@RaviShastriOfc) January 11, 2018
Dravid played a massive 164 Test matches and amassed 13288 runs at an average of 52.31. He hammered 36 centuries, with a highest score of 270, and 68 half-centuries during that time.
Also known as Jammy (the reason being his father working for a famous company that made jams), Dravid also played 344 One-day Internationals, scoring 10889 runs. He has 12 centuries with a highest of 153.
Ironically, his T20 International debut match, against England in August 2011, was also his farewell match.
Dravid is now sharing his expertise with the Indian Under-19 team as its coach.