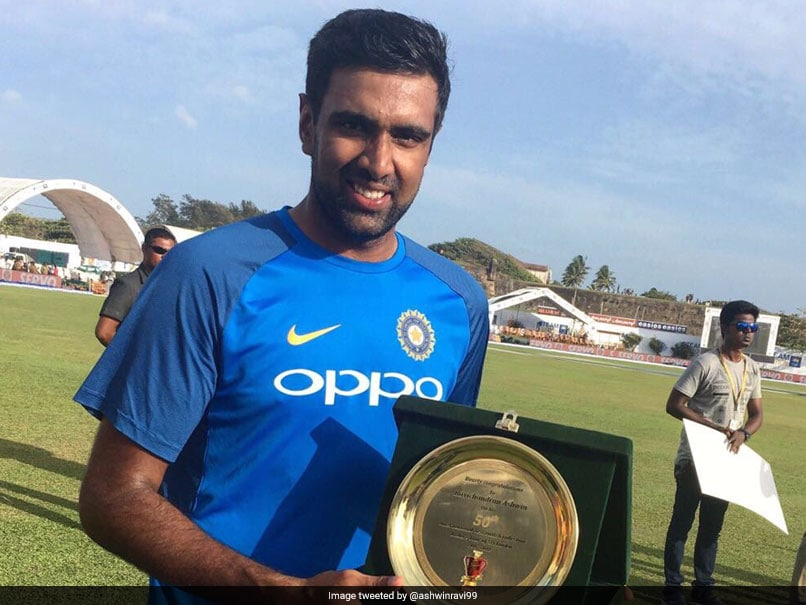 Ravichandran Ashwin took 3 wickets for 65 runs on Day 4 of the 1st Test match vs Sri Lanka.
© Twitter
As India thrashed Sri Lanka by 304 runs at Galle on Saturday in the first Test to take a 1-0 lead in the three-match series, Ravichandran Ashwin, who played his 50th Test and took three wickets for 65 runs  on Day 4, said that the country's interest comes first and not any personal achievements. Six years since he made a debut, the off-spinner became the fastest bowler to scalp 250 Test wickets, a record which was previously held by Australia's Dennis Lillee. Till date, Ashwin has 279 wickets in his kitty from 50 Test matches, 17 ahead of Richard Hadlee who had taken 262 wickets in the number of Tests.
Ashwin, who given a special award for playing 50th Test, uploaded a photo and captioned it as: "Memorable test, will cherish it forever. Never thought I would get here."
Chesteshwar Pujara also uploaded a photo and congratulated the off-spinner. "Congratulations on the 50th test, @ashwinravi99! It's been quite a wonderful journey for you so far. Best wishes ahead. More power to you!" the caption read.
"For me it's always teams first. Since my childhood days when I dreamt of playing for India I had one goal and that is to take Indian cricket to greater heights," Ashwin said at the end of the first Test against Sri Lanka. 
"I don't have any specific goals at all. I don't have any numbers in front of my eyes to achieve. I just want to give my best for the country and in the process I know I can achieve something for myself as well," he added.
The 30-year-old also has a chance to become the fastest bowler to take 300 wickets in Test cricket as he is only 21 scalps away. The current record of fastest 300 wickets is again held by Australia's Lille in 56 Tests.
India won the first Test within four days and are now leading the three-match series.
The second Test of the series will start on August 3 and will be played at Colombo.