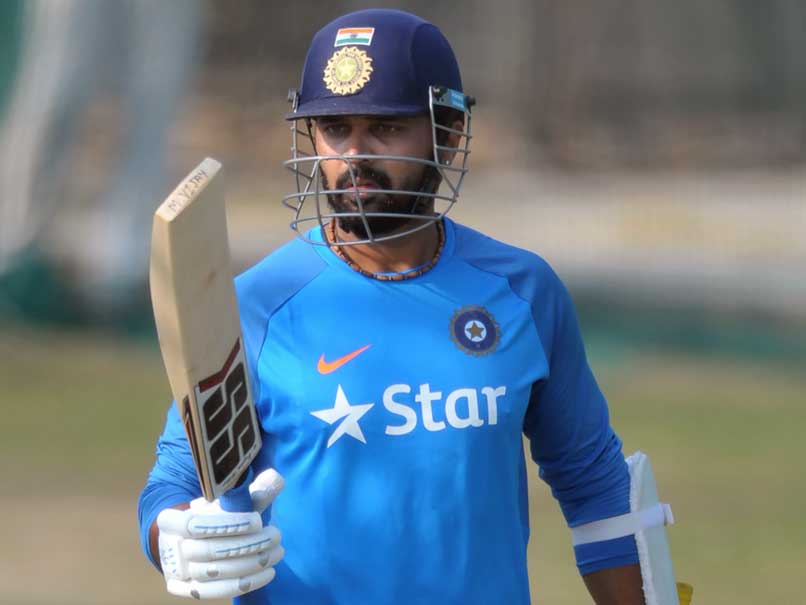 Murali Vijay, who missed the IPL 2017 due to an injury, is eyeing a return against Sri Lanka.
© AFP
After the ICC Champions Trophy 2017 tournament, Team India will be gearing up for their next assignment - the Sri Lanka series. India opener Murali Vijay, who missed the 10th edition of the Indian Premier League due to an injury, is eyeing a return against the Islanders. Vijay, who underwent a wrist surgery in London and has since been spending time recuperating, is currently working on his fitness in Chennai with Rajinikanth, a trainer at NCA, and hopes to start batting again in the coming days.
"I think I am in the right hands. He (Rajinikanth) is one of the best when it comes to rehab work. I am lucky to be working with him at the right time. The aim is to be a fitter cricketer," Vijay said.
"I am in the process of recovering. Have a few more days to go. I want to be at my best fitness-wise," Vijay said.
Vijay, who has played 51 Tests so far, has also featured in 17 ODIs and nine T20 Internationals, is keen to be part of all the three formats.
"I know I have the game to play and do well in all three formats. For that fitness is an important aspect and I am working towards that," he said.
Despite being away from the game, Vijay has been keeping tab on Indian team's performances in the Champions Trophy in England and had followed the IPL too.
On Team India's performance ion the Champions Trophy, the Tamil Nadu batsman said, "Great to watch the way we are playing. It is our time to dominate."
Due to the injury, Vijay said he got the opportunity to spend quality time with his family, which is a luxury for a modern day cricketer given the hectic match schedule and travelling.
"I am happy to have got the chance to be with my family, the children, especially. It was great to be at home more." He also got to watch an EPL game between Manchester United and Everton at Old Trafford when in the UK for the surgery with fellow opener K L Rahul and Indian team physio Patrick Farhart.
(With PTI Inputs)