Story Progress
Back to home
MS Dhoni Reveals 'Best Feeling' From 2011 World Cup Final. It's Not Match-Winning Six
MS Dhoni revealed new stories from the historic day, including a revelation that the usually unflappable Captain Cool found himself getting emotional when India was on the brink of sealing the chase.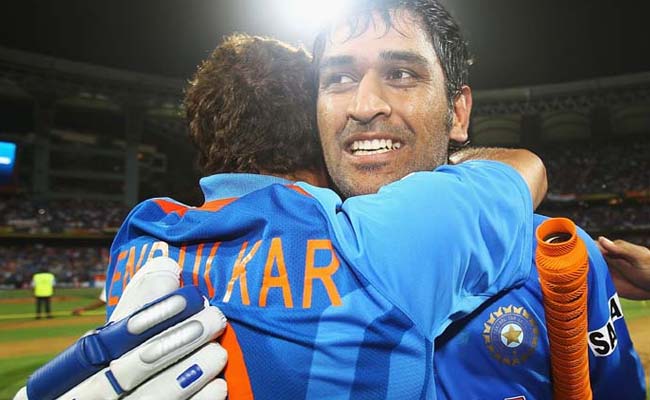 File photo of MS Dhoni
It's been 12 years since MS Dhoni-led Team India won the 2011 ODI World Cup, beating Sri Lanka in the final. Dhoni, who hadn't been in the best of form throughout the tournament, stepped up and delivered on the occasion that most mattered, scoring an unbeaten 91-run knock to take the team over the line, ending a 28-year-long wait for an ICC trophy. Reliving the memories from the epic triumph, Dhoni revealed the 'best memory' from the final, and it wasn't the one where he hit the title-winning six to Nuwan Kulasekara.
In a conversation with host Sanjana Ganesan, and fellow guest and former Australia batter Mike Hussey, Dhoni revealed new stories from the day, including a revelation that the usually unflappable Captain Cool found himself getting emotional when India was on the brink of sealing the chase.
"The best feeling was 15-20 minutes (before the winning moment)," said Dhoni as quoted by ICC.
"We did not need a lot of runs, the partnership was well-placed, there was a lot of dew. And the stadium started to sing Vande Mataram. That atmosphere I feel is very difficult to recreate - maybe in this [upcoming 2023] World Cup, there is a similar scenario, once the stadium, the fans start contributing."
"You know, it is a very difficult (atmosphere) one to replicate. But it can only be replicated if the occasion is similar to that (in 2011) and there are like 40, 50 or 60,000 people who are singing."
"To me, it was not the winning moment, it was 15-20 minutes ago when emotionally I was very high. And at the same time, I wanted to get done with it. We knew that we will win this from here, and it was very difficult for us to lose. So yes, you know it was more of a sense of satisfaction, job done, let us move on from here," concluded the former skipper.
That day in 2011 also belonged to India legend Sachin Tendulkar, who finally got his hands on a trophy he had been chasing for over two decades. It made India's pursuit of their first World Cup title in 28 years all the more daunting.
"It never gets bigger than that. What I always firmly believe in is keep your eyes on the target, as simple as possible," said Dhoni.
"Once you have achieved it, that is the time when you can enjoy it to the fullest. And the moment you start thinking a lot about why you want to win it, you start focusing more on the result. That is the time you start mounting undue pressure on yourself."
Dhoni revealed there were times when he wondered if Tendulkar would claim that elusive prize.
"Yes, we all knew that it was paaji's (Tendulkar) last World Cup and throughout the tournament we had the feeling that we want to do it for him. But at the same time, often you have something going in your mind where you say, God has given him everything. And God keeps one thing away from every individual. Is it that 50-over World Cup that God has decided that he will keep with himself?."
"We said we will try our best, we will make sure that we are giving a 100 per cent when it comes to the cricket matches and we will accept the results. At the end, very happy to be on the winning side, but it took a lot from the full team and the support staff," concluded Dhoni.
India defeated Sri Lanka in the final by six wickets in the summit clash at the Wankhede Stadium, Mumbai. After batting first, Sri Lanka posted 274/6 in their 50 overs. An unbeaten century from Mahela Jayawardene (103*) and knocks from skipper Kumar Sangakkara (48), Nuwan Kulasekara (32) and Thisara Perera (22*) powered Lanka to a competitive total. Yuvraj Singh and Zaheer Khan took two wickets each and Harbhajan Singh took one wicket.
Chasing 275, India lost Sehwag (0) and Tendulkar (18) early. But an 83-run stand between Gautam Gambhir and Virat Kohli (35) revived India's chances. Gambhir went on to score 97 in 122 balls and had a 109-run stand for the fourth wicket with skipper MS Dhoni, who ended at an unbeaten 91* off 79 balls. Dhoni and Yuvraj (21*) had an unbeaten 54-run stand for the fifth wicket that guided Team India to their first World Cup title in 28 years.
Notably, India will be hosting the Cricket World Cup 2023 in its entirety, for the first time ever.
With ANI inputs
Topics mentioned in this article