Amit Mishra produced a devastating bowling spell as India trounced New Zealand by 190 runs in the deciding 5th ODI in Vizag on Saturday. Catch highlights of India vs New Zealand here. (SCORECARD | NEWS)
20:00 IST: That's it from us for today. Thank you for staying with us for live updates from the 5th ODI in Vizag.
19:50 IST: MS Dhoni beaming after that win. It was one of the best performances from Indian bowlers, he says. "I felt there is plenty that players like Axar and Jadhav would have learnt from this series," Dhoni adds.
19:45 IST: A lot of positives, after a heavy defeat in the Test series, we fought hard and improved, says New Zealand skipper Kane Williamson.
19:40 IST: I was a little tensed for the first 2 overs, but once the ball started turning I got wickets, says Amit Mishra.
19:30 IST: It's all over in Vizag! Axar Patel dismissed Santner with a low-bouncing delivery to seal a 190-run win for India in the 5th ODI. India win the five-match series 3-2.
19:24 IST: This has been a devastating spell from Amit Mishra. New Zealand were 63/2 a few overs back. They have lost 7 wickets for just 13 runs. India close to sealing the five-match series in Vizag.
19:22 IST: Amit Mishra strikes again! Ish Sodhi tries to slog sweep, but it takes an outside edge instead, and he is caught by Rahane. New Zealand are 76/9.
19:16 IST: Tim Southee is stumped by Dhoni from a Mishra delivery. New Zealand are 74/8 from 19.5 overs and it looks like this isn't going to last too long.
19:12 IST: Amit Mishra gets his third. Jimmy Neesham is clean bowled! New Zealand are 74/7 after 19.1 overs.
19:11 IST: Jayant Yadav strikes on his debut. Corey Anderson departs for a duck for lbw.
19:07 IST: New Zealand are 73/5 after 18 overs. (Neesham 2*, Anderson 0*)
18:58 IST: OUT! New Zealand are on the ropes here as Amit Mishra bowls out BJ Watling. New Zealand are 66/5 after 16 overs. Catch live cricket score of IND vs NZ here.
18:55 IST: Taylor has to walk! Ross Taylor fails to judge the bounce from an Amit Mishra delivery, and is caught by Dhoni after an outside edge. New Zealand are 66/4 after 15.4 overs.
18:49 IST: Williamson departs! The New Zealand skipper lifts Axar's delivery through long off, and is caught by Kedar Jadhav.
18:43 IST: Axar Patel and Amit Mishra the two spinners being used in the bowling attack at present. New Zealand are 57/2 after 13 overs. (Williamson 25*, Taylor 12*)
18:37 IST: New Zealand are 47/2 after 11 overs. Catch live cricket score of IND vs NZ here.
18:27 IST: A good over from Bumrah; just one run from it. New Zealand are 38/2 from 8 overs.
18:22 IST: Williamson sends Umesh for two boundaries in the 7th over. New Zealand are 37/2. (Williamson 17*, Taylor 0*)
18:17 IST: Latham departs! The left-hander's mishit shot from a Bumrah delivery goes to mid on, where Jayant Yadav comfortably takes the catch. New Zealand are 28/2 after 6 overs.
18:05 IST: New Zealand are 19/1 after 4 overs. Catch live cricket score of IND vs NZ here.
18:00 IST: Four runs from Bumrah's first over. New Zealand are 7/1 after two overs.
17:55 IST: Bowled! What a start by India here! Umesh Yadav knocks off Guptill's off-stump. New Zealand end the first over at 3/1.
17:21 IST: India finish their innings at 269/6 from the stipulated 50 overs. Kedar Jadhav and Jayant Yadav ended with unbeaten scores of 39 and 1, respectively.
17:18 IST: Bowled! Axar Patel is dismissed by Trent Boult with just two more balls left. India are 266/6 from 49.4 overs.
17:14 IST: 11 runs from the penultimate over for India. Axar hits a big six in the fifth delivery. India are 258/5 with one over left.
17:10 IST: India are 247/5 from 48 overs. (Axar 14*, Jadhav 28*)
17:05 IST: Another five runs from the 47th over. India are 236/5. (Axar 10*, Jadhav 26*)
17:01 IST: India re 236/5 from 46 overs. Catch live cricket score of IND vs NZ here.
16:56 IST: Axar Patel sends an Anderson delivery through short fine leg for a boundary. India are 231/5; Axar 8*. Jadhav 18*.
16:50 IST: Virat Kohli goes long through long-off from a Sodhi delivery. He is caught by Guptill, having scored 65 runs. India are 223/5 from 43.1 overs.
16:47 IST: Another 8 runs for India from the 43rd over. The hosts have reached a total of 220/4 with 7 overs left. (Kohli 65*, Jadhav 15*)
16:42 IST: Eight runs from Mitchell Santner's final over. India are 212/4 from 42 overs.
16:39 IST: India have crossed the 200-run mark. The hosts are 204/4 from 41 overs. Kohli 60*, Jadhav 4*.
16:30 IST: India are 196/4 after 39 overs. Catch live cricket score of IND vs NZ here.
16:28 IST: Manish Pandey falls for 0 after he tries to slog sweep a Sodhi delivery. He is caught by Trent Boult.
16:25 hrs IST: Four!! Short from Santner and Kohli pierces the ball through extra cover to notch another boundary.
16:22 hrs IST: Out!! Dhoni lbw b Santner 41 (59.) The very next ball Santner sends the Indian skipper packing. Dhoni tries to sweep but misses completely and is caught plumb in front of the wicket. India are 190/3 in 37.3 overs.
16:21 hrs IST: Fifty for Kohli!! His 36th ODI half-century. India are 190/2 in 37.2 overs.
16:19 hrs IST: Meanwhile, Kohli, with a single, moves onto 49.
16:17 hrs IST: The run-rate for India has dropped just that tad bit. After a good over from Santner, now Trent Boult is doing the same. Just 2 runs from five balls in the 37 the over.
16:13 hrs IST: Tidy over from Santner. Just 3 off that. India are 186/2 after 36 overs.
16:11 IST: 35 overs have been completed. India are 183/2 (Dhoni 40*, Kohli 45*).
16:03 IST: Dhoni is dropped by Anderson from his own delivery. The Indian skipper puts him away for a boundary from the next delivery.
16:00 IST: Seven runs from the 33rd over. India are 172/2 with Dhoni and Kohli at the crease with scores of 32 and 42, respectively. Catch live cricket score of IND vs NZ here.
15:56 IST: Dhoni puts a Sodhi delivery away for a six. India reach 165/2 from 32 overs.
15:50 IST: India are 158/2 after 31 overs. Kohli 41*, Dhoni 19*.
15:40 IST: Dhoni and Kohli are taking their time here. India are 137/2 after 28 overs. (Kohli 32*, Dhoni 7*)
15:34 IST: India are 132/2 after 26 overs. Kohli 30*, Dhoni 4*. Catch live cricket score of IND vs NZ here.
15:22 IST: MS Dhoni promotes himself to no. 4 in the batting line-up again. This is the same ground where he scored an unforgettable 148-run knock vs Pakistan in 2005.
15:18 IST: Rohit Sharma departs for 70 after he tries to go for a six on the leg side from a Trent Boult delivery. He doesn't hit the ball well and Neesham catches the ball near the boundary. India are 119/2 from 22 overs.
15:14 IST: Dropped! Rohit Sharma is reprieved as Ross Taylor drops a catch with the India opener at 67. India are 115/1 from 21 overs (Rohit 67*, Kohli 20*)
15:10 IST: Neesham rejoins the bowling attack. He concedes a boundary to Rohit Sharma from his first delivery.
15:00 IST: India are past the 100-run mark. So far so good for the hosts. Catch live cricket score of IND vs NZ here.
14:57 IST: Rohit Sharma completes his 29th ODI half-century, and follows it up with a six.
14:47 IST: Corey Anderson joins the bowling attack in place of Mitchell Santner.
14:45 IST: Another big stroke from Rohit. This one goes for a six. India are 81/1 at the end of 16 overs (Rohit 44*, Kohli 9*).
14:35 IST: Rohit Sharma seems to be in the mood today. He lifts a delivery through the leg side for a boundary. India add 8 runs from the 14th over. Catch live cricket score of IND vs NZ here.
14:28 IST: Rohit Sharma's 264-run came a day before Diwali. Will we see another big score from the India opener today?
14:26 IST: Rohit Sharma lifts one through mid-on for a six. India are 55/1 after 12 overs.
14:19 IST: Rohit finds space through the covers for a boundary. India are 45/1 after 10 overs. (Rohit 17*, Kohli 1*)
14:15 IST: Rahane is dismissed! The India opener tries to lob a Neesham delivery through the leg side, but is caught by Tom Latham. He departs after scoring 20 runs. India are 40/1 after 9.2 overs.
14:08 IST: Trent Boult goes for 12 runs in his fourth over. Rahane pulls one delivery for a boundary, before a wide ball goes past the grasp of BJ Watling, and travels all the way to the boundary. Catch live cricket score of IND vs NZ here.
14:02 IST: James Neesham completes his first over. He concedes 5 runs from it. India are 23/0 after 7 overs.
13:53 IST: India are 17/0 after 5 overs. Rahane and Rohit are at the crease with scores of 11 and 5, respectively.
13:43 IST: Rohit Sharma opens his account with a lob over long-off that goes for a boundary. He survives and lbw appeal in the next delivery.
13:39 IST: Rahane adds another boundary from the over. India are 9/0 after two overs.
13:36 IST: India skipper MS Dhoni has a message for mothers and soldiers:
'Mother's contribution' as important as a soldier's, says India Captain @msdhoni during the toss #Sandesh2Mothers #Sandesh2Soldiers pic.twitter.com/4vRrq1IWtH

— BCCI (@BCCI) October 29, 2016
13:35 IST: Rahane ends the over with a single. India 5/0 at the end of the first over.
13:30 IST: Ajinkya Rahane faces the first ball of the match from New Zealand pacer Tim Southee. He defends the first delivery, but pulls one through the covers in the next ball for a boundary.
13:25 IST: If India lose today, this will be their straight fourth series loss (except Zimbabwe). India's losses have come against Australia in Australia, South Africa in India and Bangladesh in Bangladesh.
13:10 IST: There is no threat of rain at the moment. It's sunny and humid in Vizag. A good batting surface awaits both teams. Will we witness a 300-plus score for the first time in the series?
13:07 IST: New Zealand have made one change. Corey Anderson replaces Anton Devcich.
13:06 IST: India have made two changes. Jasprit Bumrah replaces Dhawal Kulkarni, while off-spinner Jayant Yadav makes his debut.
13:04 IST: MS Dhoni won the toss and opted to bat first in the decider.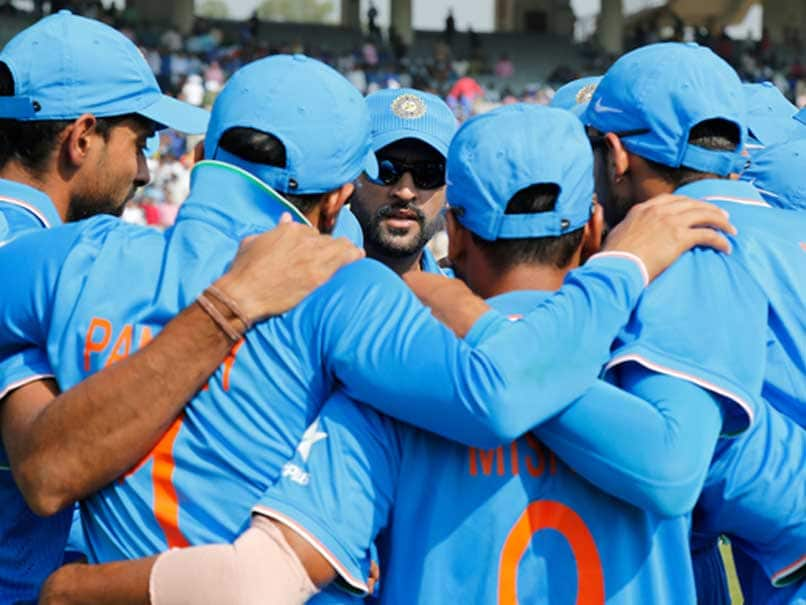 Post the Ranchi defeat that enabled New Zealand to force the decider in Visakhapatnam, the odds suddenly seem stacked against India.
Tepid start by the openers, an inadequate middle-order and a bowling attack that has run hot and cold have not helped India in this series. The Indians are clearly missing Ravichandran Ashwin, Ravindra Jadeja and Lokesh Rahul.
New Zealand have never won a bilateral series in any format on India soil. They can overturn that script if at least five of their key players come good today.
Ross Taylor and Martin Guptill have shown glimpses of good form while the Kiwis will look for consistency from Tom Latham and skipper Kane Williamson with the bat. Corey Anderson could make a return to the playing XI to bolster the middle order.
New Zealand have the experience in bowling too. Tim Southee is the only New Zealand bowler to have taken three-wicket hauls in the series. He did it in Delhi and Ranchi and both came in winning causes. Mitchell Santner's tight left-arm spells have choked the Indian middle-order.
India have experimented with their batting line up. MS Dhoni batting at No. 4 has sent out mixed signals. When a team loses, tactics are invariably questioned. Dhoni will expect man-in-form Virat Kohli to come good and Rohit Sharma to make amends for his string of poor scores at the top of the order.
Jasprit Bumrah bowled at the nets on Friday. He was not 100 per cent in Ranchi and lost his place to Dhawal Kulkarni. Bumrah should make a return to the XI.
India have a 4-1 win-loss record in Visakhapatnam. But they will not start favourites this time against an upbeat Kiwi side.