Story Progress
Back to home
Kedar Jadhav Feels Indian Players Should Deliver When Needed
Kedar Jadhav has been a handy bowler for India in the ODI series against New Zealand. The five-match series is currently tied at 2-2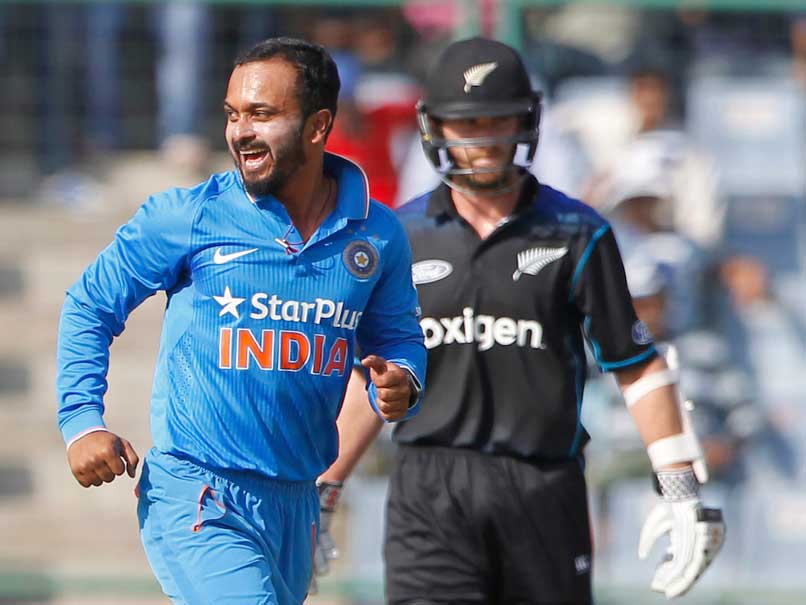 Kedar Jadhav, in four games against New Zealand, has talen six wickets.
© BCCI
Highlights
India-New Zealand series tied at 2-2

Kedar Jadhav has taken six wickets in the series

He is also an effective middle-order batsman
Visakhapatnam:
From a specialist batsman to someone whose off-breaks are proving to be more than handy, Kedar Jadhav believes that the key to his transformation is accepting challenges and knowing how to overcome it.
Jadhav has bowled 18 overs in four games taking six wickets for 73 runs at a decent economy rate of 4.05.
"It's all about taking this responsibility and accepting the challenge that comes at you and then, coming out of the challenge successfully," Jadhav said on the eve of their fifth and final onedayer against New Zealand.
Jadhav, who's playing in place of an indisposed Suresh Raina, bowled for the first time in international cricket when MS Dhoni gave him the ball ahead of the regular spin duo Axar Patel and Amit Mishra on a seaming Dharamsala track in the first one-dayer.
"Here, you need to contribute if the captain is asking you to bowl (some) overs. You don't have to bowl (just) as a part-time bowler. You need to take the responsibility with the ball or bat," Jadhav said.
"I guess when you play for India, you have to contribute in every possible way you can. While playing in the IPL, I do that with wicketkeeping - by contributing rather than batting," Jadhav said.
Jadhav said he varies his action according the the batsman so as to make it difficult to read.
"It's both - a bit of my action and the pace I vary according to the batsmen that makes it difficult (for them) to read I guess. Mahi bhai asked me to bowl. Obviously Mahi wants few bowlers from the top five or six batsmen to bowl at least 4-5 overs. If a bowler has a bad day, it helps (the team) you know."
Jadhav who got out for a duck in the fourth ODI in Ranchi is yet to click as a batsman and he said he's to learn quickly. Youngster Manish Pandey too is missing among runs and Jadhav said they would have to get into their act soon.
"Obviously, the opportunity has been missed, especially in the last game. But it's still early stages for Manish (Pandey) and me. We need to grab whatever opportunity is thrown at us. We need to learn quickly from the opportunities we have missed. That's what international cricket is all about -- delivering when it matters most to the team."
An attacking middle-order batsman, Jadhav who came into the limelight with a 29-ball-50 for Delhi Daredevils on his IPL debut, also spoke about his favourite sweep shot.
"Sweep is a natural shot to me. It's my strength. If a spinner is bowling to my pads in the middle overs and when you don't wanna take too many high-risk shots.
"That's the shot which you can take when the bowler tries to bowl outside the leg stump or off stump. You can paddle it out because we have 4 fielders on the leg side and behind the square, you have only one (fielder). If you pass that fielder, you get a sure-shot boundary. It's a good shot to play when the bowlers attack my pads."
Jadhav also backed their batting unit which looks too much dependent on Virat Kohli.
"Virat is a great player and it's always nice if he scores. It makes life easy for the batsmen coming next to get whatever runs (possible). But it's not like that (we're overdependent on him). We have too many quality batsmen in the team and we need to deliver whenever we get the opportunity."
Topics mentioned in this article
Kedar Jadhav , 1985-03-26 , India
India Cricket Team , 1900-01-01 , India
New Zealand Cricket Team , 1900-01-01 , New Zealand
Cricket , 1900-01-01 ,