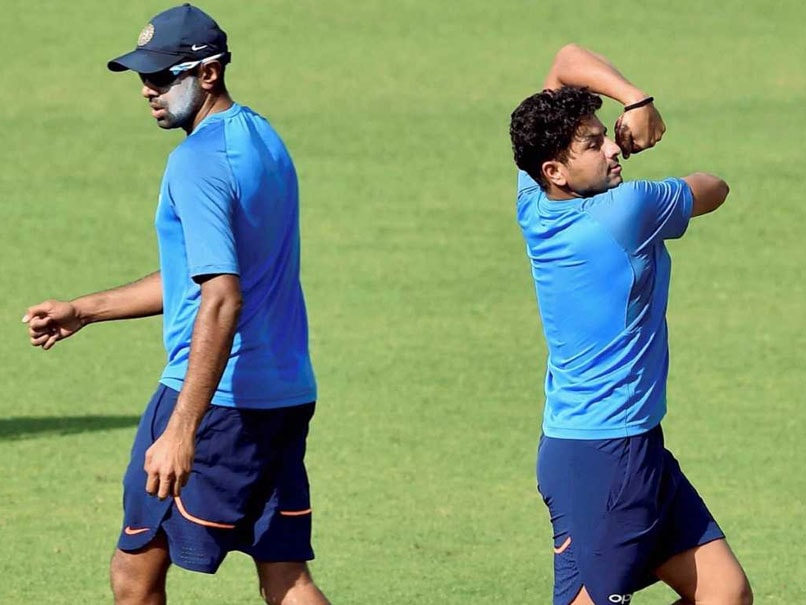 Ravichandran Ashwin, Kuldeep Yadav during India's first practice session ahead of the opening Test.
© PTI
Ravichandran Ashwin will return to the India fold when India take on Sri Lanka in the first of the three Test-match series starting in Eden Gardens, Kolkata from November 16. Ashwin failed to get a look in the recent ODI and T20I series against Australia and New Zealand, which has led many to believe that his involvement with the Indian cricket team is nearing its end. However, India's Test wicketkeeper Wriddhiman Saha has praised Ashwin, saying that he poses a big challenge to keep behind the stumps. Saha also said that Ashwin was ahead of others and that he had more variations than the likes of Ravindra Jadeja and Kuldeep Yadav.
Ashwin might be behind Jadeja in the ICC Rankings for Test bowlers, however, Saha feels that Ashwin possesses more variations and that puts him ahead of others.
"Ashwin is ahead of others. He has got many variations, also the length varies, so it's tough against him. He has more variations than (Ravindra) Jadeja, Kuldeep (Yadav)," Saha said after Indian team's first practice session ahead of the opening Test.
"We have played many matches in Ranji, India A and during practice. The more you keep, the better idea you develop. It becomes easier after a point. I've always played with them in all my 28 Tests."
Meanwhile, speaking about the upcoming Test series against Sri Lanka, Saha said the first target for the team was to win the first Test and set the ball rolling.
"We are yet to see the wicket but the first target is to win the first Test and get momentum to win the series,"  against Sri Lanka here from November 16," he added.
"Every match is important and poses a different challenge, there's nothing like preparation. We will go match by match. If we do better here then we will think of the SA series."
He may have stepped down from the captaincy, but MS Dhoni is still seen overseeing the fielding in ODIs from behind the stumps and Saha said he also gives his inputs to captain Virat Kohli whenever required. 
"The team management has decided that anyone can give a feedback. Kohli is usually in the slip cordon so I convey my inputs. But the ultimate decision is of the captain."
He added the drill is the same during a decision review. 
"It's about being confident and conveying it to the captain. You should never have any doubt," he said. 
(With PTI Inputs)