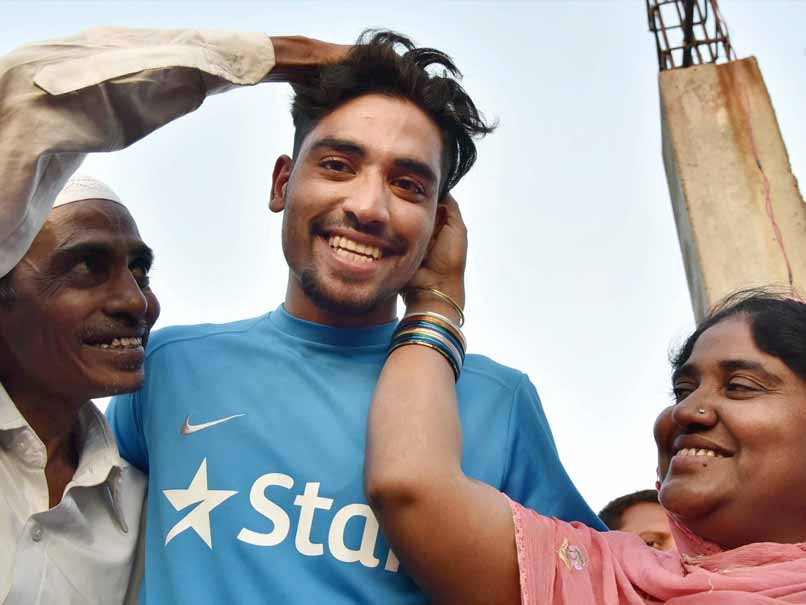 Siraj also elaborated how IPL has helped him financially.
© PTI
Chase your dreams and they will come true. Hyderabad's rookie pacer Mohammed Siraj's dream finally came true when he got a call from the India selectors that he has been named in the 16-man Virat Kohli-led T20 squad for the series with New Zealand. The excited bowler credited veteran speedster Ashish Nehra for getting into India fold. "I have played with Nehra bhai at Sunrisers Hyderabad in the IPL 2017. He has given me a lot of tips during net sessions. The tips helped me improve my game a lot," Siraj told NDTV.com in an exclusive interview.
Recalling some of the moments he shared with Nehra, Siraj said: "He never made me feel that he was a player who has played 20 years of cricket. He treated me like a younger brother. He told me how to fool a batsman with variations.
"Ball aise pakad, aur aise daal (Grip the ball and bowl this way). Batsmen ke footwork ko dhyaan se dekh aur fir line aur length change kario (Watch the batsman's footwork closely and then change the line and length accordingly)," Siraj said while recalling one of the conversations with Nehra.
"His pep talk has helped me take my game to next level. He has told me how to read a batsman's mind," Siraj said.
With Nehra set for his last international outing in the first T20 match against the Kiwis at his home venue Feroz Shah Kotla, Siraj is hopeful of sharing the same XI with the veteran pacer.
"It needs a lot to serve 20 years to cricket. Nehra has done it. He is a legend. He deserves a fitting farewell. I am not sure whether I will play in the opening T20I or not, but If I will get a chance, it is going to be a very big moment for me. First donning India colours and sharing the same field with my favourite captain Virat Kohli and Nehra," Siraj said.
Son of an auto-rickshaw driver, Siraj, raised many eyebrows when he was picked up by Sunrisers Hyderabad at the Indian Premier League (IPL) 2017 auction for a whopping Rs 2.6 crore. His base price was Rs. 20 lakh.
Playing for the Hyderabad franchise, the 23-year-old played six matches and claimed 10 wickets.
Siraj also elaborated how IPL has helped him financially.
"My father is an auto-rickshaw driver. He has done a lot hard work to make me a cricketer. I didn't want to let his hard work go in vain. Thankfully, I got the IPL call-up. IPL was a turning point. I am pretty good now (financially)," he said.
"I have seen tough times in my life. My father has provided me with everything without any if or but. He wanted me to represent India someday. I am a proud son now," he said.
"I don't let my father drive the auto-rickshaw anymore. I have asked him sit at home, relax and enjoy his life," the proud son said.
Siraj didn't expect a call-up despite some decent performances for India A against South Africa A and New Zealand A. He claimed 7 wickets against South Africa A in Pretoria.
"Honestly, I didn't expect the call-up this soon. I knew that some time in future I will surely represent the country, but not this early. I can't tell you how happy I am," he said.
Asked about the parents' reactions, the pacer said: "When I told my parents, they were happy and speechless at the same time. It's a dream come true for me".
During his India A stint, Siraj also got to interact with the legendary Rahul Dravid, who is the coach of the outfit.
"Just like his batting, he is an excellent coach too. He told me one thing -- not to experiment with my bowling style and run-up. He said, bowl as you have been doing and you will improve automatically with time," the youngster said.
Just like many youngsters admire some senior or legend, Siraj looks up to Australia speedster Mitchell Starc.
"I want to bowl like him. I love the way he intimidates batsmen and takes wicket. He is an asset to the team and I want to be the same for Team India someday," Siraj signed off.