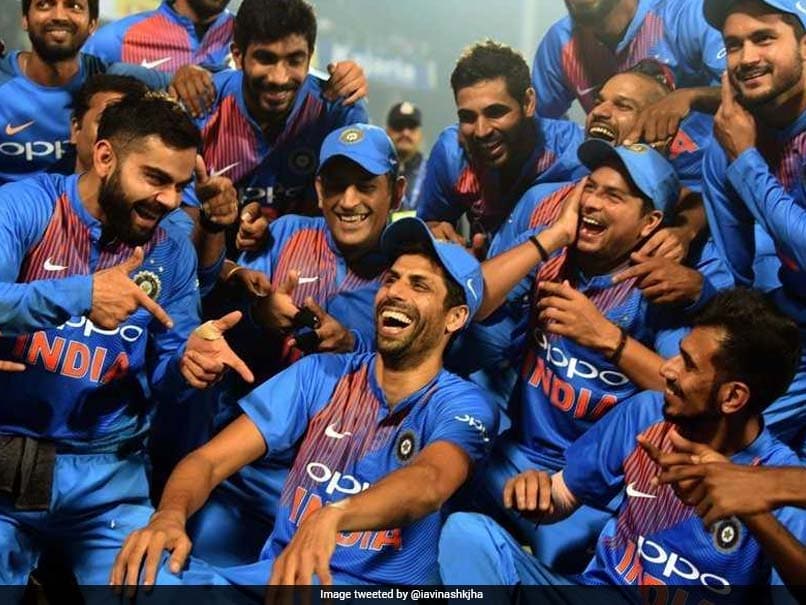 Veteran pacer Ashish Nehra played his last international match on Wednesday.
© Twitter
Veteran pacer Ashish Nehra, who played his last international match on Wednesday, could not have asked for a better send-off as Team India thrashed New Zealand by 53 runs in the first T20I at the Feroz Shah Kotla in Delhi. This was India's maiden win against the Black Caps in T20 Internationals. Fittingly, Delhi players Virat Kohli and Shikhar Dhawan carried Nehra on their shoulders after the win and took the victory lap. The Feroz Shah Kotla came together to bid adieu to their home bowler. Placards of different shapes, sizes and colours were seen on the ground with emotional messages for their very own 'Nehra Ji', the name given by his former teammate Virender Sehwag.
As Nehra brought down the curtains on his 19-year career, cricket fans took to social media and hailed the experienced speedster with special messages.
In his 19-year career, Nehra's most iconic moment on the field for India came during the 2003 World Cup against England. The speedster claimed a magnificent 6/23 and helped India to a comprehensive win.
He was also the member of the victorious Indian Team who won the 2011 World Cup.
Nehra, who made his Test debut in 1999 against Sri Lanka in Colombo, played 17 Tests for India and claimed 44 wickets at an average of 42.40.
His limited-overs career was far more impressive than Tests.
Nehra had made his ODI debut in 2001 and went on to play 120 ODIs, claiming 157 wickets at an average of 31.72.
In 27 T20Is, Nehra has bagged 34 wickets.
Starting the proceedings in his farewell match, Nehra came close to picking up a wicket in his farewell game, but Hardik Pandya could not latch on to the ball after making a valiant attempt running backwards from cover.
Eventually, Nehra, also bowling the day's final over, returned respectable figures of none for 29 in his four-over spell.
What Nehra is to the youngsters, an excited fan entering the ground to touch Nehra's feet, was a true example of that.