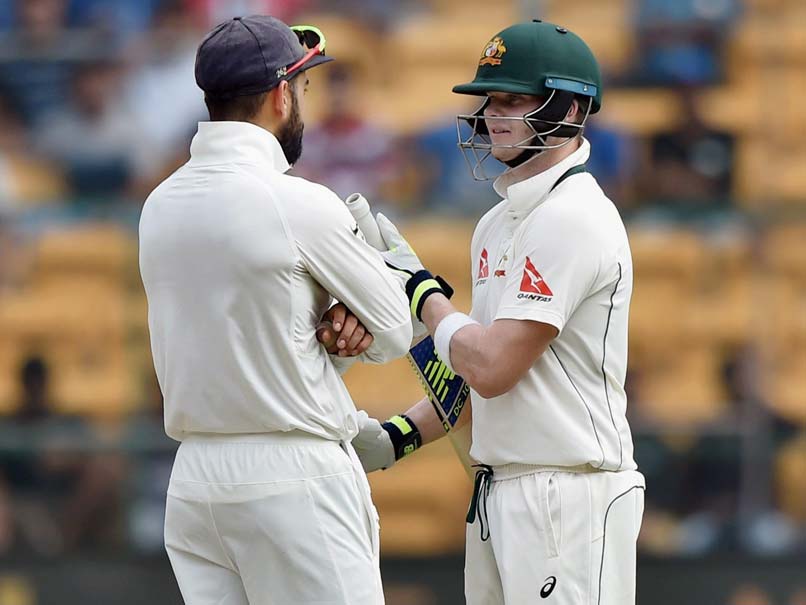 Steve Smith and Virat Kohli have had a number of run-ins during the ongoing series.
© PTI
Australia captain Steve Smith on Tuesday sought to play down his repeated exchanges of words with Indian counterpart Virat Kohli in the ongoing series as 'a bit of banter'. Smith, who was given a send-off by an infuriated Kohli after the Australian batting talisman was seen seeking the dressing room's opinion on whether to review his leg-before dismissal by Umesh Yadav, termed his antics after the dismissal as a 'brain fade'. India went on to win the 2nd Test by 75 runs to level the series 1-1.
"(With) Australia and India playing there are always emotions flying around. As long it's kept on the field that's all good," said Smith.
"Some interesting banter between the two oppositions. I think it makes for a great contest.
"Me and Virat were just having a chat out there. Not much in it. Just a bit of fun, a bit of banter. These are things that happen in the game," he added.
Smith was adjudged lbw from a low delivery by Indian pacer Umesh Yadav. He later acknowledged his fault at the incident.
"I was looking at our boys. So shouldn't have done that. A bit of brain fade," Smith told reporters.
"Obviously I got hit on the pad and looked down to (Peter) Handscomb and he said look out there. Then I just turned around and said what do you reckon?" added Smith.
Umpires quickly sprung into action to gently nudge the batsman away as Indian Kohli vented his fury at the officials.
Smith also admitted to another communication blunder between him and Shaun Marsh after the latter walked away without reviewing his own lbw off Yadav.
The batsmen decided not to use their last remaining review but TV replays suggested the ball would have missed the off stump by quite a distance.
"I said "Go", as in "Go have a look at it." But he turned around and started walking. May be I should have just put my hands up and done it (reviewed)," said Smith.
India and Australia are locked at 1-1 in the four match series going into the third Test in Ranchi on March 16.
(With inputs from AFP)