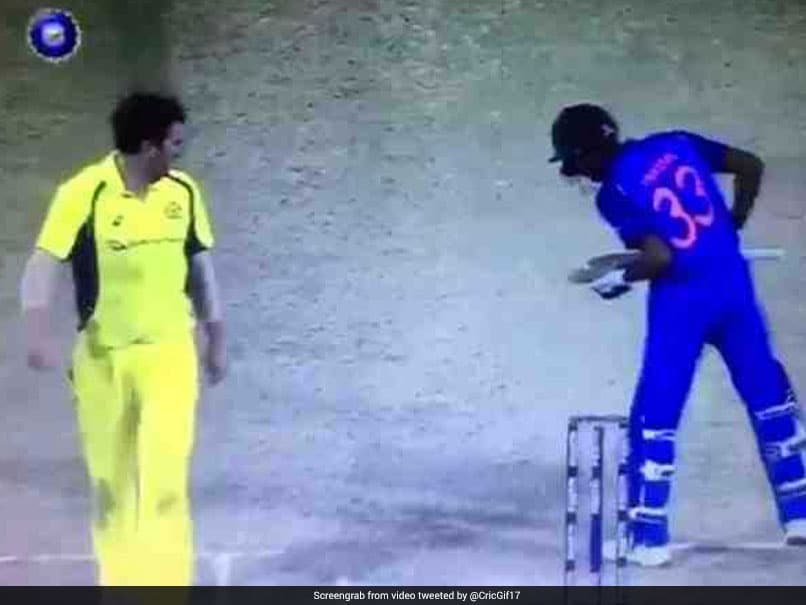 Hardik Pandya and Pat Cummins exchanged some words during the 3rd ODI
© Twitter
The India-Australia cricketing are never short of drama and intensity. The two sets of players tend to bring out the best in each other, which sometimes leads to passions going overboard. The Australian players like having a go at their opponents and Virat Kohli's men are known to give as good as they get. Hence, players from both teams have been involved in several heated exchanges in recent times. A similar incident was witnessed in the 3rd ODI on Sunday when Aussie pacer Pat Cummins tried to provoke Hardik Pandya. The incident occurred in the 28th over of the Indian innings after Pandya flicked a delivery from Cummins to deep square leg. On his way back to the bowling mark, Cummins sledged Pandya who had arrived at the non-striker's end after taking the single.
Pandya, however, engaged with the bowler with a smile on his face. The duo went on to exchange more words, with the umpire stepping in to ask both the players to get on with the game.
Kohli guided the ball down to the third man region to hand the strike back to Pandya. The Baroda cricketer, however, adopted a responsible and mature approach to tackle the Aussie mind games by playing the next ball straight down the ground for a single.
Cummins, in the age-old Aussie tradition, was hoping to get under Pandya's skin and lure him into attempting a big shot. Pandya, who was batting on 19 at the time, did not put a foot wrong.
September 24, 2017
Pandya's 72-ball 78 and his crucial fifth-wicket stand with Manish Pandey, who remained unbeaten on 36, helped the hosts chase down their 294-run target with 13 balls to spare.
The 23-year-old Pandya, who survived a dropped chance by skipper Steve Smith off Agar on 41, once again made it count for India after his 83 in the opening game in Chennai.
Pandya's performance helped India jump to the top of the ODI rankings for now, overtaking Australia and South Africa, but can still slip to the number-two spot if the visitors win the next two games.
The fourth ODI is scheduled for Thursday in Bengaluru.