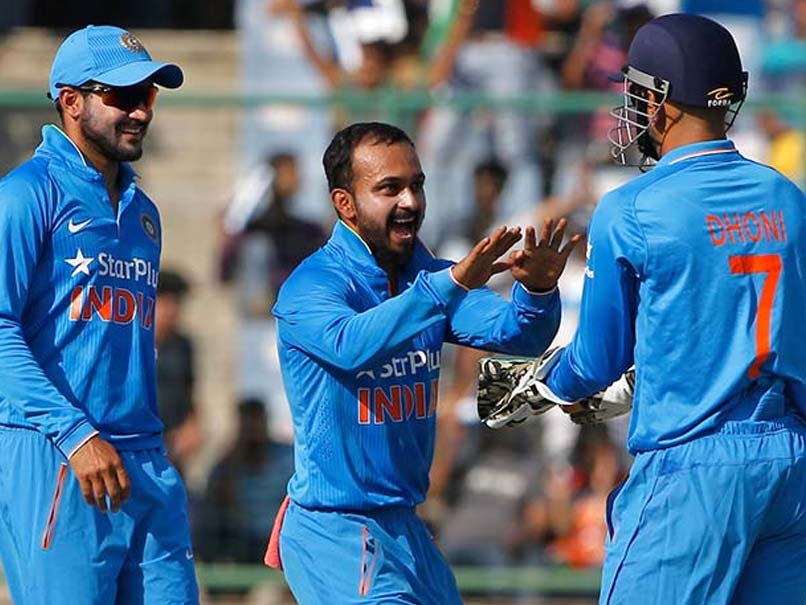 Kedar Jadhav credited MS Dhoni for his success at the international stage.
© AFP
India middle-order batsman Kedar Jadhav believes Mahendra Singh Dhoni was responsible for changing his fortunes as an international cricketer. Jadhav, who is now regularly used in the middle overs by captain Virat Kohli, was first asked to roll his arm over by MS Dhoni. "I firmly believe that I became a different player after Dhoni bhai asked me to bowl in international cricket. I hadn't even dreamt until then that I could bowl and pick wickets for India," Jadhav said. The Maharashtra cricketer said that the former India captain was adept at bringing out the best in players. "He allows a player to express himself and supports a player in every possible way. He knows how to get the best out of every player, that's his biggest quality," he added. Jadhav, who bowls with a slingy action, has picked up 16 ODI wickets for India so far.
The 32-year-old said that he was looking forward to playing under Dhoni at Chennai Super Kings (CSK).
"So, again playing under him for CSK I am sure I will express myself in ways that I have never done before as his presence gives me immense confidence," Jadhav was quoted as saying by CSK's website.
Jadhav said he was keen on learning how to read match situations from Dhoni.
"I would have done anything to be a part of the Chennai Super Kings. To me, CSK is (MS) Dhoni bhai on the field and I hope to play the best cricket of my life with this team," Jadhav said.
"Over the last decade CSK have been one of the top teams in the IPL. So, being a part of this team I am sure I will give my best in every game and also learn more from Dhoni bhai on how to read a situation and adapt quickly," Jadhav stated.
Dhoni ranks among the most successful captains in the Indian Premier League. Under him, CSK won two IPL titles and finished runners-up on four occasions. CSK, who return to the IPL after a two-year absence, made it to the Playoffs in all eight seasons of the cash-rich league.
The 11th edition kicks off on April 7 with CSK taking on defending champions Mumbai Indians (MI) at the Wankhede Stadium.