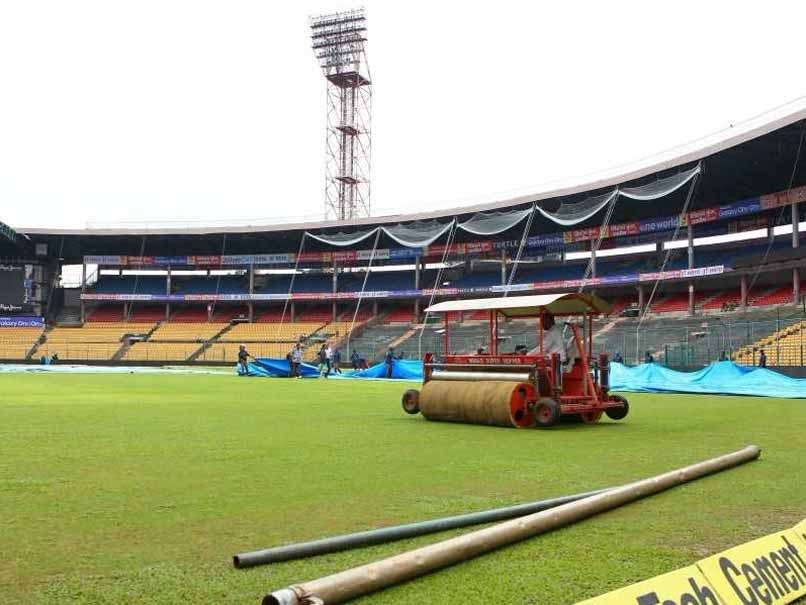 A file image of M Chinnaswamy Stadium in Bengaluru
© BCCI
India will host Afghanistan's first-ever Test match from June 14 to 18 in Bengaluru, a massive fillip to the war-ravaged country's cricketing profile. The decision was taken after officials from the BCCI and the Afghanistan Cricket Board met on Tuesday. "Considering that June is a rainy month, we thought it was best to host the historic Test in Bengaluru," BCCI Acting Secretary Amitabh Choudhary told reporters. Bengaluru was in the running as the leading venue for the match after the BCCI, last month, announced that it would host the neighbouring country's entry into the five-day format. 
Afghanistan earned their Test status alongside Ireland in June last year. Their respective boards were made full members of the International Cricket Council (ICC) in June, becoming the sport's 11th and 12h Test-playing nations. Besides welcoming them into five-day cricket, the BCCI has extended a helping hand to Afghanistan on a number of occasions.
"The historic friendship between India and Afghanistan cannot be denied. It goes back to centuries. I am glad that cricket is also added to it," said Mashal, sitting alongside BCCI officials and ACB CEO Shafiq Asmat Stanikzai. "The support of BCCI to ACB over the last several years has been tremendous. Whether it was backing ACB in the ICC when our full membership was under consideration, making facilities available (for its players in India), we really recognise the support and we really appreciate it," Mashal added.
From the Indian point of view, Choudhary drew a parallel of the situation with the gesture in 1991 when India became the first country to South Africa post apartheid. "As you are aware India and Afghanistan have been traditional friends for ages. It was only in the fitness of things that Afghanistan opened their international innings in India.
Besides welcoming them into five-day cricket, the BCCI has extended a helping hand to Afghanistan on a number of occasions. During Tuesday's announcement, ACB chairman also mentioned that they have requested for another home ground in India besides Greater Noida.
"We are a full member (and will be playing more games), so we have requested the BCCI for another home ground. In principle, we have agreed and will be announcing the exact ground very soon," said Mashal.
The team from the war-ravaged nation has hosted its home games in India, most recently the series against Ireland in Greater Noida. Rashid Khan and Mohammed Nabi became the first two Afghanistan cricketers to be bought at the IPL auction last year. Thirteen Afghan players have registered themselves for the IPL auction on January 27-28.
(With PTI Inputs)