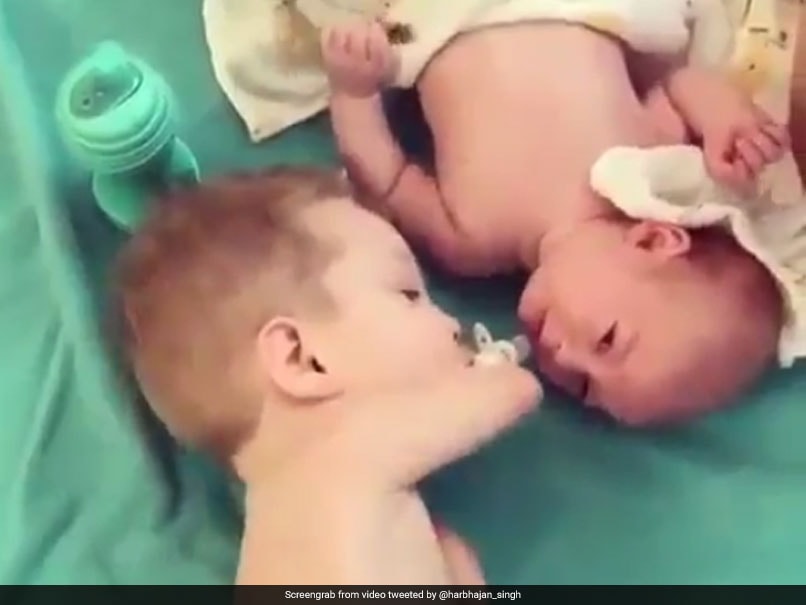 Grab from the video posted by Harbhajan Singh.
© Twitter
Harbhajan Singh is quite active on social media, like many other Indian cricketers, and on Saturday the off-spinner took to Twitter to post an emotional video. The video shows the bond between an elder brother, who has no arms, and his baby brother. The newborn can be seen crying with his pacifier kept a little away from him. The elder brother, who is lying next to him, takes the pacifier in his mouth and carefully places it in the mouth of his younger brother. He then waits as the newborn stops crying and starts sucking on his pacifier.
Harbhajan's post quickly went viral and at the time of writing this article garnered more than 4,100 likes, 1200 retweets and 130 replies.
The off-spinner captioned the video: "Almost had tears..left me speechless..Lot to learn from them #love #care #blessthem"
Harbhajan has found it hard to break into the current India squad. The 37-year-old last played an ODI for India on October 25, 2015 while his last Test was in August 2015 against Sri Lanka at Galle.
Harbhajan, however, has been a key part of the Mumbai Indians outfit that has won three Indian Premier League (IPL) titles in the past five seasons.