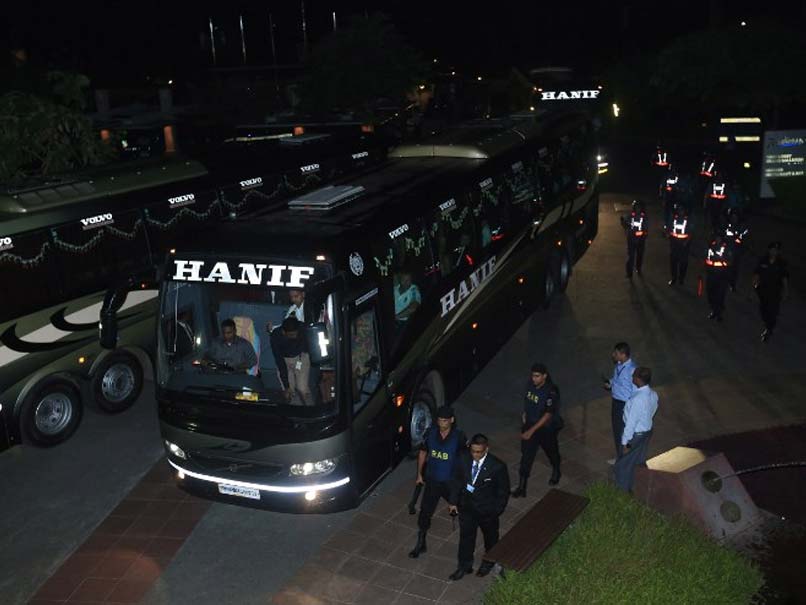 The England cricket team has been provided unprecedented security by the Bangladesh governement.
© AFP
Dhaka:
England's one-day international cricket side arrived in the Bangladeshi capital Dhaka on Friday amid huge security for a three-match series, officials said.
The visiting side landed at Dhaka's Hazrat Shahjalal International Airport shortly before 9.00 pm local time and was immediately surrounded by a big security presence, police said.
"Huge number of security personnel were deployed here at the airport for the visiting England side," said airport police chief Nur-e-Azam.
"In addition to regular security forces, members of other forces including the elite Rapid Action Battalion and police were deployed in providing security to the visiting side," he said.
Hossain Imam, chief security consultant of the Bangladesh Cricket Board, confirmed that the visiting side was escorted to a hotel under heavy protection.
Bangladesh authorities had earlier promised England's cricketers "unprecedented security" in a desperate attempt to prevent the country from becoming a no-go zone for international sport.
England's tour, which also comprises two Tests, was thrown into doubt after an attack on a cafe in Dhaka in July that killed 18 foreigners, many of whom were  mostly hacked to death, by suspected Islamist militants.
Some members of the England Test team will arrive in the coming days.
After their own security expert carried out an assessment in Bangladesh, the England Cricket Board decided to go ahead with a month-long tour that begins with a one-day warm-up match on October 4.
While Alastair Cook will continue to captain the Test team, one-day international (ODI) side skipper Eoin Morgan has decided not to travel on security grounds, handing over the responsibility to wicketkeeper-batsman Josh Buttler.
And even the Barmy Army, the diehard supporters' group which normally follows the team around the world, has held back from endorsing the trip, saying there is "too much risk attached to travelling to Bangladesh".
In an interview with AFP this week, the Bangladeshi board's chief executive Nizamuddin Chowdhury said "unprecedented security" measures have been promised by the law enforcement agencies during the England tour.
Bangladesh police also pledged to provide top-level security to the team, saying there was no reason to doubt their ability to do so.
Australia pulled out of a planned tour a year ago after their cricket board's chief executive James Sutherland said there was a "risk of terrorism in Bangladesh targeting Australian nationals".
And Australia's football team was only persuaded to travel to Dhaka for a World Cup qualifier last November after authorities drew up an extensive security plan, aware that a no-show would see them forfeit the match.
Bangladesh is desperate to avoid the fate of Pakistan who -- apart from a lone series against Zimbabwe -- have not hosted any international cricket since gunmen attacked the Sri Lankan team bus during a 2009 Test in Lahore.
Topics mentioned in this article
Cricket , 1900-01-01 ,
England Cricket Team , 1900-01-01 , England
Bangladesh Cricket Team , 1900-01-01 , Bangladesh