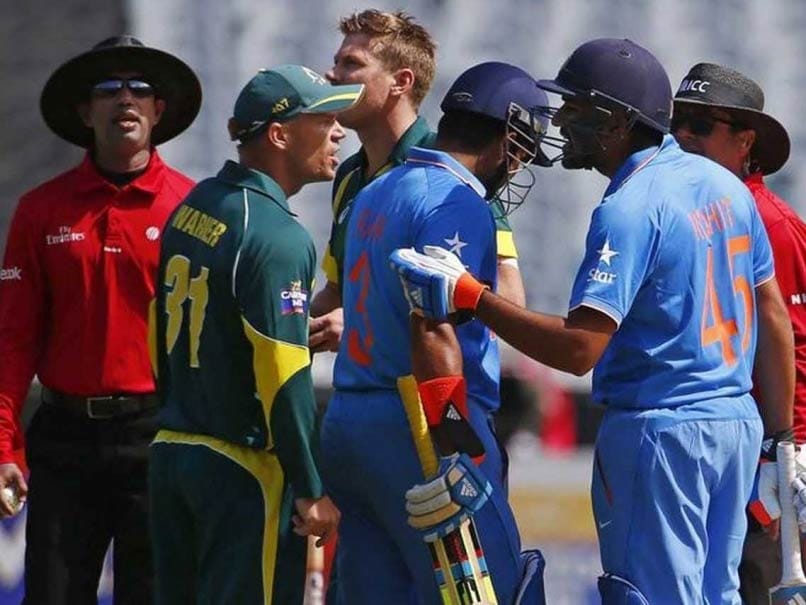 David Warner and Rohit Sharma were involved in a mid-pitch fracas in 2014.
© Reuters
Australia vice-captain David Warner on Wednesday opened up about the incident that transpired between him and Rohit Sharma during India's tour of Australia in 2014-15. Warner, in a heated argument, had urged Rohit Sharma to 'speak english' as the Indian batsman could've been penalised had the world seen him saying the same word in English on the big screen during the second one-day international of the tri-series at Melbourne Cricket Ground. After the incident, Warner told Sky Sports Radio, "When I went over to say something to him, he sort of said something in their language and I said 'speak English' because, if you're going to say something for me to understand, theoretically I cannot speak Hindi."
"So I did the polite thing and asked him to speak in English, therefore he did and I can't repeat what he said," he added.
"After the Rohit Sharma incident [I stopped]. I felt I had a valid point there, because if I'm going to swear in a different language on the big screen, nobody is going to do something about it. But if I said what he was saying to me, in English, and you could lip read me - I'll still get in trouble anyway," ESPNCricinfo quoted Warner as saying.
"That's where I was really disappointed with what happened. I think everybody interpreted it the way I actually said. It wasn't being racist or anything like that. I just clearly wanted him to swear at me in English so everyone else could hear what he was saying," Warner further added.
That was not the first time when Warner was engaged in an on-field fight.
In 2013, the left-handed batsman was suspended for punching Joe Root. Cricket Australia's chief executive James Sutherland, following the incident, had banned Warner to play 2013 Ashes warm-up match.