An unbeaten 167-run partnership between skipper Virat Kohli and Ajinkya Rahane put India on top on Day 1 of the third Test at Indore vs New Zealand. Catch highlights of India vs New Zealand here. (SCORECARD | CRICKET NEWS)
17:00 hrs IST: That's it for today. Do join us tomorrow for the live coverage of second day's play. Until then, it's goodbye. Cheers!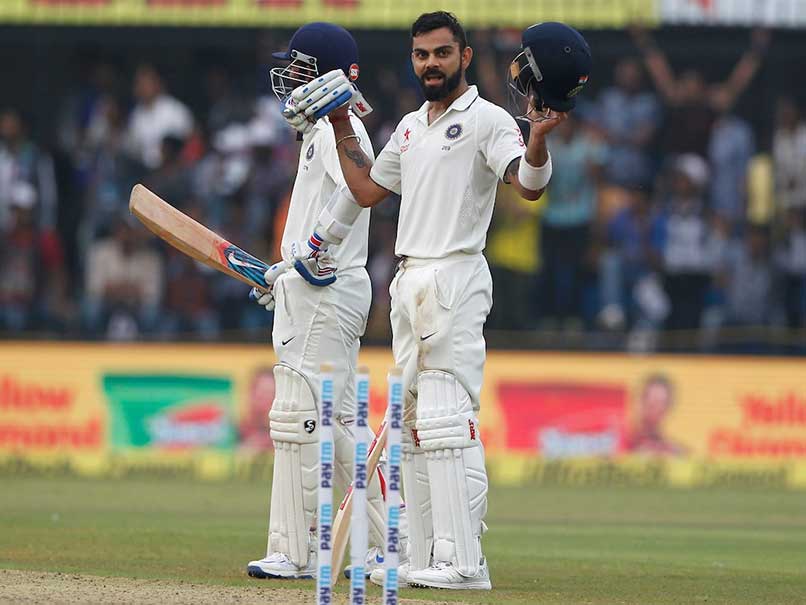 16:56 hrs IST: And that's the end of the day. India finish on 267/3 in 90 overs. Utter domination from the hosts! 
16:42 hrs IST: Four overs left in the day. 
16:40 hrs IST: Single and that's hundred for Kohli. His 13th in Tests. What an innings from the skipper! Just when his team needed it the most. 
16:33 hrs IST: India are 249/3 after 84 overs. Kohli 94*, Rahane 70*
16:23 hrs IST: Single and Kohli's moves into 90s. India are 239/3 after 82 overs. 
16:21 hrs IST: FOUR! A Beautiful straight drive from Rahane. Moves to 63. 
STAT ATTACK - 18.85 - Kohli's average in his last seven Test innings, before this match. 
16:11 hrs IST: Three runs off Jeetan's 22nd. India are 225/3 after 79 overs. 
16:02 hrs IST: SIX! And that's fifty for Rahane. His 10th in Tests. 
15:54 hrs IST: India are 206/3 after 75 overs. Kohli 77*, Rahane 44* 
15:42 hrs IST: 100-run partnership between Kohli and Rahane. 
15:34 hrs IST: Maiden over from Santner. Kohli was not able find gaps at all. 
15:27 hrs IST: India are 193/3 after 69 overs. Kohli 68*, Rahane 41*
15:18 hrs IST: India are 181/3 after 67 overs. Kohli 65*, Rahane 32*
15:07 hrs IST: FOUR! Poor delivery from Boult, straying down leg and Kohli ficks it to deep square leg boundary. 
15:05 hrs IST: Four off the last ball of Henry's over for Rahane. 
15:00 hrs IST: India are 169/3 after 63 overs. Kohli 58*, Rahane 27*. Henry into the attack now. 
14:49 hrs IST: FOUR! Flighted delivery from Jeetan, Rahane dances down the track and lofts it straight over the bowler's head for his third boundary. India are 165/3 after 61 overs. 
14:43 hrs IST: FOUR! Half-volley from Neesham and Kohli places it well in the gap between extra cover and long-off. 
14:41 hrs IST: Two runs and that's fifty for Kohli. His 13th in Tests. A well-compiled innings from the skipper! India are 157/3 after 59 overs. 
14:34 hrs IST: Three runs off the over. India are 151/3 after 57 overs. 
14:31 hrs IST: Welcome back! 
14:11 hrs IST: And that's tea. India are 148/3 after 56 overs. We'll be back in 20 minutes time. 
14:04 hrs IST: FOUR! Fuller delivery from Boult, Rahane opens the bat face and carves it away past the point region. India are 140/3 after 54 overs. 
13:55 hrs IST: FOUR! Bouncer from Boult, Rahane gets a top edge but it falls short of Henry, who comes running from deep mid-wicket boundary and it dribbles away to the boundary. India are 133/3 after 52 overs. 
13:46 hrs IST: India are 127/3 after 50 overs. Kohli 37*, Rahane 6*
13:39 hrs IST: FOUR! Shortish delivery from Henry and Kohli whacks it in the gap between deep mid-wicket and deep square leg boundary. Moves to 37 now. 
13:30 hrs IST: FOUR! Touch short from Santner, Kohli goes on backfoot, makes room and whips it through mid-wicket. 
13:27 hrs IST: India are 115/3 after 45 overs. Kohli 28*, Rahane 3*
13:17 hrs IST: Single and that's 2000 runs in Test cricket for Rahane. 
STAT ATTACK - 18: Number of times Pujara has got out to spinners in home Tests. He has got out to fast bowlers only nine times. 
13:02 hrs IST: India are 110/3 after 39 overs. Kohli 25*, Rahane 1*
12:54 hrs IST: FOUR! Flighted delivery from Jeetan and Kohli times it firmly to the right of the fielder at mid-off for his second boundary. 
12:52 hrs IST: WICKET! Santner strikes. Pujara departs for 41. India are 100/3 after 36 overs. 
12:49 hrs IST: Single and that's 100 up for India. 
12:42 hrs IST: FOUR! Too short from Santner, Pujara rocks back and smacks it to deep square leg boundary. Moves to 37 now. 
12:36 hrs IST: Good 'boring' cricket from both Kohli and Pujara. The more time they spend at the crease, the more comfortable they'll get. 
12:30 hrs IST: India are 87/2 after 31 overs. Pujara 33*, Kohli 12*
12:22 hrs IST: These two players are all set to make their T20 comeback after being banned from the game in 2010. Find out who here 
12:13 hrs IST: Four runs off the over. India are 79/2 after 27 overs. It's a bit cloudy in Indore. 
12:10 hrs IST: Welcome back! Kohli to take strike for India. Jeetan to start the proceedings for visitors. 
11:32 hrs IST: And that's lunch. India are 75/2 after 26 overs. We'll be back in a few minutes time. 
11:25 hrs IST: Five minutes to go for lunch. 
11:20 hrs IST: Neesham now. He last played a Test way back in November 2015. 
11:14 hrs IST: FOUR! Length ball from Boult, Kohli leans forward and drives it through cover for his first boundary of the day. India are 66/2 after 22 overs. 
11:09 hrs IST: Good over from Henry. Bangs it short on most deliveries and Pujara has no answer. India are 60/2 after 21 overs. 
11:05 hrs IST: WICKET! Gambhir lbw b Boult 29. Just the breakthrough visitors would have wanted! 
11:02 hrs IST: FOUR! Straying down leg and Pujara clips it off his pads for his third boundary. 
10:59 hrs IST: Maiden over from Henry. India are 54/1 after 19 overs. 
10:50 hrs IST: Gambhir's running between the wickets is as good as it was five years back. Still so swift! India are 53/1 after 17 overs. 
10:41 hrs IST: Just one run in the last two overs. New Zealand in need of quick wickets. 
10:32 hrs IST: Consecutive boundaries for Pujara. India are 50/1 after 13 overs. Time for drinks. 
10:29 hrs IST: Whatever happens in this Test may not be the hot topic for discussion but individual performances would surely be. So Gambhir will know that a 50-60 odd wouldn't help him much but if he adds another hundred runs to it, England and Australian Cricket Team bowlers would more than likely have tough times ahead of them
STAT ATTACK - 0: Number of tosses lost by Kohli at home, in 7 Tests. 
10:14 hrs IST: India are 37/1 after 9 overs. Gambhir 24*, Pujara 3*
10:06 hrs IST: FOUR! Turn for Jeetan, Gambhir makes slight room and cuts it late past the fielder at backward point region. Moves to 24 now. 
Gautam Gambhir
first 50 inns: 2692 runs, ave 57.28, 100s/50: 9/10
last 50 inns: 1354 runs, ave 28.21, 100s/50s: 0/11#IndvNZ

— Mohandas Menon (@mohanstatsman) October 8, 2016
10:04 hrs IST: Four runs off Santner's first. India are 30/1 after 6 overs. 
10:02 hrs IST: Santner comes in as the second change. Spin from both ends now. 
09:59 hrs IST: OUT! Spin does the trick for the visitors. Kane Williamson - 'Bloody Genius'. Vijay c Latham b Jeetan 10(18). India are 26/1 after 4.5 overs. 
09:56 hrs IST: Brilliant start from India. In Ravi Shastri's words, just what the doctor ordered for them! Jeetan Patel comes into the attack. 
09:52 hrs IST: Consecutive sixes from Gambhir. Looks in fine form! 
09:48 hrs IST: FOUR! Fullish delivery from Boult, Vijay leans forward and times it well through extra cover for his first boundary. 
09:45 hrs IST: FOUR! What a shot to get off the mark! Short and wide from Henry, Gambhir goes back and cuts it to the point boundary. India are 6/0 after 2 overs. 
09:40 hrs IST: Good length delivery from Henry and Gambhir lets it go.
09:39 hrs IST: Single and Gambhir to face his first ball in international cricket after a gap of two years. 
09:37 hrs IST: Excellent first over from Boult. Troubles Vijay on most occasions. Henry to share the new ball. 
09:33 hrs IST: Straightaway some shape for Boult. And the seam has come off the new ball. Was it because of the pitch? The reserve umpire walks out with a replacement. 
09:31 hrs IST: We're all set. Gambhir and Vijay make their way out in the middle. Boult to bowl the first over for New Zealand. 
09:28 hrs IST: Players are out for the national anthems. 
09:25 hrs IST: A big call to drop Neil Wagner. He was visitors' one of the best bowlers in the first two matches. 
09:22 hrs IST: India have won 11 of their 13 Tests at home. Will Indore be their 12th? 
09:07 hrs IST: Here are the playing XI of both teams: 
India: Murali Vijay, Gautam Gambhir, Cheteshwar Pujara, Virat Kohli (c), Ajinkya Rahane, Rohit Sharma, Ravichandran Ashwin, Wriddhiman Saha (wk), Ravindra Jadeja, Mohammed Shami, Umesh Yadav
New Zealand: Martin Guptill, Tom Latham, Kane Williamson (c), Ross Taylor, Luke Ronchi, Jimmy Neesham, BJ Watling (wk), Mitchell Santner, Jeetan Patel, Matt Henry, Trent Boult 
Williamson: "It is important to put them under pressure, hope we can do that. I have recovered over the last two days and two changes for us as well - Neesham for Wagner and myself for Nicholls".
Kohli: "We can't be complacent and all the boys are eagerly awaiting this Test match as well. It is a historic day for Indore - first ever Test match. It is a hard surface and it will be an even contest. The bowlers will be there and batsmen if they get in, will score. Two changes - Gambhir for Dhawan and Umesh for Bhuvneshwar." 
09:02 hrs IST: Toss time! And he calls it right again. Indian skipper Virat Kohli wins the toss and opts to bat first. 
08:55 hrs IST: As for India, Gautam Gambhir is all set to replace Shikhar Dhawan at the top of the order. On the other hand, Kane Williamson, who missed the second Test with a bug, will most likely replace Henry Nicholls. Jimmy Neesham could also get a game in. 
08:52 hrs IST: Hello and welcome to our live coverage of the Day 1 of the third Test between India-New Zealand.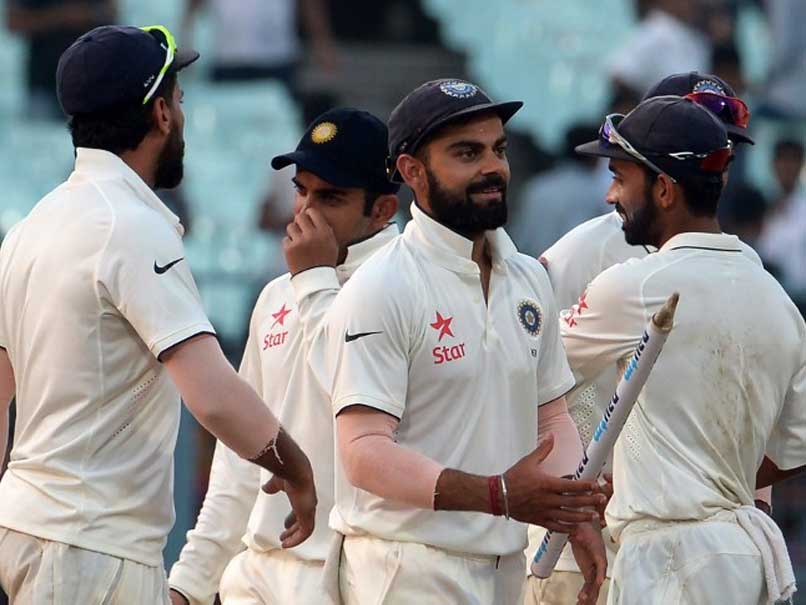 Two-nil up in the three-Test series, India will look for their third sweep at home in the last four years. New Zealand have shown the ability to look India in the eye, but the hosts have played better and used the conditions far better to score big wins in Kanpur and Kolkata.
The return of the classy Kane Williamson should lift the Kiwis, who play for pride ahead of the five-match ODIs starting October 16 in Dharamsala. The young captain missed the Eden Gardens Test due to illness.
New Zealand's batting has been inconsistent and the failure of Ross Taylor, Martin Guptill and BJ Watling has hurt the Blackcaps. The trio has averaged under 20 in this series and that explains why the Kiwis have never been able to put pressure on the Indians.
Topics :
India Cricket Team , 1900-01-01 , India
New Zealand Cricket Team , 1900-01-01 , New Zealand
Cricket , 1900-01-01 ,
Holkar Cricket Stadium, Indore , 1900-01-01 , India
Virat Kohli , 1988-11-05 , India
Gautam Gambhir , 1981-10-14 , India
Bhuvneshwar Kumar , 1990-02-05 , India
Kane Williamson , 1990-08-08 , New Zealand
Ross Taylor , 1984-03-08 , New Zealand
Live Cricket Score , 1900-01-01 ,
Live Score , 1900-01-01 ,
Live Blogs , 1900-01-01 ,