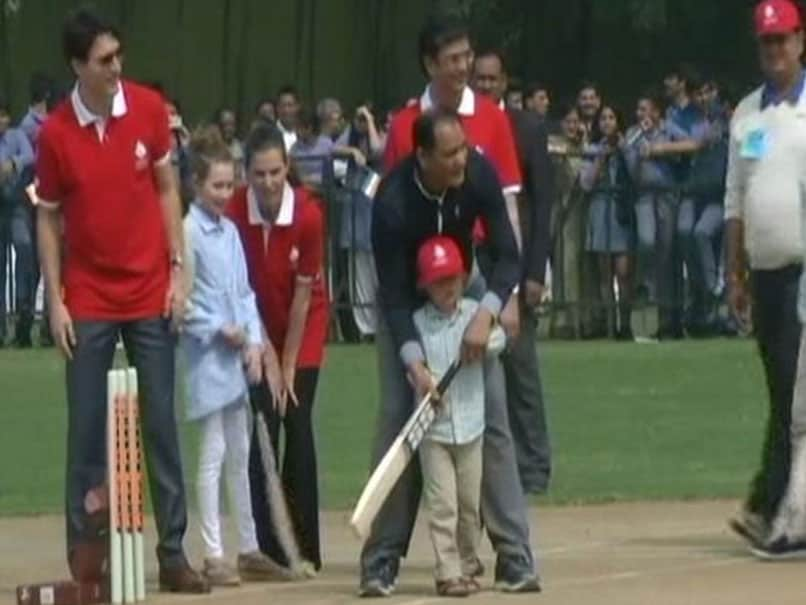 Canadian Prime Minister Justin Trudeau playing cricket along with his children.
© NDTV
Canadian Prime Minister Justin Trudeau was seen on Thursday playing cricket along with his children in Delhi on the sidelines of his visit to India. In a video tweeted by news agency ANI, Mr Trudeau was seen juggling a cricket bat while walking on the pitch before giving away the bat to one of his children. Former India captains Kapil Dev and Mohammad Azharuddin were also present at the ground. ANI tweeted the video and captioned it as, "#WATCH: Canadian Prime Minister #JustinTrudeau along with his children at a cricket ground in #Delhi. Former Indian captains Kapil Dev & Mohd Azharuddin also present."
The Canadian Prime Minister and his family arrived in Delhi on Saturday and were received by Minister of State for Agriculture Gajendra Singh and Indian Ambassador to Canada Vikas Swarup. Mr Trudeau will hold bilateral meeting with Prime Minister Narendra Modi in the capital on Friday, February 23, during which the two leaders are expected to focus on trade, defence, civil nuclear cooperation, space, tackling climate change energy and education.
Mr Trudeau, who is accompanied by wife Sophie Gregoire Trudeau and three children - Ella-Grace, Xavier and Hadrien and a delegation of ministers, visited Amritsar on Wednesday.
Punjab Chief Minister Amarinder Singh met Mr Trudeau in Amritsar for a one-on-one meeting. Mr Trudeau along with his family also visited the Golden Temple.