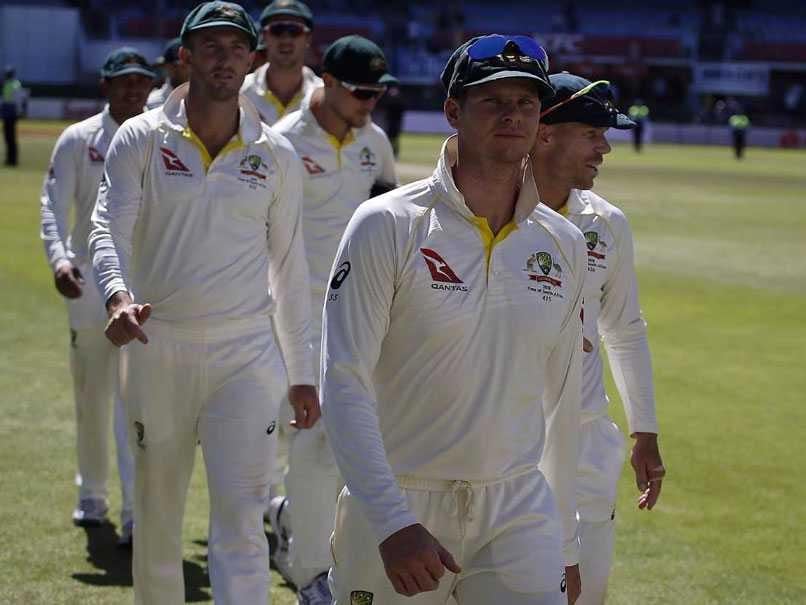 Sponsors of the team made clear on Monday they were not happy.
© AFP
Cricket Australia came under immense pressure to act decisively from key sponsors who voiced deep concern after the ball-tampering scandal rocked the sport and damaged its reputation. Sponsors of the team made clear on Monday they were not happy, amid fears of the fallout on their brands after Australia captain Steve Smith admitted he hatched a plan to change the condition of the ball during the third Test against South Africa in Cape Town on Saturday, throwing the game into turmoil.
"This is deeply disappointing and certainly not what anyone expects from our national cricket team," airline Qantas, whose logo is on the team shirts in South Africa, told AFP.
"We are in discussions with Cricket Australia as this issue unfolds."
Financial giant Commonwealth Bank, which sponsors the national women's team, said it wanted a full explanation.
"We are disappointed about the events that have emerged from the third Test in South Africa and have asked for a full explanation from Cricket Australia following the conclusion of its investigation into this affair," it told AFP.
The crisis couldn't have come at a worse time for the governing body, which is renegotiating a lucrative TV deal, with the existing Aus$600 million five-year agreement expiring at the end of the year. There are concerns that broadcasters could use the controversy as a bargaining chip.
The team's biggest sponsor, fund manager Magellan, told the Australian Financial Review: "We're deeply concerned about it, it involves cheating, in no way would we condone it in what we do."
Magellan's Hamish Douglass added that it was appropriate for CA to respond "quickly".
Jaimie Fuller, executive chairman of the Skins compression wear group of companies, said CA's reputation was on the line in how it responds.
In a full-page advert in Australian newspapers, he pointed out that cricket was more than just a game in Australia, with the captaincy of the national team considered second only to the prime minister in bragging rights.
"Cricket is such a part of our national psyche that it helps define us," he said. "It helps give us a sense of what is fair, and what is not; what is right and what is wrong.
"Even though you are presiding over the sport, it doesn't belong to you," he added of CA. "You are the custodians of it. And now you must get your job right."
(With AFP inputs)