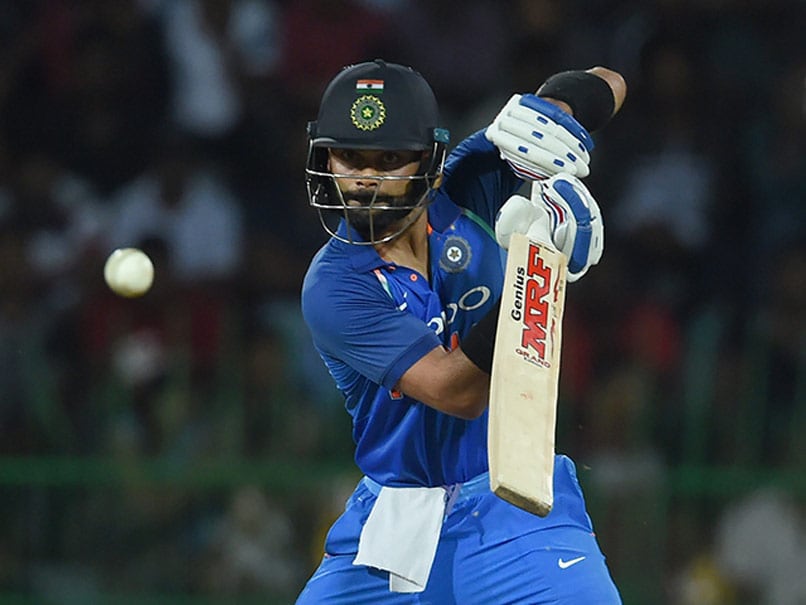 Virat Kohli enjoys immense popularity in Pakistan.
© AFP
There are no two ways about it - Virat Kohli is a huge fan favorite in Pakistan. Through the years, the Indian cricket captain's batting brilliance has captivated fans from across the border. The full force of the Kohli phenomenon was witnessed after the Champions Trophy final, with his remarks at the post-match press conference being widely appreciated in Pakistan. Recently, Kohli was trolled for his Teacher's Day post due to the absence of former India coach Anil Kumble's name in the photo he had shared. Interestingly, Kohli was applauded for the very same post by his Pakistani fans who were thrilled with the star batsman's tribute to ex-cricketers. "To all the teachers around the world and especially to the ones in the Cricket World," tweeted Kohli. The image shared by him comprised of names of cricketing greats. Pakistani fans were thrilled at the mention of Imran Khan, Javed Miandad and Imzamam-ul-Haq.
To all the teachers around the world and especially to the ones in the Cricket World. ???? #HappyTeachersDay pic.twitter.com/pvtrBw5uyK

— Virat Kohli (@imVkohli) September 5, 2017
Here's how Pakistani fans reacted to Kohli's post.
Great player of modern era! respect from #Pakistan

— Amir Raza (@AmirRaza98) September 5, 2017
Lot's of love from pic.twitter.com/Aw1BWib63p

— Navid Anjum (@NavidAnjumKallu) September 5, 2017
Lovely backdrop! #class

— Asif Khan (@mak_asif) September 5, 2017
Kohli is Class on and off the field.

— Tanzeel (@Tanzeelified) September 5, 2017
Great gesture ???? #respect

— ?AHMAD SHAHZAD FAN?? (@AHMADBIGGESTFAN) September 5, 2017
The Indian skipper has scored 4658 runs in 60 Tests and 8587 runs in 194 ODIs. The stylish right-hander has not only set high standards for batsmanship but also for fitness.
Kohli, who will turn 29 in less than two months time, on Friday spoke about how players at times don't realise where to stop as far as training is concerned.
"Lot of us don't actually know how far we can push ourselves. May be at times, without knowing, we are only able to realise 70 percent of our potential. Therefore it is necessary to push yourself until you are done. For example, if I train as hard as I train now, I will possibly play for another 10 years," Kohli said.