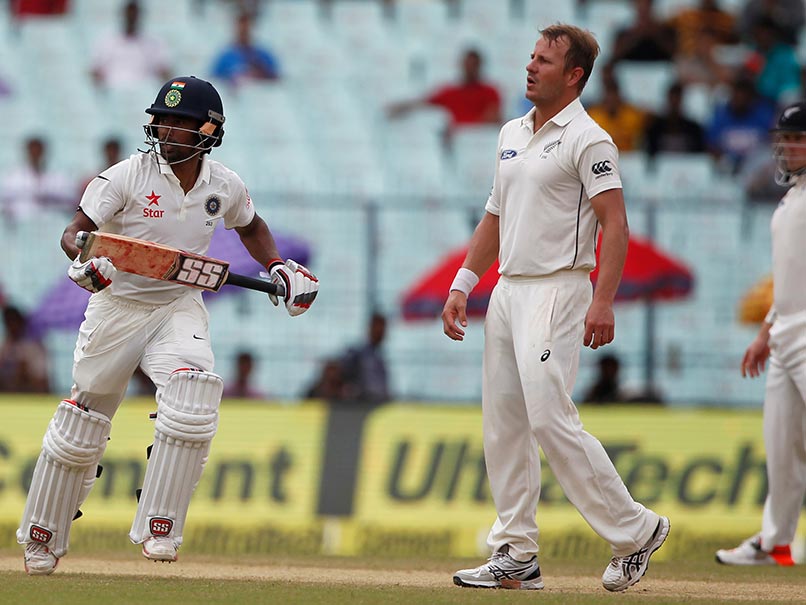 Wriddhiman Saha scored 54* in the first innings of India-New Zealand second Test.
© BCCI
Kolkata:
New Zealand middle-order batsman Luke Ronchi on Sunday admitted that India's lower-order fightback has made all the difference in the second cricket Test and said that his side should learn this art from the home team batsmen quickly to stay alive in the match.
New Zealand are staring at a series defeat with their tails up at 128 for 7 in their first innings at stumps on the second day in reply to India's 316.
"They (India) are making runs at the end of the innings, which had made a difference. Today they were 239/7 overnight and then they made 300-plus, that's a big chunk of runs from the last three wickets," Ronchi said as the visitors ended the day 188 runs behind with three wickets in hand.
"That is something we have to improve on to stay in this Test, or in this series even, going forward. Hopefully tomorrow, we can do the same thing with our tail, make some runs and they'll be very valuable runs in the situation we are in."
India also had just three wickets in hand when they resumed the day but Wriddhiman Saha's gutsy 54 not out took the team to 316 before Bhuvneshwar Kumar's 5/33 gave them a firm grip in their bid to seal the series 2-0 here.
The grass cover on the Eden pitch was a pleasant surprise for the Kiwis and Ronchi said they still fell short with Saha reviving India's innings.
"A lot of us were quite surprised when we saw the grass on the wicket. The spinners have not turned it as much as we thought. Jadeja was bowling stump-to-stump and getting balls to skid but I guess a lot of people would not have expected the seam bowlers to take as many wickets as they have through the Test," said Ronchi.
"That's Test cricket and you have to learn from it, play the right balls and do the right things to not get out. We haven't done that as well as we could of. People are surprised the seam bowlers have taken as many wickets as they have, from both sides," he said.
Ronchi, however, refused to buy the line that India's first innings total of 300-plus had given them a psychological advantage.
Terming it a par score, he said: "I think they would have wanted more than that. Unfortunately we did not bat as well as we should have. Obviously, India bowled well but from our own standpoint we should have made more runs or not been as many wickets down as we at this time of the game.
"300 is still a decent score (to bowl them out for). If you said when they won the toss that you wopuld bowl them out for 300 you would be pretty happy with that. It didn't make much difference to our mindset when we batted."
Ronchi survived a close LBW decision but only to be dismissed by a dubious judgment by umpire Rod Tucker, something that has happened for the second time in the series.
"That's cricket. I think I got away with one as well today. It's just the way it works. You are going to get some good ones and you are going to get away with some, it is just chin up and keep going along," the 35-year-old said.
"As long as you can stay positive and hit the ball like you want to and get as many runs as you possibly can, it is just the way it goes."
Topics mentioned in this article
India Cricket Team , 1900-01-01 , India
New Zealand Cricket Team , 1900-01-01 , New Zealand
Luke Ronchi , 1981-04-23 , New Zealand
Wriddhiman Saha , 1984-10-24 , India