Story Progress
Back to home
Vijender Singh, Ernest Amuzu Indulge In War of Words Ahead Of Double Title Fight
Vijender Singh has a tough opponent to face in Ernest Amuzu.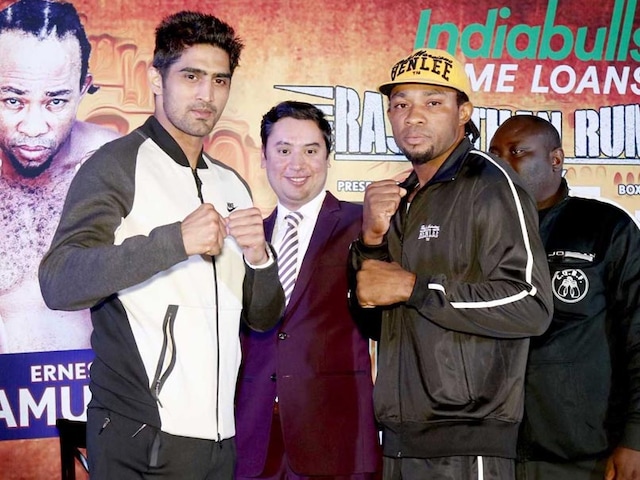 Vijender Singh and Ernest Amuzu engaged in war of words before the bout.
© NDTV
Highlights
The bout will be held on December 23

The bout will take place in Sawai Man Singh Indoor Stadium

Vijender Singh is confident of a knockout win
With just days left for the 'Rajasthan Rumble' between the Indian knockout king and WBO Asia Pacific and WBO Oriental Super Middleweight Champion Vijender Singh and Ernest Amuzu, both the boxers faced off in war of words at a joint press conference on Wednesday. The bout, which will be held at the Sawai Man Singh Indoor Stadium, Jaipur, on December 23, will see Vijender defend his double title against an experienced Ernest Amuzu. The 32-year old Bhiwani boxer, who entered professional boxing in 2015, had won the double title fight in August this year against China's Zulpikar Maimaitiali.
Till date, the Indian has nine wins under his belt with seven of them being won by knockouts (KO) and two by unanimous decision. He has played 40 rounds in his nine fights of pro career so far. In his last three title fights held in India, Vijender has won two KOs and a unanimous decision.
Before winning against Maimaitiali, Vijender had retained his WBO Asia Pacific title against Francis Cheka of Tanzania and had also won his maiden title last year in July after defeating Kerry Hope of Australia.
Commenting on his double title defence, Vijender Singh said, "After having rigorous training sessions for almost more than two months, I am fully prepared physically and mentally to defend my titles and want to end my year on a winning note in front of my own countrymen. No doubt Ernest is an experienced opponent, he will give me a few new tests, he has done more rounds than me and fought in title fights, but will that compete with the power that I have and when I start landing my shots I don't believe he will be standing around too long, I am really excited for this fight.
"After getting lot of support during last three fights in Delhi and Mumbai, I am eagerly waiting for this double title defence wherein I am expecting a lot of support and cheer from the fans of the Pink City of Jaipur. I am sure fans will turnout in large numbers at Sawai Man Singh Indoor Stadium in Jaipur on 23rd December 2017 to cheer and motivate me," Vijender further added.
The 34-year-old Amuzu on the other hand is confident of winning his first fight in Asia. The West African Boxing Union Middleweight champion and Ghanaian middleweight champion holds a record of 23 wins with 21 knockouts and 2 loss out of total 25 fights he has played so far in his career.
Amuzu has also participated in the Commonwealth Games 2002, All Africa Games in 2004 and two African Championships in 2003 and 2005.
Promoted
Commenting on his 26th professional fight, Ernest Amuzu said, "I am looking forward to the double title defence in India. Nine before me have tried and failed to beat Vijender so now I will finally end his hope of defending his two titles. Everyone who has gone into the ring with him seem like they are a rabbit in headlights."
"I have seen nothing from Vijender Singh that worries me or causes any sleepless nights so I am fully confident going into the fight and ready to knock him out. I hope that his chin is ready for the punches that I will be landing on them because for once he will be put under a real test by me," Amuzu signed off. 
Topics mentioned in this article