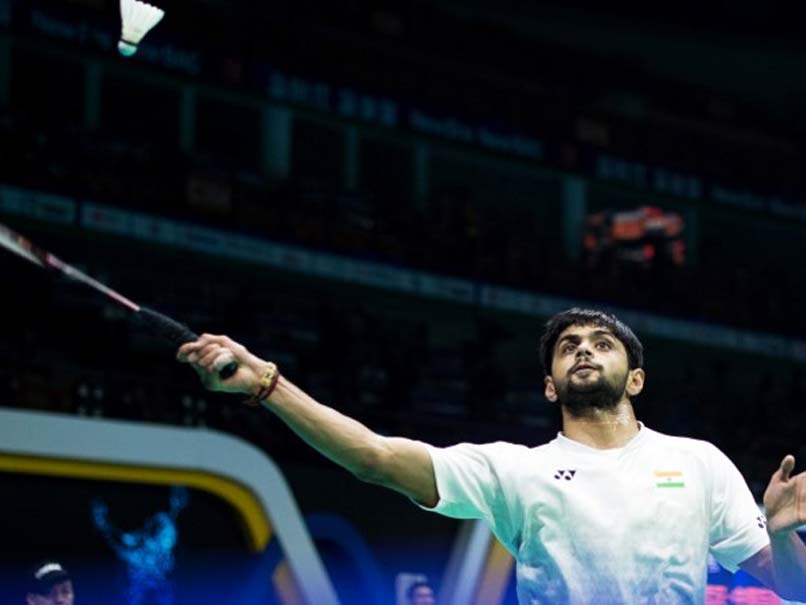 Praneeth will meet Maulana Panji Ahmad of Indonesia in the next round on Thursday.
© AFP
India's B. Sai Praneeth defeated Misha Zilberman of Israel in straight games in the opening round of the Australian Open badminton tournament in Sydney on Wednesday. The second-seeded Indian needed only 45 minutes to chalk out a 21-17, 21-14 verdict over his unseeded opponent. Praneeth will meet Maulana Panji Ahmad of Indonesia in the next round on Thursday. Ahmad defeated Indian youngster Rahul Yadav Chittaboina 21-11, 21-17 in his campaign opener. Praneeth was the only bright spot for India in the men's singles category as the other Indians in the fray lost their matches. Praneeth faced resistance from his opponent in the early stages of the first game before opening up a five-point lead at 8-3. The Israeli fought back to gradually reduce the gap to 14-16. But the Indian won four points on the trot to snatch away the momentum before closing out the game. The second game also saw a tough contest in the opening stages before the Indian - who was consistent with his accurate placements and clever net play -- started to enjoy the upper hand.
Just like the opening game, Misha once again reduced the gap to 14-16 before Praneeth won five consecutive points to win the game and the match.
Sameer Verma on the other hand, endured a tough day in office. He lost his first game before rallying to beat New Zealand's Abhinav Manota 13-21, 21-9, 21-7 in 42 minutes.
Later in the day, he lost a hard-fought three-game battle against Takuma Ueda of Japan to crash out of the competition.
Verma had taken the early advantage by winning the opening game. But Ueda dominated the next two games to script a 19-21, 21-17, 21-12 victory in an hour-long contest.
Ajay Jayaram meanwhile, gave a tough fight before going down 22-20, 20-22, 17-21 to Riichi Takeshita of Japan in an hour and 12 minutes.
Indian youngster Karan Rajan Rajarajan also crashed out after a 15-21, 8-21 loss to Sony Dwi Kuncoro of Indonesia.
Lakshya Sen, another Indian youngster who was appearing in his first competition at the senior international level, lost 20-22, 21-13, 19-21 to seventh seed Lee Cheuk Yiu of Hong Kong.
In the men's doubles competition, the third-seeded Indian team of Manu Attri and B. Sumeeth Reddy advanced to the next round with a comfortable straight-games win over the Australian pair of Lukas Defolky and Michael Fariman.
The Indians needed just 20 minutes to script a 21-11, 21-10 victory.
The seventh-seeded Indian duo of M.R. Arjun and Ramchandran Shlok also advanced to the next round with an easy 21-7, 21-15 result over Australians Raymond Tam and Eric Vuong.
However, youngsters Rohan Kapoor and Shivam Sharma saw their campaign come to an end after going down fighting to Malaysia's Tang Jie Chen and Goh Soon Huat.
The Indian duo fought hard before losing 15-21, 21-15, 7-21 in 46 minutes.
Eighth seeds Francis Alwin and K. Nandagopal, the fourth Indian combination in the fray, also exited the competition after conceding their match against South Koreans Jung Tae In and Kim Hwi Tae.
The Indians had to fight hard before taking the first game 30-28. They were trailing the second game 7-8 when an injury forced them to concede the match.
In the women's singles section, Vaishnavi Reddy Jakka was the only Indian to advance to the next round. She beat Georgina Bland of England 19-21, 21-15, 21-15.
But her compatriots Sai Uttejitha Rao Chukka and Sri Krishna Priya Kudaravalli lost their respective matches.
21-18 22-20
Chukka lost 8-21, 19-21 to Ayumi Mine of Japan while Kudaravalli went down 18-21, 20-22 against Indonesia's Yulia Yosephin Susanto.
In women's doubles, India's Meghana Jakkampudi and Poorvisha S. Ram beat Australia's Maggie Chan and Jodee Vega 21-10, 21-16.